Send to Kindle
Yesterday's post ended with: "Congratulations to Jesse and Jess as your new life together begins in a few hours!"
This is the sequel to that post, sharing some memories from an absolutely gorgeous wedding ceremony that we were honored to be invited to.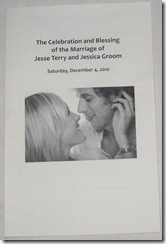 Just like the night before, things weren't exactly hitch-less as far as timing is concerned. This time, traffic wasn't to blame. Someone (I don't know who, so I'm not just protecting the guilty party)

accidentally left the video camera in the hotel room. So, even though everyone was gathered, the ceremony was delayed until the camera was retrieved. We were sitting with three friends, so the time passed very quickly.
The wedding and reception were held at Tomes-Higgins House in Greenwich, CT. There was a grand piano in the corner (eventually played beautifully by Justin Coutu), but the majority of the music in the wedding came from an iPod, sitting in a speaker dock, sitting on top of that piano.
The first song played was Over the Sun We'll Fly, written by Jesse Terry as his engagement/proposal song for Jess (Jessica Groom). Here is a YouTube video of him singing it for her (and proposing in front of the audience!) at the Bluebird Café in Nashville:
Jesse Terry performing Over the Sun We'll Fly at the Bluebird Cafe
After that song, they played Moon River, while the wedding party came down the aisle. The flower girl and ring bearer stole the show (a few times).
Officiating was the Reverend Andrew Williams (Drew), Senior Pastor at Trinity Church in Greenwich, CT. In these Internet-crazed days, most people associate WWW with World Wide Web. Yesterday, it was Pastor Drew's: Wisdom, Warmth and Wit. All three were in full bloom and moved Lois and I throughout the ceremony.
I hesitate to share his first humorous statement, because I know it won't come across with the warmth that was obvious in context. When Jess and Jesse settled in before him, he said that their entire lives were destined to bring them together on this day. "Both families prayed for this to happen. Looking at Jess, clearly, Jesse's family prayed a bit harder."

There was a spontaneous roar and any worries that this would be a stiff ceremony were dispelled immediately.
The Pastor led us in prayer and song. Jesse's grandfather read from First Corinthians 13 and his mother read A Prayer of St. Francis.
The Pastor gave a number of inspirational talks and blessings. The one that overwhelmingly got to Lois was a message to the couple to go through life learning to dance together (poor paraphrase by me). He spoke about the various stages of learning to dance and the feelings people experience. He related them to his family (wife and kids) in a beautiful way, giving a more practical sense to a theoretical topic. The dance manual? The Bible, of course!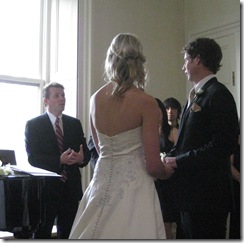 After the ceremony, Lois bolted straight to the Pastor and asked him whether he would be willing to give her a copy of his message so we could post it on the blog. He told her that he would email it to her. If/when he does, I'll update the post and include it here.
Update: The Pastor emailed Lois today! I include the wonderful Dance Instructions in their entirety, unedited, at the bottom of this post!
I already mentioned the flower girl and ring bearer. The flower girl's enthusiasm was literally bursting at the seams. When the Pastor asked for the rings, the tiny ring bearer jumped up and announced: "I have them!". The entire room started giggling.
The Pastor was not the only one to crack a joke. Right after the ceremony concluded, our friend leaned over and said: "Not every bride is also a groom!". If you don't get it, check back to see Jess' maiden name in the parens above.

When the ceremony was over, all of the chairs were removed from the two rooms and tables were rolled in as the food was brought out. It was very nice not to have to run from one location to another to shift from the ceremony to the reception. As the wedding party took photos, the rest of the guests started the other kind of party, celebrating the happy couple's nuptials.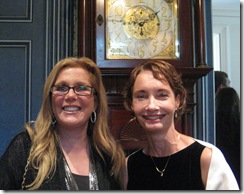 Jess and Jesse Terry are two of the nicest people you will ever meet. Sharing this joyous occasion with them and their loved ones was truly an honor. We wish them a life full of love and happiness and hope to share some of it with them along the way!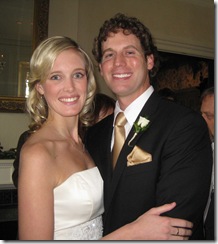 Pastor Drew Williams' Dance Instructions:
1.  Dancing Lessons
As you stand at the threshold of your marriage, I believe that the Lord would have me give you some dancing lessons.
Let me explain:
Your marriage is God's gift to you both.
Not happenstance.
Not the outworking of a random series of events.
Your marriage is God's gift to you both.
God has chosen you and He has chosen you for each other.
This gift is given in love and is part of God's plan to enable you both to be all The Lord created you to be.
His desire for your marriage is that it should be a place where:
all your gifts
all that makes you both fully alive
all of this should have its fullest expression.
But for this happen – you are going to have to let the Lord teach you to how to dance.
'A time to dance' Ecclesiastes 3:4
Irony here is that I am of an age where according to my children I dance just like my father!
I would like to show you how to dance with your Heavenly Father.
In doing this I want to look at:
Let's look at some theory first.
2. Dance Theory
2.1 Following the Manual
There is a dance manual!
In the beginning it was the word of God that created.
God spoke and chaos became choreography.
Make this dance manual a living part of your marriage.
Read it together.
Work at it together.
Pray through it together.
2.2 Following Emmanuel
So there is a manual and there is 'Emmanuel' – God is with us.
Dance that is truly inspired always contains something that is extemporary.
The wind blows wherever it pleases.
You hear its sound, but you cannot tell where it comes from or where it is going.
So it is with everyone who is born of the Holy Spirit.
Let The Holy Spirit lead you
and you can be sure that you won't have a ready answer for those who want to know your next move
but there will be moments in His leading when it will feel that you have been lifted off the dance floor altogether.
And here is where you find eternal perspective.
So there is some dance theory.
Embrace The Word of God.
Embrace the Holy Spirit.
What about some practical tips?
I had a list here of twenty five practical tips.
I have narrowed it down to two.
3. Practical Dance tips
What we have here in Jess and Jesse are two solo routines that now have to be re-cast by the Lord so as to be one amazing salsa partnership.
3.1 Practice
So the first practical tip is exactly that.
You need to Practice.
In the Old Testament David was a terrific dancer – he had all the moves.
But when he married he took a year out from the Battle field where David and his wife joined the Lord on the dance floor and worked out some new steps.
So take plenty of time in the next year to put in some practice;
push back the furniture,
roll back the carpet
and enjoy the music!
Tell your family and friends that you can't come out – you are having some dancing lessons.
They will understand!
When we were first married my wife and I had some ballroom dancing lessons.
We learned a lot about each other in those evenings.
We learned that:
I had very poor rhythm but I could remember the next move.
We learned that my wife was great at keeping time but could not always remember what came next.
So we hurtled around the dance floor – her shouting out the rhythm in my left ear and me shouting out the next move and trying to avoid her feet.
Sometimes I was leading and sometimes there was really only the appearance that I was leading.
I see now that Lord was teaching us something that would serve us well.
A good dance partnership is clearly all about just that 'partnership' –
but there will be times when it will be your responsibility – Jesse(y) – to discern in God the next move – and take a strong lead.
There will be other times when you – Jess– will sense the Lord's timing and you are going to have to help Jesse take that strong lead.
And all of this takes practice.
Sometimes it may feel to you that the Lord is using your marriage to slow you down.
Actually this is all about timing.
Don't underestimate the deep significance of what God is doing through these slow tempo seasons.
And for later – the Lord would have you both remember Isaiah 40:11 'The Lord gently leads those that have little ones.'
3.2 Physical Touch
Practically speaking, there is something very Latin about the way the Lord dances.
'When I found the one my heart loves. I held him and would not let him go.' Song of Songs 3:4
This is a dance that you have to feel; to have and to hold.
I want to give you something – very precious.
My wife gave this to me on my wedding day.
It is one of the most precious things
I have and I had to ask her if it was OK for me to give it to you.
Can you feel that? On our wedding day, as we said our vows my wife held my hand and said that.
Can you feel what is being said here?
And in the days that have followed – during the birth of our children, in the moments before I was ordained, during times of great joy and in times of sorrow – she has held my hand and this is what she says to me.
And this is what I say back.
And nobody else knows except us and the Lord.
Find the same secret language – you are very welcome to borrow from our vocabulary – but find this physical language and use it.
Don't let today be the last time you kiss your wife in public.
Be indiscreet on public transport and hold hands for goodness sake!
Physical touch is essential language in a great dance partnership.
So you have some theory and some practical tips and now I want to extend to you both an invitation.
4. Take hold my right hand
There is a clear warning in the Bible that the dance floor may be strewn with the occasional obstacle.
The apostle Peter, talks about many kinds of trial.
But even in that warning there is an incredible encouragement hidden in the cadence of the language.
The Greek word Peter chooses to describe these 'many trials' is 'poikilos', which literally means many or multi- coloured.
Peter uses that word only one other time and that is to describe the love of God 'in its many colours.' (1 Peter 4:10.)
His point is this.
Along the way, our troubles may be multi- coloured but so too is the Father's love.
There is no colour in the human situation which the love of the Father cannot match.
'For I am the LORD, your God, who takes hold of your right hand and says to you, Do not fear; I will help you.' Isaiah 41:13
Take hold His right hand.
Dance with the Father.
Finally
How might I conclude?
In just a moment you are going to move from two solo dance routines to dance with one another.
It will last the rest of your life.
So then finally this:
Live every day of your long, happy and healthy marriage as if it were – the last dance.
Amen.