Send to Kindle
What do you do the night before you get married? Have a wild bachelor party? Meditate on the changes your life is about to experience? Not if you're Jesse Terry, a wonderful singer/songwriter who hails from Nashville. You give your family, friends and fans a chance to celebrate with you.
Jesse Terry played a 35-minute set at The Bitter End last night (he's getting married today!). We had heard about Jesse for over a year from one of his biggest fans and finally got to see him perform three months ago at a house concert at that fan's (our friend's) house. I covered that night in this post. We've been big fans ourselves ever since.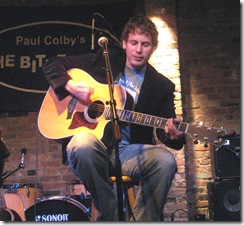 Last night started off a bit shaky. Jesse and his entourage (fiancée, mother-in-law-to-be, others?) allowed two hours to make a 40-minute drive to the city. With crazy holiday traffic, it wasn't enough. After scrambling to set up, Jesse's set started 15 minutes late. That's fine, it only added to the anticipation.

Jesse played a seven song set of mixed genres. The third song was Natural, one of two songs that Lois plays over (and over, and over, and over…). Jesse switched from up-tempo strumming to fantastic finger-picking for this heart-tugger. I linked to the YouTube video in the last post, but I'm going to do it again, because you need to hear it (even if you've heard it before!).

Jesse Terry performing Natural at the Bluebird Cafe
A couple of songs later Jesse asked for any requests. Lois was first with a request for Noise, but we heard at least five other people call out Noise, including Jesse's father! Noise is another stunning song, finger-picked to perfection. I can't resist linking that one either.

Jesse Terry peforming Noise at the Bluebird Cafe
If you don't know Jesse, don't be fooled into thinking that everything he does is mellow finger-picking (not that there's anything wrong with that!)

Jesse is simply a wonderful singer/songwriter who isn't shackled to one style. These two songs just happen to blow both of us away.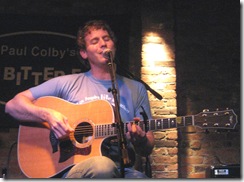 To close out his set, Jesse invited up his duet partner, Carley Tanchon to sing with him. Jesse and Carley performed together for months on a South Pacific cruise. It's on that cruise that Jesse met his bride-to-be, Jess (yes, they'll be Jess and Jesse Terry).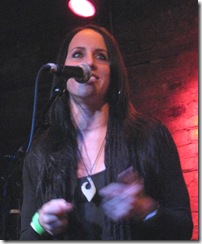 Carley has a gorgeous voice (you can check it out in the link to her MySpace page above). The two of them sang beautifully together and ended the set on a high note.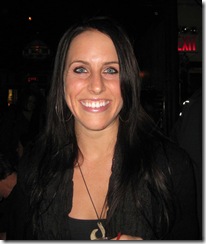 Congratulations to Jesse and Jess as your new life together begins in a few hours!