Send to Kindle
Last night couldn't come soon enough for us. We loved Dave Mason's show at Blend Bar on March 6, 2008 (covered in this post). The experience at Blend Bar was less than special, but the show was awesome. We immediately grabbed two tickets to see Dave again on April 4th at BB King, a place we frequent often and love.
As covered in this post, Dave called in sick that day, but we didn't check in advance, and ended up showing up nonetheless. That show was rescheduled for sometime in June (a date that worked for us). That date was quickly canceled and rescheduled for last night (July 22nd, 2008). We held on to our original tickets, which were honored last night. Third time was indeed the charm at BB King.
The show was close to the same set list from Blend, but not identical (one example, they didn't play Every Woman last night). In terms of their sound, and individual talents, every word in my previous post applies, so I won't repeat that. Let me just say what was (slightly) different about last night's show.
John (Johnne) Sambataro was as good as he was at Blend, and killed the crowd on at least two spectacular solos, but he was actually highlighted a little less last night than he was at Blend.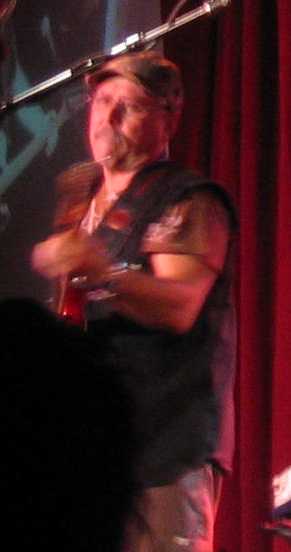 Bill Mason was actually highlighted a drop more last night. He's a fantastic keyboards guy. His fingers were flying on his Roland, all night long, in particular on the numerous solos that he took.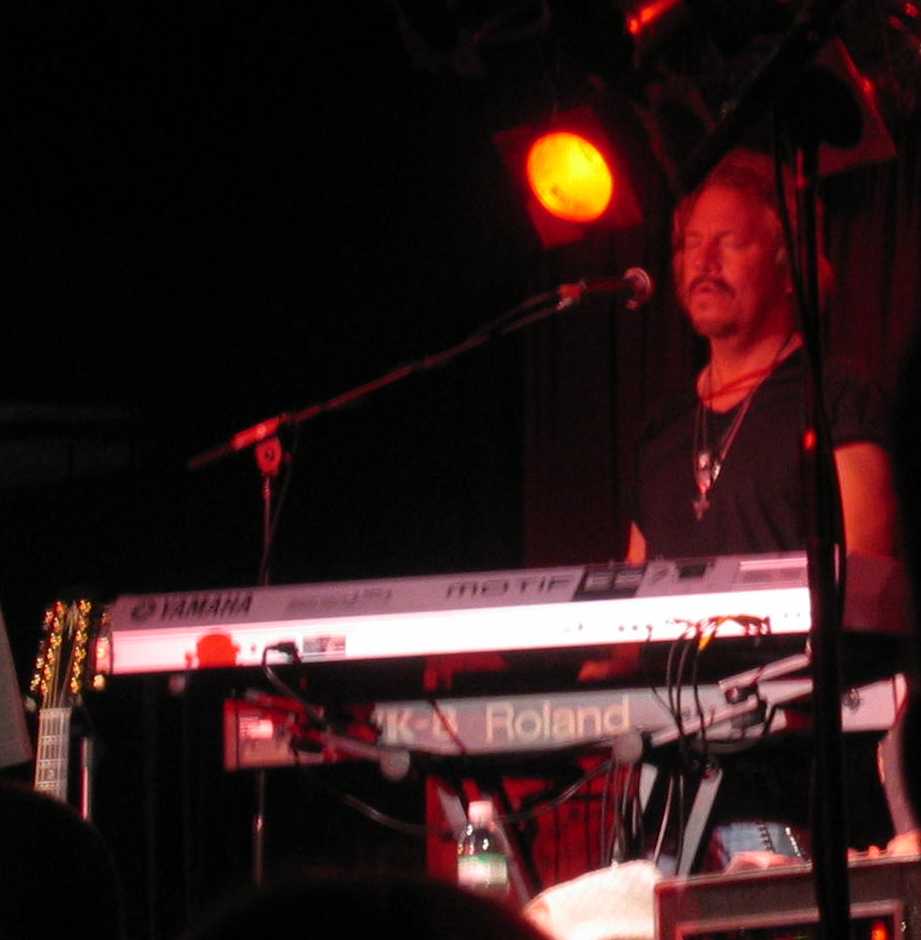 There was a new guy added to the lineup last night, but even though Dave introduced him at least twice, I didn't catch the name (Chris something I think). He played percussion (mostly bongos, a little tambourine, etc.). I couldn't make out a single sound that I could attribute to him, but his hands were clearly moving fast, and in perfect rhythm with the music, so I assume he's really good. No idea really. 🙁
Even this photo is the fuzziest of the bunch. Perhaps he wasn't even really there! 😉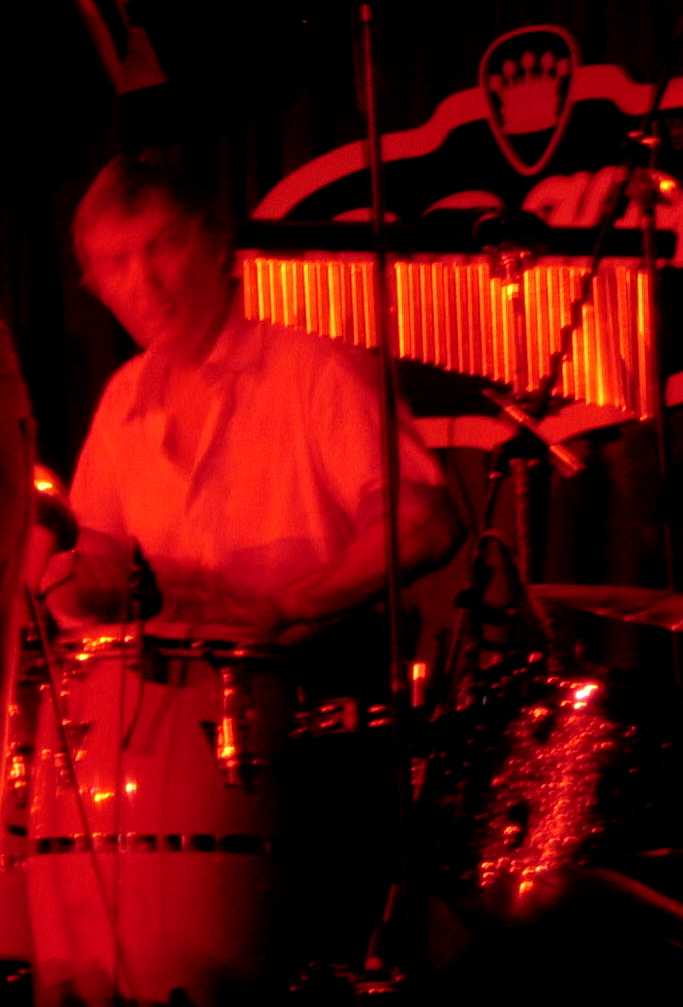 Alvino Bennett was awesome. In my last review I understated his playing a bit. Partially, it was because he was obscured in the corner, and partially, it was because he never took a solo. Last night, we sat at the right-most edge of the stage, a few feet back from it. Alvino was in the right-hand corner of the stage, so my view was of his forearms forward. In other words, all I could see were the drum sticks, his wrists, and some forearms, flying all night long.
Ironically, that gave me a very deep appreciation for how good this guy is. He had to lose 10 pounds while playing last night. Even though he doesn't take any solos, his beats are fast, furious, constant, and perfect. To be clear, he wasn't worse at Blend, I just didn't get to pay as much attention to him, as I was so mesmerized to see Dave in person for the first time then. Anyway, Alvino is truly a great drummer!
Here's a good shot of Alvino waving goodnight to the crowd after the show: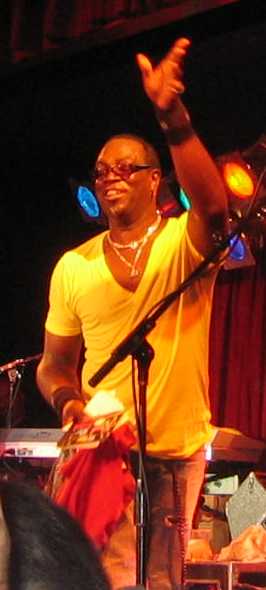 Lois had a slightly better angle on Alvino than I did, so she was able to catch him at the drums when he leaned forward slightly. 🙂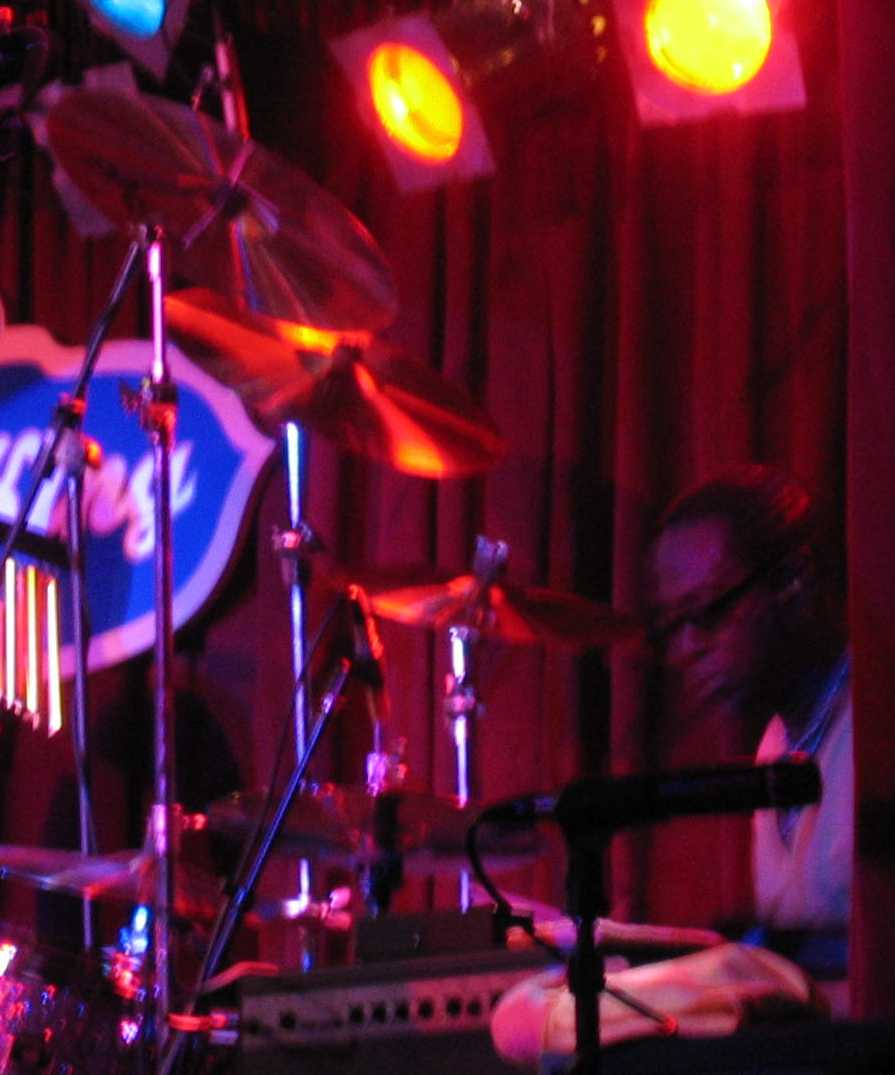 Alex Drizos was incredible on the bass. I could almost mirror the words I said about Alvino with regard to the drums, and apply them to Alex on the bass. He impressed me tremendously at Blend as well, but last night, we sat closer to Alex than to anyone else on the stage, so I got to watch his fingers in action a bit more.
While he too doesn't get highlighted for solos, his bass lines are extremely interesting, often complex, and never overwhelm the rest of the band. He was great too!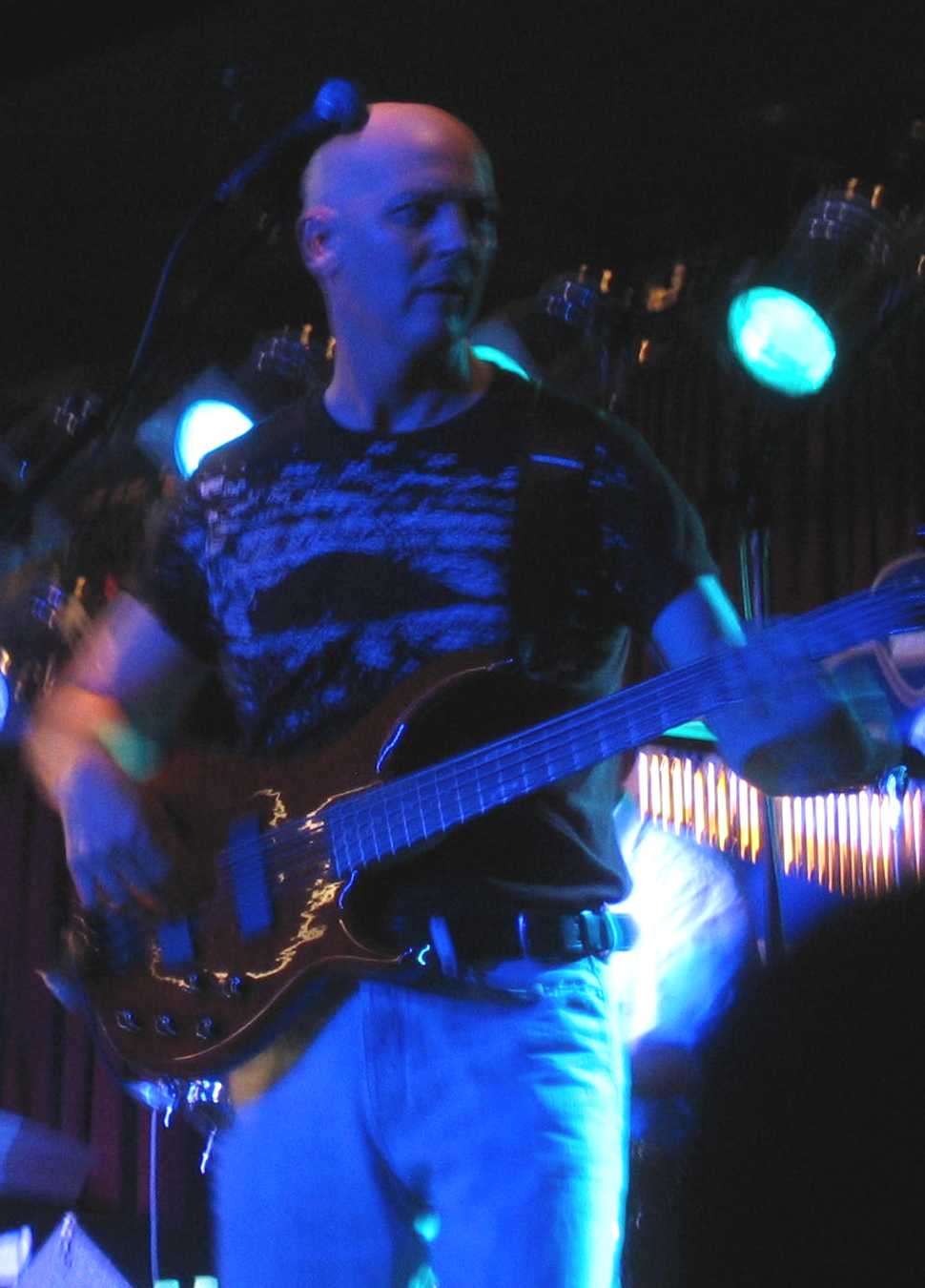 That leaves the great man himself, Dave Mason. Wow. It was worth the wait. As I noted in the Blend review, his voice is still superb and his fingers are still silky smooth and super fast on the guitar (both six and 12 string). He's not the most talkative guy on stage, but when he does speak, he's warm and funny (and interesting). The band clearly loves each other, and they play incredibly tightly together!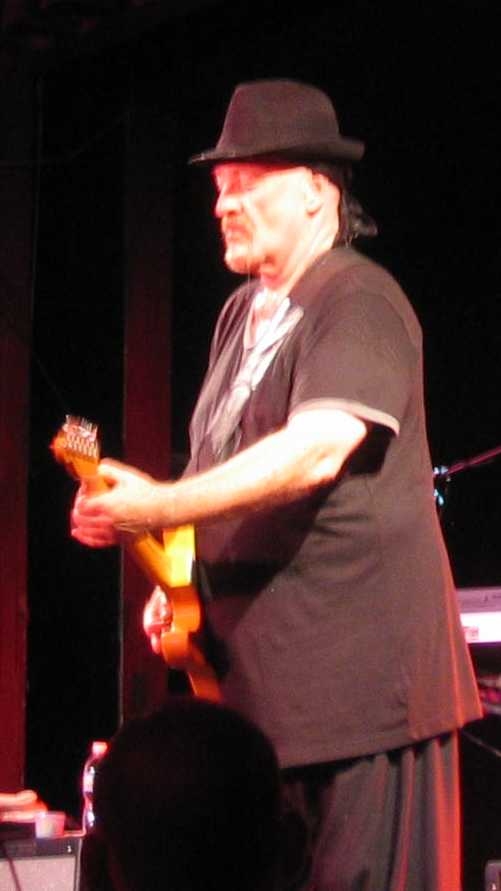 For those who don't feel like reading the Blend review (why not?!?), I'll repeat here that Dave also has new music (in fact, he's releasing a new CD on September 30th). At Blend, he played at least three new songs. Last night, he played two. They are awesome, so he's still got it, in every way. Of course, his old stuff is as good as it gets as well, so he is incapable of disappointing no matter what they play!
They were announced at 8:03pm and all but Dave came out on the stage. Within 10 seconds, Alex moved to the center microphone and apologized and asked the crowd to give them a minute. They all left the stage.
After a 10 minute break, at 8:14pm, they were announced again, and all of them, including Dave, came on this time. Whew. 🙂
They played for 75 minutes and ended with a rousing standing ovation. When they came back out for the encore, they had a special guest star, Jimmy Vivino. I hadn't heard of him before, but the bio on his site is quite interesting and impressive.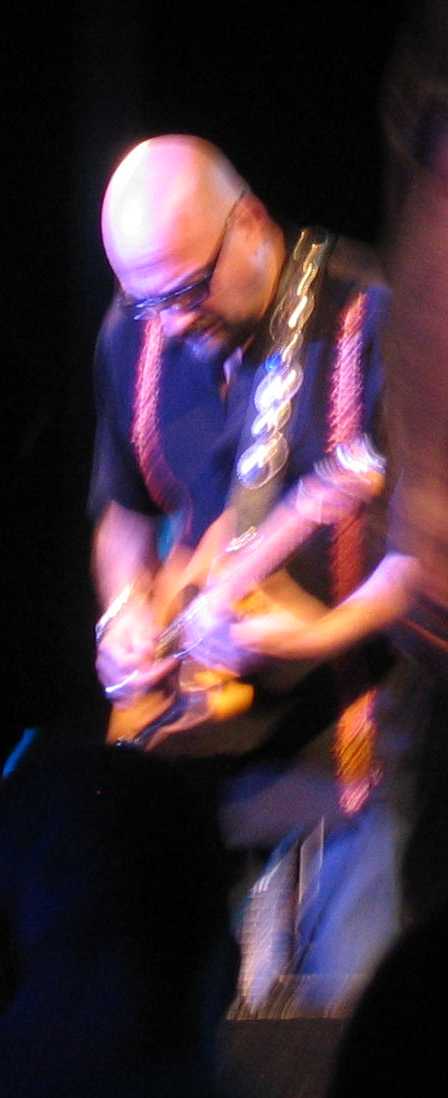 Dave let Jimmy play his guitar (something that is reasonably rare in my experience). They played Stormy Monday (one of my all-time favorite blues tunes, I listen to the Allman Brothers Band version all the time). Dave sang (and didn't play guitar at all). He was awesome, of course. Jimmy played lead throughout. He's fantastic. I'd be happy to catch him in any other show and get to know his music and enjoy his talent more thoroughly!
After that, Jimmy left the stage, Dave took back his guitar, and they closed with the same number they closed Blend with, Feelin' Alright. The crowd stood and danced (or swayed in my case) 😉 throughout the finale. We left on a complete high.
They were on stage for 90 minutes in total, and rocked the house down for every second of it.
For whatever reason, we decided that we were willing to risk slightly less-than-perfect seats last night, in exchange for not standing on line in the heat for too long. So, we left a bit later than we normally would. Since we both showered right before leaving, we also decided to take the bus (even though it's a short walk to BB King) to enjoy the air-conditioning bliss that often is delivered on modern NYC buses.
Lois was quick to get her camera out of her bag when she spotted this colorful Statue of Liberty on the sidewalk (photo taken from inside the bus):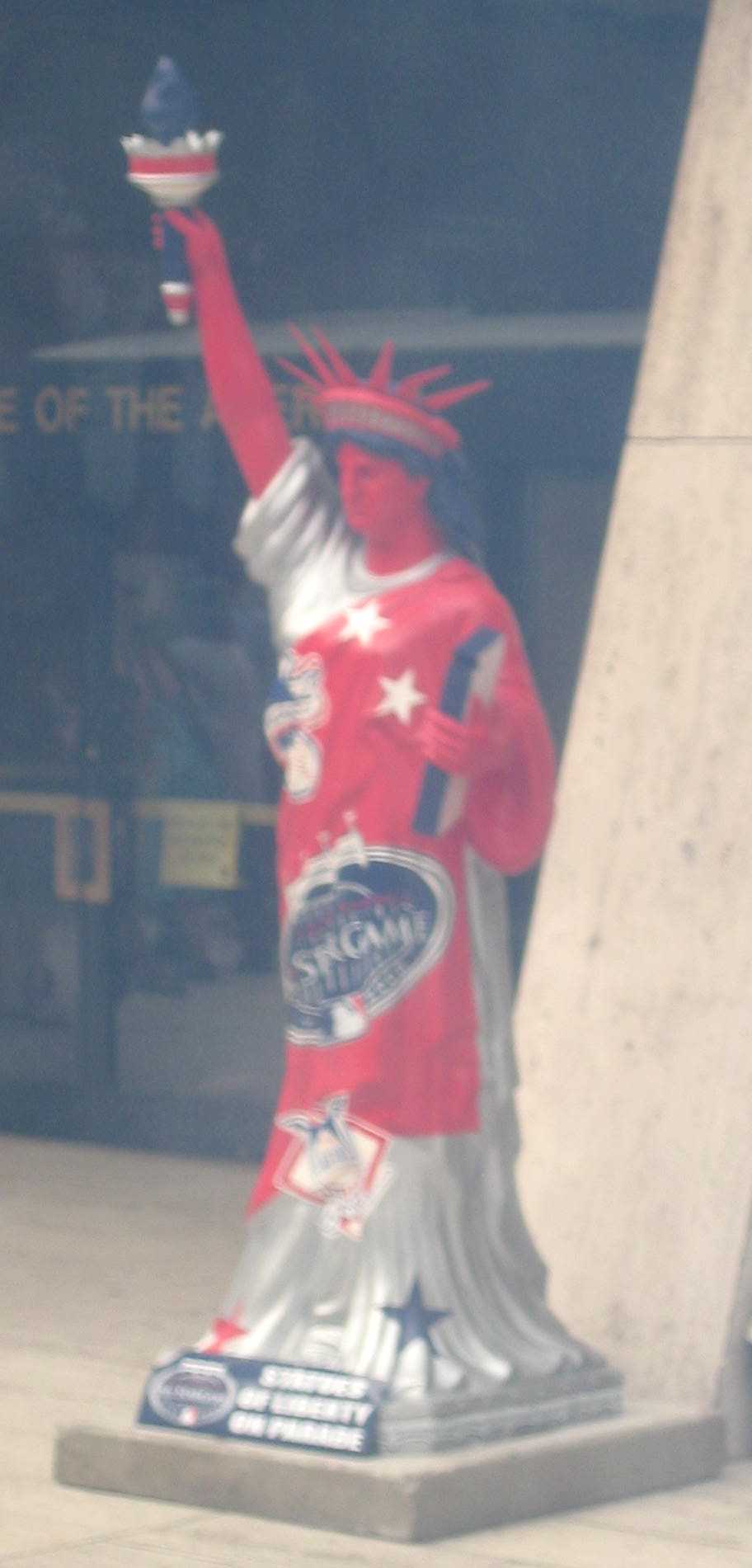 We got to BB King at 6:15pm (doors officially open at 6pm). There was still a short line outside, but it worked out exactly as we hoped (dare I say, planned?) and we moved inside within five minutes. We were seated by 6:25pm, in pretty good seats.
We both had the Chopped Salad (yes, I am soliciting polite golf claps for being good). It's a really excellent salad. I had Pulled Pork on top (OK, not quite as good as Lois) 😉 and we split a side of Red Cabbage Slaw (they make that really well there too!).
In all of the shows that we've seen at BB King (which is many) even when there is an opening act, that opener comes on stage at 8pm. Last night, at 7:15pm, the lights dimmed a bit, and they announced David Jacobs-Strain. He came on the stage with an acoustic guitar.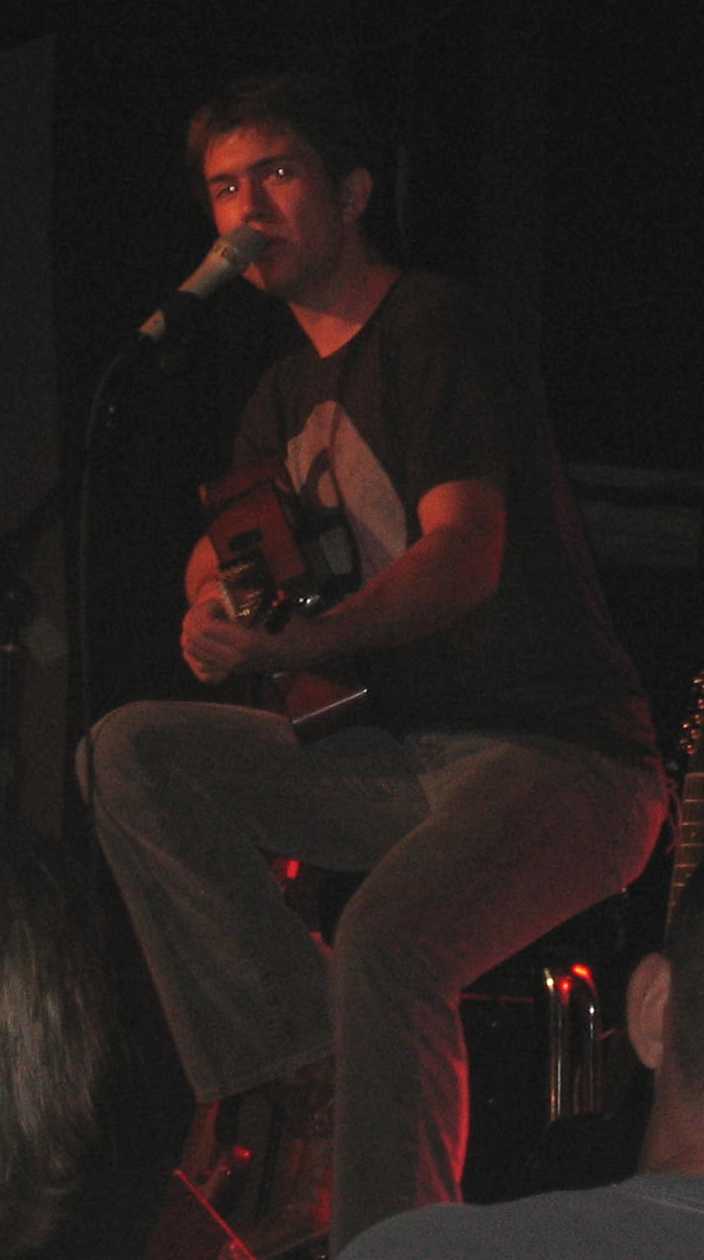 He opened with an instrumental, and it was obvious throughout that this guy is an extremely talented guitar player. He played a number of blues songs, the rest all included him singing as well as playing slide guitar. He has a good voice as well.
While we both enjoyed his performance, especially that it was a true bonus, not cutting into any Dave Mason time, nor lengthening the evening at all, it's not particularly my style of music. That should take nothing away from David, who is wildly talented, and those that like raw blues, will love this guy!
That said, here's the really cool part of the story. The night before, David opened for Dave Mason at Rams Head in Annapolis, MD. After the show, Dave's road manager called him in for a chat. David was obviously nervous that somehow, he blew it. Instead, he received a pleasant surprise, which was hearing that Dave was inviting him to open at BB King the next night!
David was supposed to head to California yesterday, but made the correct choice (IMHO) of joining Dave for another night, and playing at BB King. Kudos to Dave for wanting to highlight a real talent (when Dave came on, he retold the story that David did, and said that David was the real deal, and we could all use some more real deal in our lives). Kudos to BB King for being flexible, and starting an opening act at 7:15pm, accommodating everyone involved!
David played for exactly 30 minutes.
After the show, David was selling CDs in the lobby. Even though this isn't exactly the style of music we normally buy, we both like to support live music in general, and talented musicians in particular, so we bought David's CD: Liar's Day. Lois got him to sign it for us as well. 🙂