Send to Kindle
Lois and I are truly thankful every day of our lives. We've been blessed in so many ways, we couldn't accurately count. Near the top of any list of blessings for us, you would find our wonderful godchildren. In 2008, we were extra-blessed, when Laura got married, and moved to NYC with her husband. They now live in the same building we do, so we get to see them more often than we ever used to!
Unfortunately, while Laura came north, David went south. He is doing his first year of medical residency at UAB (University of Alabama Birmingham). It was his first choice, and he loves it, but we miss him. We hadn't seen him since Laura's wedding on July 5th. For us, that's an unusually long stretch not to see one of them.
We've now corrected that, and were rewarded (blessed) with a near-perfect long weekend!
On Tuesday afternoon, we drove from Zope to Durham and spent the night in a Hampton Inn there. The next morning we picked up a very good friend of David's (and for a long time, ours too, once David introduced us) and we headed to Birmingham, AL. The drive was going along fine, including a successful detour off of I85 to avoid a horrible accident, until we hit Atlanta (mid-afternoon). We were stuck in traffic for nearly two hours, for what should have been a 15-20 minute drive-by. All things considered, not that bad.
We got to Birmingham at a reasonable hour nonetheless, and after checking out David's apartment, headed for a wonderful meal at La Mesa Cantina and Grill. It's a different type of Mexican Restaurant. The place is gorgeous (including the bathrooms). You can check out the photo gallery and the menu if you might ever find your way there. I had three soft tacos, two with fried oysters and one with grilled skirt steak. They were excellent, but the oysters were truly outstanding. Next time, I'd probably go for three of them!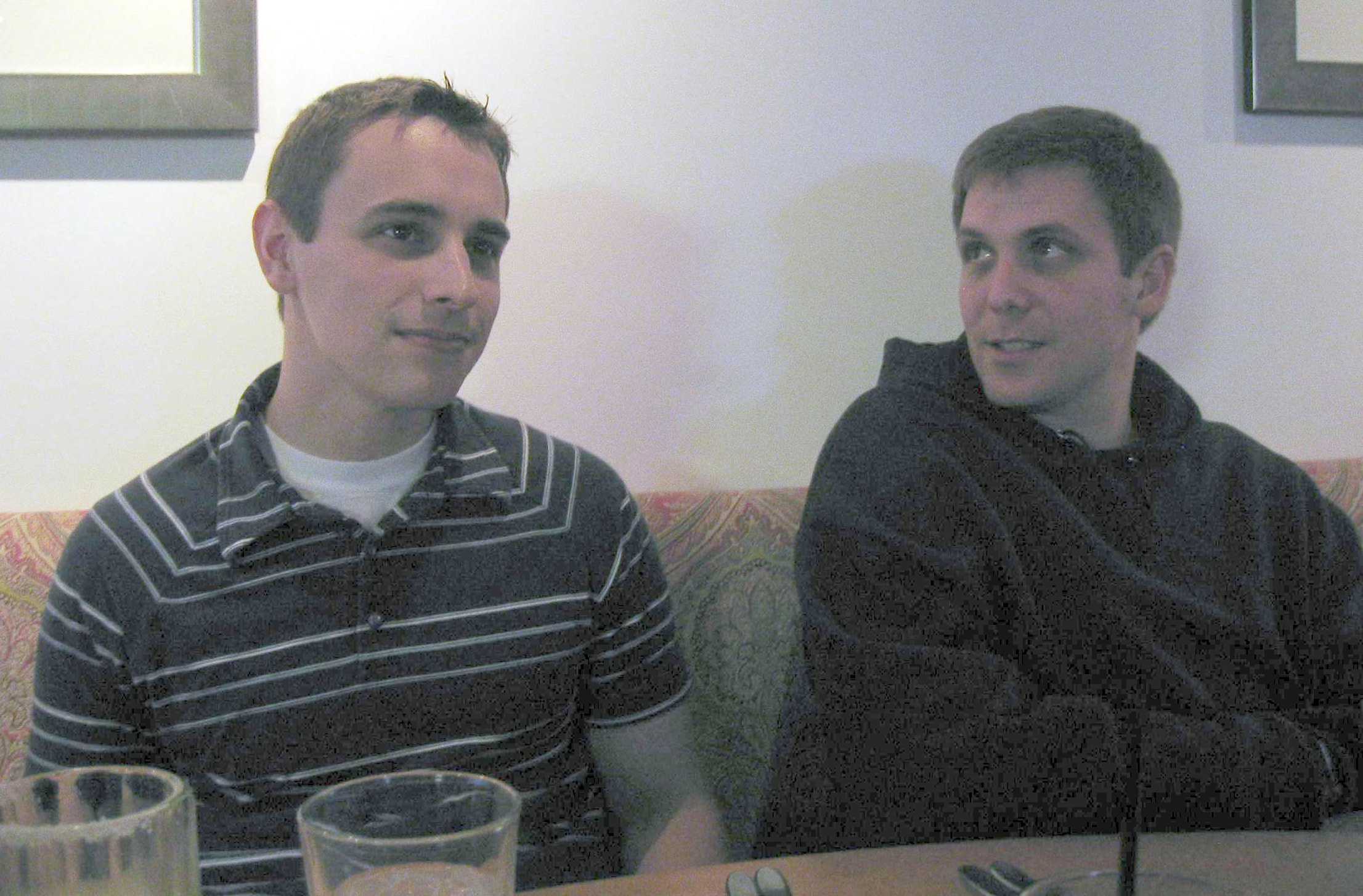 After some coffee and catching up at David's, Lois and I headed to the local Embassy Suites to check in, leaving Wes and David to catch up (and play NCAA Football on the PS3).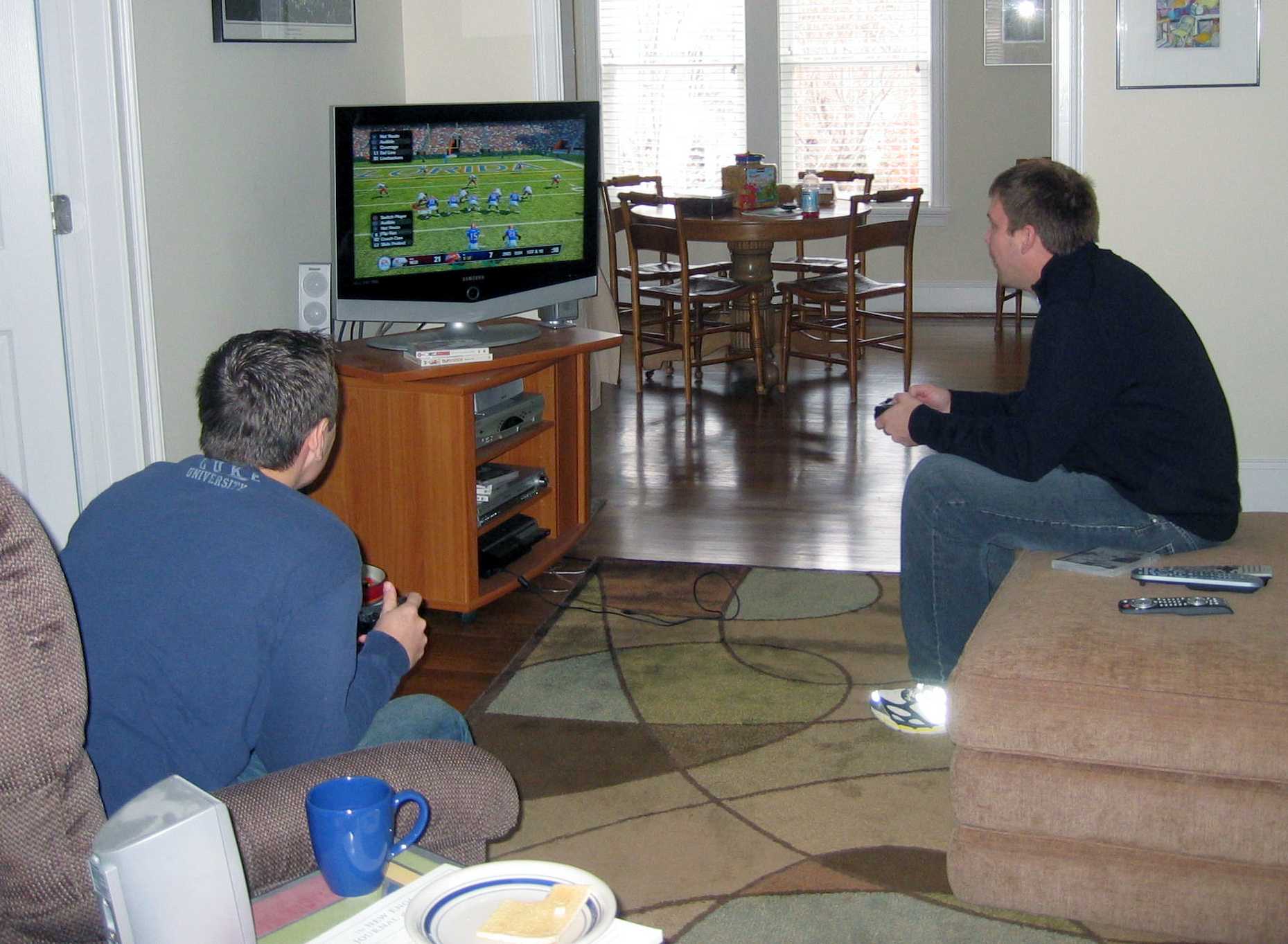 I have chronicled my WiFi woes at the hotel in two separate posts, here and here. Without that experience, I would have described this weekend as perfect as opposed to near-perfect. 😉
On Thanksgiving day we headed to David's mid-morning and relaxed there for a while. We then headed out for lunch and a movie. Amazingly, there were no places open for lunch near the movie theater, which was at a giant outdoor mall called The Summit. We even drove around a bit in the surrounding neighborhood, and every single place (other than McDonalds) was closed.
We decided to be pragmatic and we bought prepared food at Brunos (a supermarket near the theater) and ate it at a table that they provide expressly for this purpose). No one would confuse our lunch for a gourmet meal, but we all enjoyed it nonetheless, and it ended up being very convenient.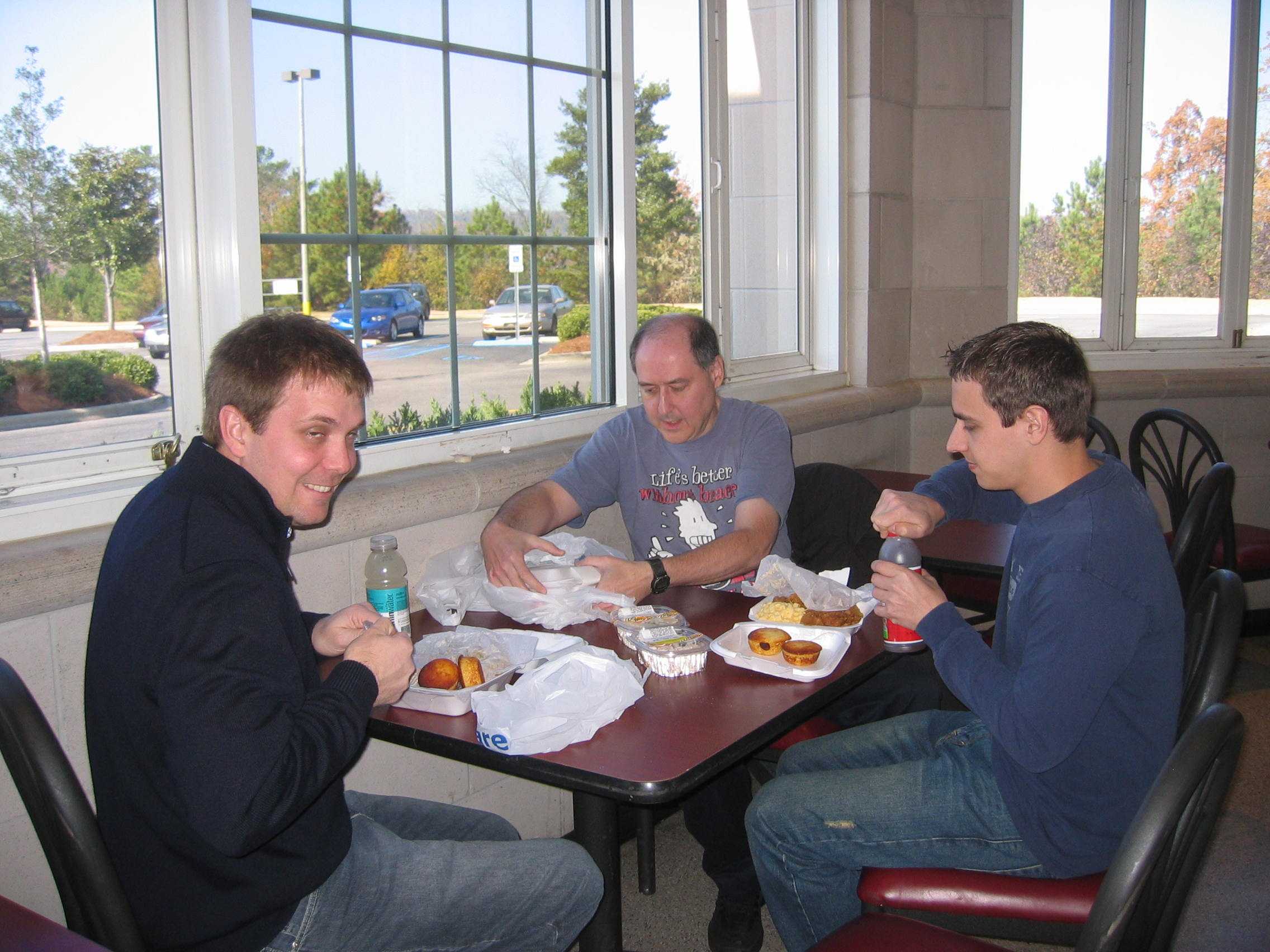 We headed over to the movie early, which gave us enough time to split a large buttered popcorn (which was indeed gourmet!) 😉 between the three guys.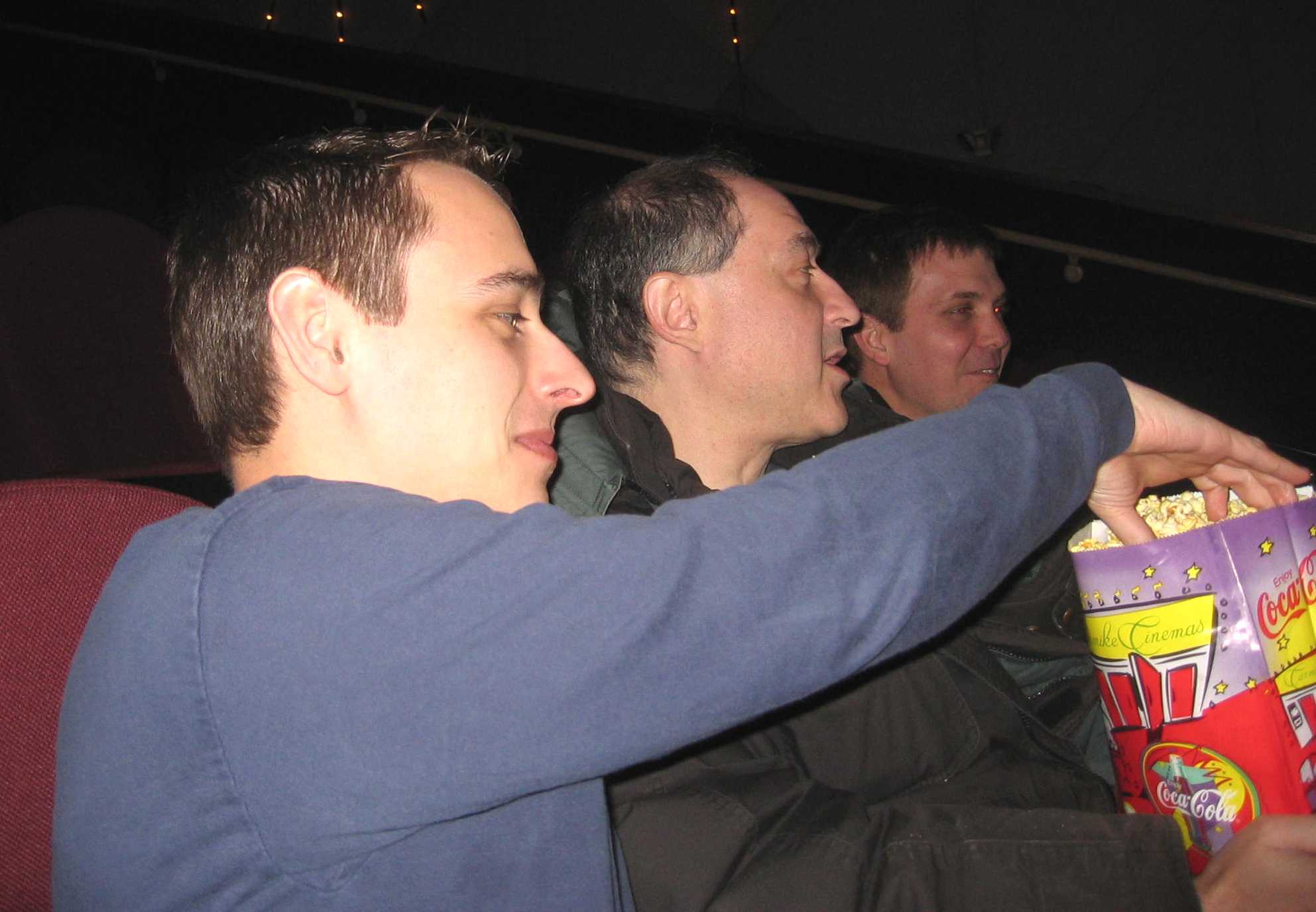 We saw Four Christmases. Most of it was laugh-out-loud funny, with a few way-too-stupid scenes thrown in to ensure that it wasn't a great movie… Seriously though, if you like comedies, there are definitely a ton of laughs. Both Vince Vaughn and Reese Witherspoon do a great job, and the majority of the supporting cast is excellent as well. Wes and I were repeating lines from the movie for days, so it definitely hit the funny bone.
In addition to the humor, there are a few reasonably deep family/life insights, most of which are delivered cleverly or at least in an interesting way, so there is even a bit of redeeming value to the movie. 🙂
We returned to David's and relaxed the rest of the afternoon, and mentally prepared for the big Thanksgiving meal. Finally the time arrived, and we headed back to our hotel for the event. In the lobby of the Embassy Suites is a Ruth's Chris. We've all had many great meals at various Ruth's Chris restaurants over the years, so we had no doubt that this one wouldn't disappoint. We were right.
We could have ordered a traditional TG Turkey dinner, but the boys all went for steak. No surprise, as we had been talking about it for a few days beforehand. We also shared an exceptional bottle of Ridge Zinfandel (2006). Don't get me started about how great most bottles of any Ridge wine are. It's one of my all-time favorite wine makers.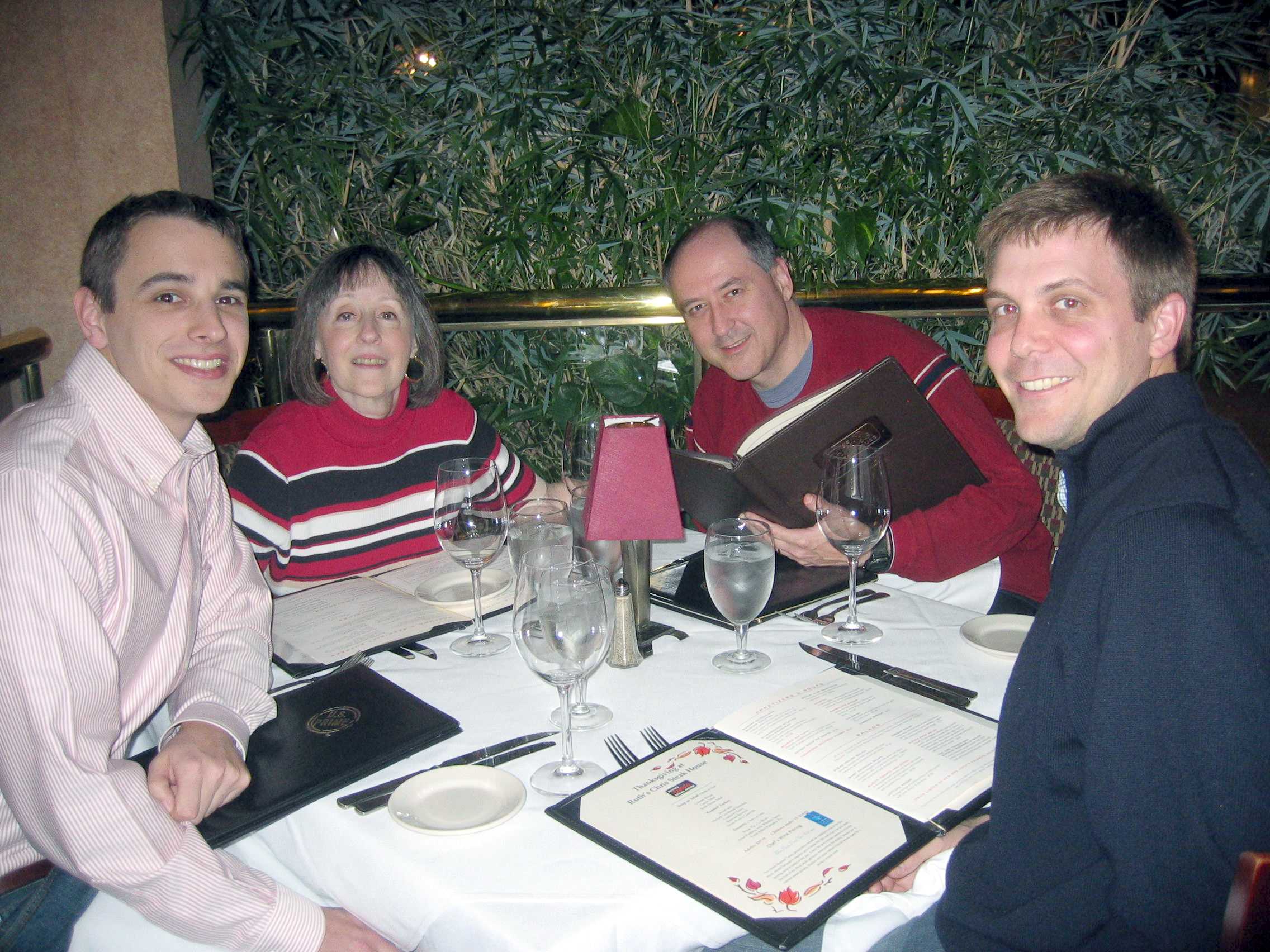 We skipped dessert there and headed back to David's, where we had coffee and some cheesecake that we bought earlier at Bruno's. It was fantastic.
The next morning (Friday), David left early for an overnight on call shift. That's 30+ consecutive hours in the hospital, usually with little-to-no sleep. We don't understand the point, but it's a regular part of his life/schedule, so it's just a fact of life at this point.
We decided to take the opportunity to create an adventure for the rest of us, which I've documented separately. The only thing wrong with Friday was that David didn't get to enjoy it with us, and that we didn't get to enjoy David's company. Otherwise, a perfect day!
On Saturday, we headed to David's mid-morning to hang with Wes. After a few hours, David called to say that he was headed home. Lois and I went out to bring lunch back in. The plan was Chick-Fil-A (which I've never had the pleasure of), but rather than go to the one Wes directed me to, I allowed the GPS to pick a closer one, which ended up being closed. We brought back Quiznos instead, which served the purpose just fine.
You can tell just how wiped David gets after being on call. He needed a slightly larger shot of caffeine than Wes did. 😉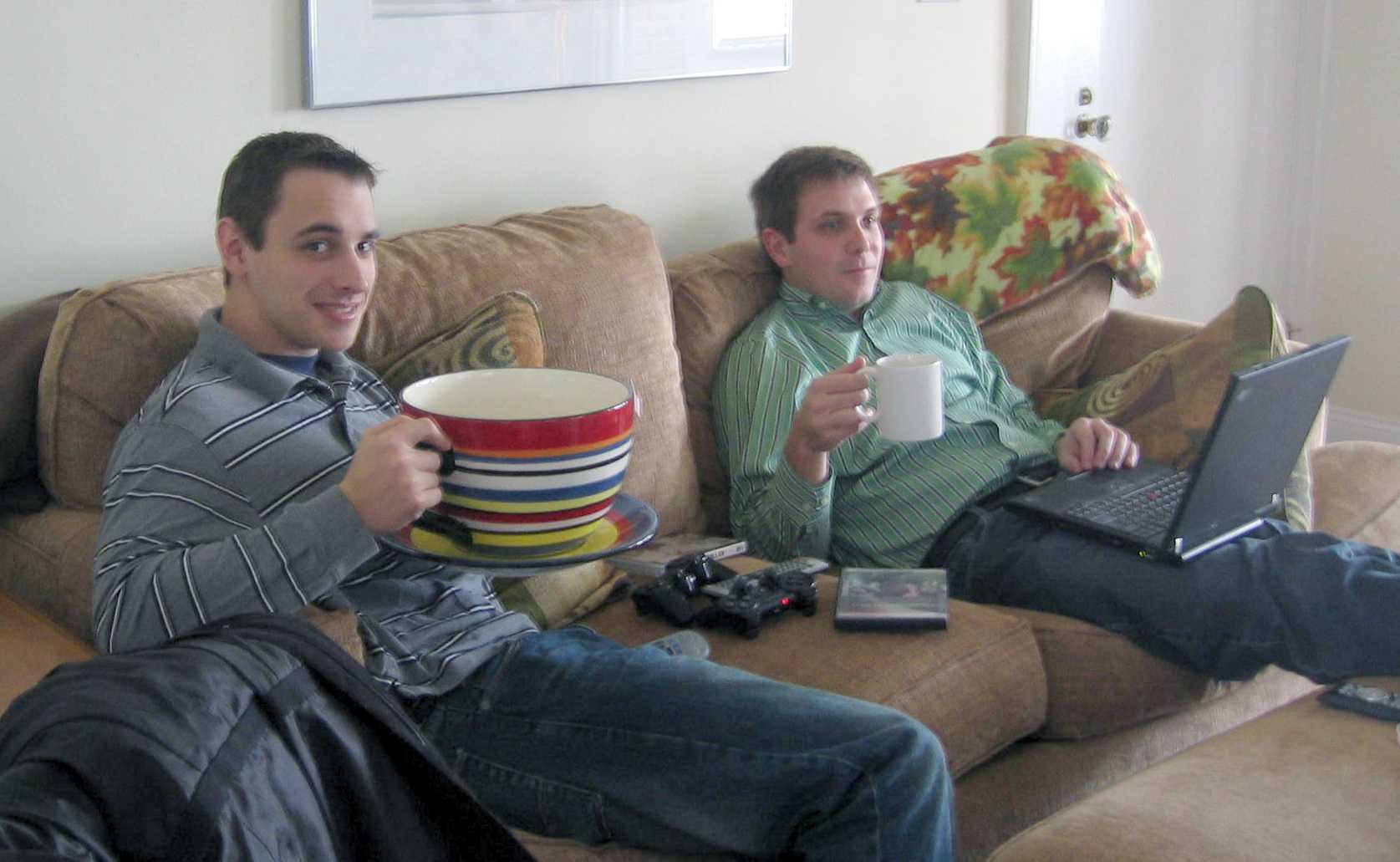 Right after lunch, David napped while Wes and I watched college football and caught up with emails. I created a mini-panic when I tried to fix what felt like a flaky WiFi router in David's apartment. We had no Internet connectivity for nearly an hour. Eventually, I got it all working again, and it seemed less flaky, but there were moments when I was wishing to have flaky back. 🙁
When David woke up, we watched more football. We didn't want to go to dinner until the Iron Bowl (Alabama vs Auburn – Roll Tide!) was over, because we were headed to Dreamland BBQ, which we assumed would be a mob scene during the game. We had an excellent meal there (with yet another round of extraordinary service!). Also, since the menu is limited (but exactly what we were interested in), they are constantly cooking all of the available items, so it's as lightning as fast food, but clearly as good as cooked to order.
On Sunday, we headed to David's mid-morning again (broken record). We watched the first half of an amateur movie on DVD called The Pinecone Priority. The movie is pretty poorly executed, but it has some extremely clever lines and concepts in it. Wes is one of the stars, so we were happy to watch it, even though it was over-the-top campy… If you watch the teaser/trailer (linked above), you won't get a sense of how the movie itself is poorly executed, but you'll see another form of poor execution. Most of the trailer is black. At exactly the 1:24 mark, you can barely see one scene. Wes is the guy on the left in that scene.
Here's a better picture of Wes, taken by Lois, while Wes was on the TV. This time, he's on the right. 😉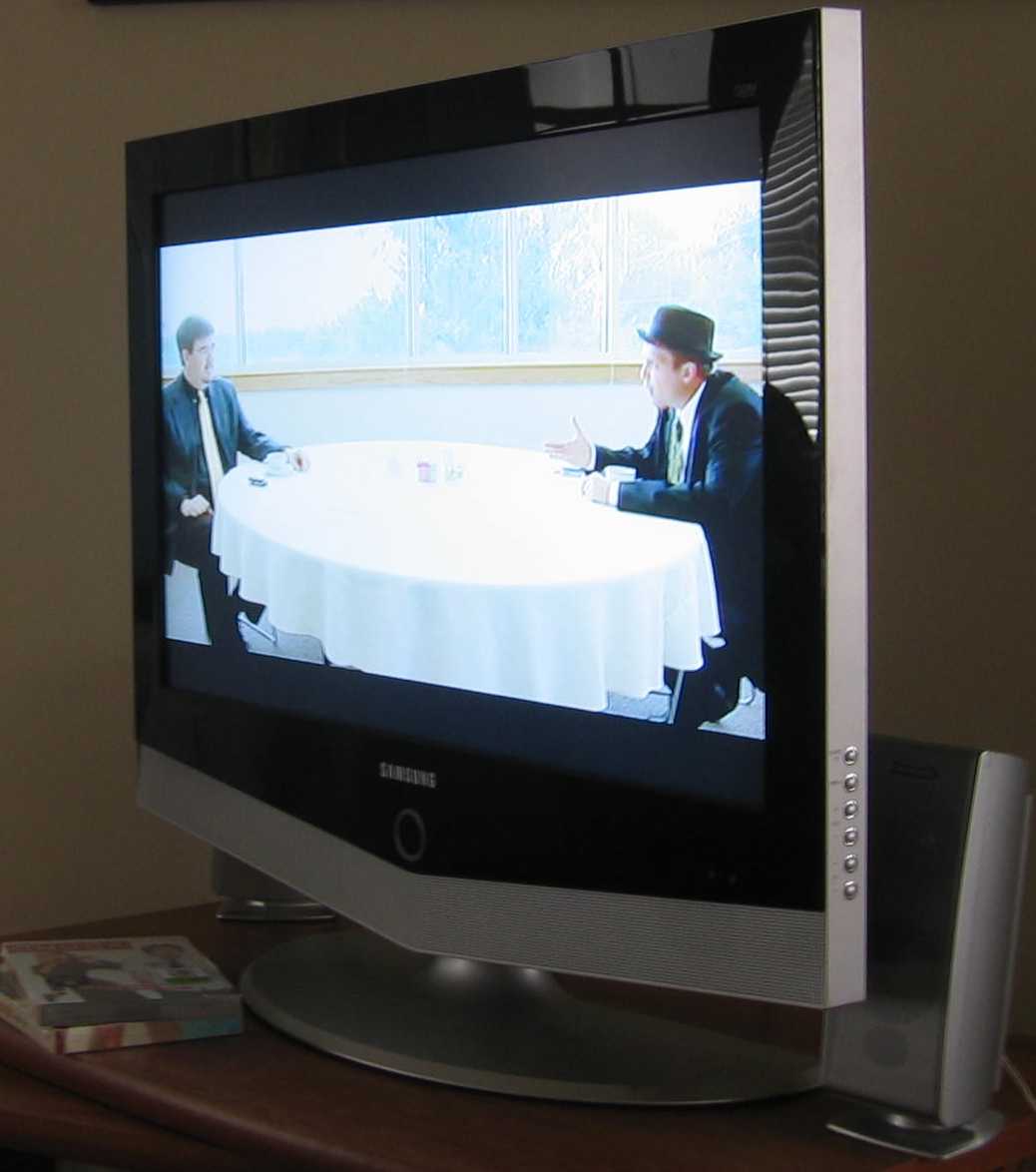 We headed for PF Changs for lunch (back at The Summit). All of us count it among our favorite restaurants. The meal was exquisite, including our first taste of the Kung Pao Scallops. David and I split an order of Moo Shoo Pork, which simply couldn't have been any better. We then did a little shopping, including picking up a Blue Ray DVD of Tropic Thunder to watch later on.
We relaxed back at David's the rest of the afternoon and finished up watching The Pinecone Priority, and then David, Wes and Lois headed to an evening church service. I stayed at the apartment and played (and lost) in my weekly big poker tournamet (I already reported about the crushing loss I took in November…). They brought back pizza for dinner. I called the order in to Dave's Pizza while they were still in church. The timing worked out perfectly.
We then watched Tropic Thunder. This movie is way over the top, and was definitely not a hit with the entire crowd. That said, it had some pretty funny scenes and lines in it, and the concept was quite clever, if overdone in the delivery. It seems that no one associated with this movie ever heard of the word subtlety. Given that I am a sucker for most forms of comedy (even reasonably bad ones), I likely enjoyed it more than the rest of them, but honestly, even I don't recommend this one to anyone. 😉
After coffee and one last slice of the heavenly cheesecake, Lois and I headed back for one last night at the Embassy Suites. In the morning, we headed over for one last hug from David, and headed on the long trek back to Fredericksburg (and Zope). We dropped Wes at Durham, after stopping in the Hampton Inn where we stayed a week ago. I had accidentaly left my Treo charger in the room, and they were kind enough to hold it for me. We had to drive back through Durham anyway, so it wasn't as inconvenient as it could have been.
We made it back to the hotel at 8:30pm, which was almost exactly 12 hours after we left Birmingham. We had essentially zero traffic the entire way, which was extraordinary, and another thing we give thanks for on this weekend.
We couldn't be more thankful for this wonderful visit, regardless of whether it was Thanksgiving proper or not. We're already counting the days until we find our way back to Birmingham (and Atlanta). 🙂
And, just because Lois loves this one… 😉