Send to Kindle
Last year I reported on our first-ever trip to Birmingham, AL, for Thanksgiving with our godson David. It's now officially a tradition, which is likely to extend at least through next year. Once again, the real parents went north and spent Thanksgiving with Laura and Chris.
We repeated the general pattern from last year, but there were enough differences that are worth mentioning. Last year we spent Tuesday night in Durham, picked Wes up early Wednesday, and drove to Birmingham. In doing so, we got caught in horrendous Atlanta traffic, where we moved less than 1/4 of a mile in one two hour period.
In order to avoid that, we picked Wes up on Tuesday afternoon, and drove a few hours to Gastonia, NC, hoping to pass through Atlanta before the crush. That worked, as we had perhaps a 20 minute delay in Atlanta this time. But, it afforded us another surprise.
We got to meet Wes' dad for dinner at a Sonny's BBQ right outside of Charlotte. He's a great guy and a wonderful host (he wouldn't even let us leave the tip, and believe me, we tried hard!). The food was outstanding but the company was better. I spent most of the time chatting with Wes and his dad, and Lois split her time talking to us and to two lovely young ladies who were visiting from Texas.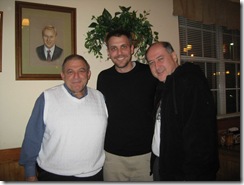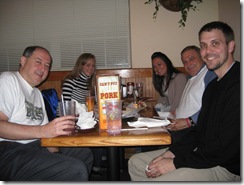 We arrived in Birmingham at 1:30pm and checked into a Hampton Inn. David was still working at the hospital, so Lois and I logged on and caught up with email. Wes wasn't feeling too well, and he sacked out on the big chair in the room. We tried to be quiet, not necessarily all that effectively.
David called at 4:30 to say he was on his way home, and we met him there at 5pm. After a hug (or two), we headed for dinner at P.F. Chang's. We had a truly spectacular meal there (not that we've ever had a bad meal at any Chang's). Shortly after returning to David's, the old folks called it a night and let the kids catch up (Wes stayed at David's, as he did last year).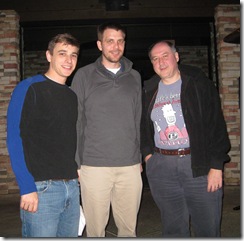 Last year, David worked the morning of Thanksgiving, but was home by noon. This year he was on a 30-hour call (in the ICU), so weren't going to see him until Friday afternoon. That alone accounted for the biggest difference in the schedule from last year, when David was on a 30-hour call from Friday morning through Saturday afternoon.
After watching a bit of pro football with Wes on TG day, we headed for TG dinner at McCormick and Schmicks, one of the few places open in Birmingham on TG day. We moved our reservations up from 6pm to 2pm. The restaurant is gorgeous, everyone there (including our waitress) was gracious, efficient, and in excellent spirits (even though they had to work on TG day).
Last year, we had TG dinner at Ruth's Chris and we all opted for steak rather than a traditional meal (which was available). Without discussing it in advance, both Wes and I decided to order a traditional TG meal, taking advantage of the fact that we were going to Ruth's Chris on Friday evening this year. It was superb. As good as the turkey was, all of the surrounding trimmings were incredible.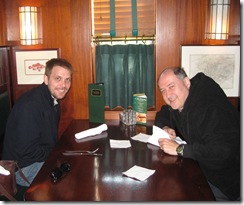 Lois and I had the best cappuccinos of our lives as well, but not without a moment of hesitation. When we ordered the cappuccinos, we were asked a question we had never heard before: "Do you want them wet or dry?"
Huh? We asked what the difference was, and were told that wet was more milk, less foam, and dry was less milk, more foam. We took them wet, and you already know what we thought of the result. 🙂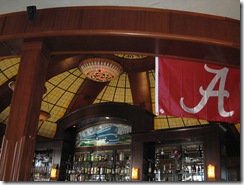 For the rest of the weekend, Lois proceeded to mis-pronounce the name of the restaurant, in a dozen different ways, always substituting a different second name after McCormick (which she got right every time). After seven different attempts, the one that seemed to stick with her (and which Wes and I started repeating consistently) was "McCormick and Schlitz"! 😉
It was this year's version of Obie Snoods. If you don't know what that inside joke means, then your life doesn't revolve around my blog. Shame on you! 😉
Hint: type "Obie Snoods" into Google or Bing and click on the first link!
We stopped at CVS on the way back to the apartment and picked up a few items, including two DiGiorno pizzas. We watched football the rest of the afternoon, worked a bit on the laptops and indeed ate some pizza later that night. A very relaxing day highlighted by a truly wonderful meal.
On Friday morning, Lois and I did what any good godparents would do. We drove to Hoover, AL to the nearest Costco and shopped for David to stock up every nook and cranny in his apartment and fridge. Success. David actually beat us back to the apartment, and was able to help us carry the bounty upstairs.
We ate the rest of the DiGiorno for lunch and then settled in to watch Alabama beat Auburn in the Iron Bowl (Roll Tide!). When the game was over we were joined by David's friend Rebecca and the five of us headed over to Ruth's Chris. We had a very private table in the atrium, probably because most people were somehow involved with Iron Bowl travels or festivities.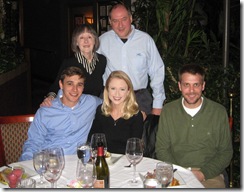 Another great Ruth's Chris meal, with lots of laughs, very unhurried by our excellent waiter. We were there over two hours, including forcing dessert on everyone (OK, everyone except for Lois, who can resist the mightiest of dessert forces!). After dropping the kids back off, we said a quick goodnight and headed back to collapse in the hotel.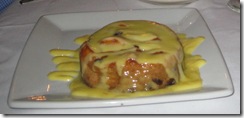 David was off on Saturday. We picked David and Wes up and had brunch at V. Richards. Another excellent meal! Better yet, outdoors! Last year, a cold rain prevailed throughout the TG weekend, and it was miserable to be outdoors. This year, nearly 70 degrees. If I get a vote for next year's weather, I choose to duplicate this year's, not last…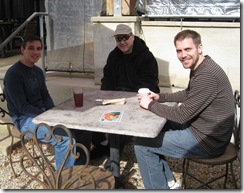 From there we headed to Vulcan Park and walked around a bit. Of course, we made it back to the apartment in time to watch the Florida game, ensuring a battle of the wills between David and Wes the following week in the SEC Championship game, now history. I'll leave that topic alone, to not inflame the bad feelings any more than necessary…
When that game was over, we headed back to Hoover, AL, straight to the Sprint store. We bought David an HTC Hero (Android phone) for Christmas/Birthday. We're now officially Android buddies since I got a Droid as a gift a week earlier (I'll be blogging about that separately, likely tomorrow).
From the Sprint store we headed to Jim 'N Nicks for dinner where we met up with Rebecca. The meal lived up to my expectations of my previous Jim 'N Nicks meal in downtown Birmingham, even though the atmosphere in the downtown one is dramatically more upscale.
I was wearing one of my 100 Python T-Shirts, and one of the waiters (not ours) walked by and said "Python Rocks!". It does, and you never know where you'll find a fan! 🙂
After dinner we scurried over to the movie theater and caught a late showing (by our standards) of Blind Side. All five of us enjoyed the movie thoroughly.
On Sunday morning David was back to work bright and early. We picked Wes up and headed to Briarwood Presbyterian Church for the 10:55am service. Rebecca was playing in a brass quintet that was being featured throughout the service (she plays French Horn). They played their first-ever public performance in the earlier service. If there were any glitches to be worked out, they pulled it off by the time we heard them. They were wonderful!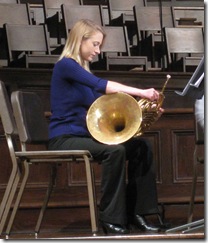 The church is one of the most magnificent that I've seen, and the congregation couldn't have been friendlier or more welcoming. In a surprise, David got off work earlier than he expected, and joined us just minutes into the service.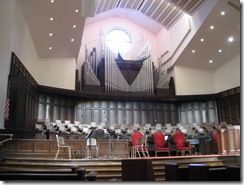 Here's a very small world side story. When we were driving back to David's from our Friday morning Costco run, I noticed a stunning building on the opposite side of the highway. It was labeled "Comprehensive Cancer Center". I asked David about it, and he said that he didn't know about that particular building.
When we returned from the movies the next night, we drove the same route, and when I pointed the building out to David, he said that he was pretty sure it was part of the UAB Hospital system (an outpost).
Well, it turns out that it's at the base of the Briarwood Presbyterian Church grounds, so we drove right by the front door of CCC on the way in and out. When I mentioned it to David originally, I had never heard of Briarwood, hadn't met Rebecca yet, and therefore had no idea that I'd be visiting that Church on Sunday…
After the service we drove to Firebirds restaurant (in three separate cars) and had yet another wonderful meal. One of the most flavorful burgers I've had in a while! After the meal we said goodbye to Rebecca who was off to play another service in Jasper, AL that evening. Not bad to have three gigs on your first day in a new brass quintet! 🙂
The boys headed back to the apartment, and we headed back to Costco (right around the corner from the restaurant) to replenish the incredible amount of Propel that the boys had gone through in just two days!
We hung around the apartment until dinner time, when Lois and David went out to pick up Dave's Pizza. Wes talked us all into trying Pepperoni and Jalapeño pizza. It was a little hotter than he recalled his previous encounter, but it was quite good nonetheless. 🙂
Again we left on the early side, especially knowing that we were aiming for a very early start the next morning.
We arrived at David's at 6:40am to pick up Wes, just in time to say goodbye to David on his way to the hospital. We drove to Atlanta in non-stop rain (nearly blinding at times). We stopped for brunch in Atlanta and met some friends at a really cool out-of-the-way place called Sun In My Belly. A great meal, with great company and an hour and twenty minutes later we were back on the road.
With a very few breaks in the rain (notably, including the two times we had to walk in the Sun In My Belly parking lot!), we drove the rest of the way to Durham to drop Wes off, then drove the remaining 3.5 hours back to Fredericksburg.
Another fantastic Thanksgiving weekend. We're already looking forward to next year! 🙂