Send to Kindle
On Wednesday (June 10th) four of us spent the evening at an outdoor concert at Innsbrook After Hours.
The title of this post is totally out of character with my other music posts. I almost always put only the headliner in the title, and cover the opening act(s) after covering the headliner. Eddie from Ohio was the opening act, and I will cover them first. If you make it to the end, you'll know why…
Last year, a friend of mine told me that I would really like Eddie From Ohio. I went to their site, listened to the many songs they were playing there on their radio site. I immediately bought one of their CDs (downloaded from Amazon.com) called Looking Out The Fishbowl. I like the CD, but I actually liked the music I heard streaming on their site more, so I should have done some more research before picking one album. Some of the songs on this CD are still awesome, so I knew I liked them.
I was pretty darn sure that it was one of two people at Zope Corporation that originally turned me on to Eddie From Ohio. One night (still last year), we were driving back from a concert in Alexandria, VA with a couple of those Zope guys, and I thanked them for recommending Eddie From Ohio. They stared at me blankly, as neither of them were the ones. So, whoever you are, even though I don't remember which one of my friends it was, thanks for telling me about them!
Eddie From Ohio has been playing together for 18 years, with many CDs and tons of touring along the way. They're great! Seeing them live was fantastic. There are four of them in the band. Left to right on the stage:
Robbie Schaefer on lead vocals and guitar. Excellent in every respect. He sings beautifully, harmonizes exceptionally well, plays guitar really well, etc. He also has an incredible range, as he does all of the bass singing. He'd be capable of playing that role in a traditional barber shop quartet.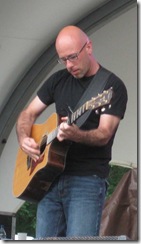 Julie Murphy Wells on lead vocals. Wow. Julie has a set of pipes on her. She sings fantastically, and has excellent energy and stage presence as well. While she also bangs on the tambourine on occasion, I'll clue you in that it's really about her voice, not the little cymbals. 😉

Michael Clem on bass, harmonica and vocals. Very good bass player, sings excellent harmonies (which is a major part of the Eddie From Ohio sound!). Great personality, handling a lot of the bantering on the stage with the crowd, and with his band mates.
At the show, I mentioned to Lois that he reminds me of a brother of Brad Garrett (from Everybody Loves Raymond fame). But, after looking at his pictures more closely, we both now agree that he's much more reminiscent of Eric Bogosian (of Law and Order: Criminal Intent fame).
Eddie Hartness on the drums and vocals. As with Michael, the vocals are just harmony with the others. When all four of them are singing together, which is often, it's absolutely gorgeous. Eddie is a top-notch drummer as well, in all respects. In addition to a full drum set, he also has a Djembe and bongos, which he plays phenomenally.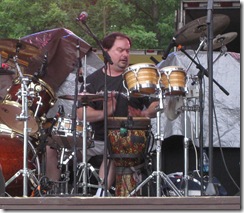 In addition to making great music (especially the vocals), many of their songs range from irreverent to downright hysterical. They have a great time on the stage, and make sure to bring the audience along for the ride. For one example (there are too many to mention), check out the words to Tommy the Canexican. Enough said! 🙂
At the other end, they sang two gospel quality songs, so they do it all, and do it all well!
Eddie From Ohio came on stage at exactly 6:30pm (this was an outdoor concert) and played for exactly one hour. They were awesome. We would have been thrilled to see them continue on, even though at the time, Lois and I were really looking forward to seeing the headliners as well.
During intermission, Lois chatted with a few fans of theirs, getting advice on which additional CDs we should get. Lois headed over to the little tent and bought Quick, and Three Rooms (a 2-disc Live CD), which I'm listening to as I type this. Absolutely wonderful, great recommendations. She also bought Robbie Schaefer's new solo CD (which they did one number from at the show).
The intermission lasted longer than normal (a minimum of 45 minutes), but finally, Blues Traveler took the stage. We own one of their CDs, Four, which came out in 1994. We probably bought it then, or soon thereafter, so we've known about Blues Traveler for a while, but we don't know much of their music, and had never seen them live.
When I got my first MP3 player (a Creative Zen player, I think before iPods took over the world), I was very stingy about which songs I ripped from my vast CD collection. Ironically, the player had 20GB, which seemed plenty at the time, but my laptop hard drive, which I was syncing from, was much smaller than it is now. Also, I didn't know that ripping at 96kbps would give me as much fidelity as my ears can differentiate.
The above paragraph is simply to inform you that in my selectivity, the only song from the Four CD that made it on to my MP3 player was Run Around. Lois and I listened to it on every car trip for many years, along with two songs by the Proclaimers. This isn't to say the other songs on the CD aren't good, but I honestly can't tell you any longer, because even though I have tons of disk space now, I was never tempted to re-rip the CD.
Cutting to the chase, Blues Traveler are an extremely talented group of five guys, but it's not really our speed (either because they've changed/grown, or because we never really knew them, and just liked a tiny sliver of their older stuff, unknowingly). Basically, they are a straight up hard rock group.
I like rock (mostly older stuff), and I could have somewhat enjoyed the show, but the three other people I was with weren't enjoying themselves, and I wasn't particularly either, so 30 minutes into their set, we called it a night and left.
Ironically, we left right after they played Run Around. I'm really glad I got to hear it live, but not because it blew me away (it didn't). John Popper, the head of the group (lead vocals, and by far the best harmonica player I've ever seen live) played with the song to the point where it was not as recognizable as I would have liked.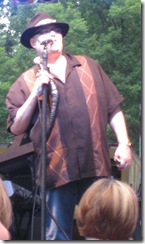 To repeat something from the above paragraph, John Popper is frighteningly good on the harmonica. In fact, when he takes solos on the harmonica, at times, I could swear it was a blistering electric guitar lead, he's that good! He sings really well too.
So, if I like Rock, and they're all talented (which they really are), and John Popper sings well, and is a superstar on the harmonica, what didn't I like?
Mostly that you can't make out any of the words (you're basically being screamed at), and each song sounds like the last one. This is the kind of music you really need to be familiar with, from a studio album, so that you are hearing it correctly in your head while they're just bashing it out on the stage.
I'm sure this is exactly how Lois felt at the Allman Brothers Concert, whereas I was in heaven, having listened to those songs for most of my life. 😉
To repeat, I think Blues Traveler deliver 100% satisfaction to their fans, or fans of that style of music in general. There was genuine adoration throughout a giant audience at the show, and I'm sure many people thought we were nuts for leaving early.
Rain was called for all evening, so we were prepared for the worst (with four large umbrellas in tow). Amazingly, the rain never came. It was quite humid, but nothing to complain about given the alternative.
Here's a shot of Eddie From Ohio during their sound check, so that you can get a sense of part of the grounds when they were empty. The seats near the stage were the premium tickets that we had (we sat in the second row):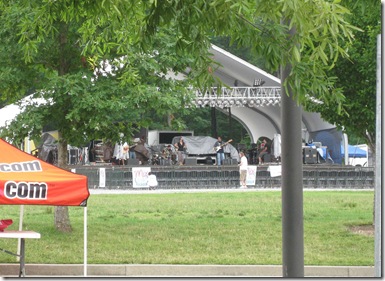 A quick back story. We are/were working down at Zope this week and next. We left work early on Wednesday and went to the show with our local Richmond friends. Innsbrook really has their act together. They told us to line up at around 5pm, for gates that open at 6pm. We did that. Gates opened exactly at 6pm.
They had a variety of food stands open on the grounds, and we all liked our meals. The show started exactly at 6:30, even though the website said that Eddie From Ohio would likely be on stage at 6:45. Oops, I hope no one timed it to come then, therefore missing 15 minutes of great music.
Everything was clearly signed, and when Lois called to ask about the seating (the premium tickets mentioned above), she got extremely accurate information, which is much appreciated, as it's rarely available. This will become more important in my next post about the show we saw the next night.
We had a great time, even though we left early. That allowed us to settle in at our friends' house at a reasonable hour, and the men watched a Blue Ray version of Live and Let Die. It was so spoofish that I was laughing out loud for nearly the full two hours. I enjoyed it, but only as a comedy, not as a spy thriller.