Send to Kindle
We're in NYC for an unusually long stretch. We're at the halfway point, and it will be hard to top last week, but we won't stop trying. 🙂
We returned from VA on Tuesday to one night of solitude. Our extravaganza started on Wednesday. Since we had been away, I got back on the exercise track by taking a seven mile walk by myself.
At 4pm, friends of ours who were passing through arrived to spend the night. After catching up a bit on the deck (in perfect weather), we walked up to the Peking Duck House for a wonderful meal. We waddled back, taking a tour of Grand Central (including the amazing Food Market), and after schmoozing a bit more, collapsed.
The next morning, I took another long walk with our friends, this time roughly six miles. They (correctly) shamed me into getting a new pair of sneakers when they heard me tell Lois that I had not forgotten to stuff some tissues into my socks to stop my sneakers from cutting my heels. I am now the proud owner of a new pair of New Balance, purchased at Modell's (Gotta Go to Mo's!). 🙂
In the afternoon, we dropped our friends off uptown and headed straight to LaGuardia to pick up David. Since it had started raining reasonably hard, and his flight was delayed, we parked the car in the garage (highly unusual for us), and we relaxed at the food court, where we had excellent coffees from Coffee Beanery. I watched a bunch of The Onion video podcasts on my iPod (laughing my head off non-stop), while Lois browsed at Borders.

David was only an hour delayed, and even though it was still raining, we made great time back to the city. We ran across the street and had a terrific Mexican meal at El Rio Grande. Afterward, Laura and Chris came up to catch up with David.
On Friday, David had lunch out with his college roommate, and Laura (who took a half day off) planned to take another long walk with me. Just as we were about to leave, David texted me that he could be back in 10 minutes if we could wait. We did, happily, and the three of us did the full 8+ mile walk, on yet another glorious day.
Friends of David and Laura (and us as well, though we're their parents' ages) were flying up from Richmond, scheduled to arrive at 3:30pm. When a flight attendant was unable to make it on time, they were delayed awaiting a replacement who was flying in from Cincinnati! We had tickets to the Blue Note Jazz Club that evening, and they ended up having to meet us there straight from the airport (putting their luggage in the coat room).
It all worked out fine, and they got there in plenty of time to enjoy a leisurely meal with us. Chris joined us a bit later, due to work, work, work…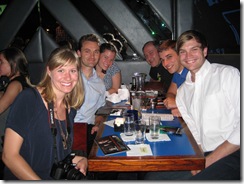 We saw Charlie Haden (a great bassist). He was playing six consecutive nights at the Blue Note in an Invitation Series with a different guest performer each night. On Friday night, Kenny Barron was the guest, an amazing piano player. The two of them played together, and each took a number of long solos for 70 minutes. It was a slightly short show for the Blue Note.
The air-conditioning seemed to be off only during the show (it came on seconds after the show ended) and they were working so hard on the stage, that I wouldn't be surprised if the heat caused them to cut it short just a bit. A lovely evening of good food, great company and excellent music.
When we returned to the apartment, the old folks hit the sack, and the youth stayed up (who knows how long?). Before I said goodnight, Chris asked if I wanted to walk in the morning. That would have made four days in a row for me (something I hadn't attempted as yet), and being the macho machine that I am, I said yes.
I was a bit late (sorry Chris), and met him downstairs at 8:19am. We did the full 8+ miles, at a faster pace than most of my group walks (in fact, we shaved 24 minutes off of the average group walk time, and only six minutes longer than my best time ever). Chris kept me on a crisp and steady pace. Thanks!
While I was off walking with Chris, our guests enjoyed breakfast on the deck.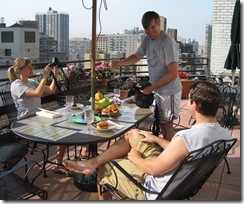 After a shower, the boys (David, Chris, Clint and I) headed to the new Yankee Stadium to catch the game against the Oakland A's. This was collectively our first time at the new stadium. In my opinion, it's awesome. Nice job Yanks!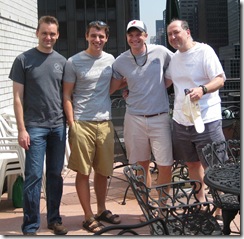 Too many food choices to articulate, so I'll just say what we selected. Chris had the Pizza from Famiglia, which was not exceptional, but not bad either. The rest of us had Philly Cheesesteaks from Carl's. Pretty good, but I'm not sure I would call it Best in Manhattan (as the web site claims). Not that I know of a better cheesesteak in Manhattan, just that it was good, not amazing. 🙂
Three of us had a $10 beer (which included a plastic commemorative cup, valued at $1).
We fried in the sun for an hour (and I have the sunburn to prove it, especially on my knees). Once the sun passed, the breeze made the rest of the day delightful. Unfortunately, I continue to be a curse on local sports teams. The Yankees had an eight-game winning streak snapped on Saturday. They made it exciting, almost pulling it out in the ninth inning.
Last year (at the old stadium), they lost when I showed up. The year before, the Mets lost when I attended a game. My new retirement plan will be to charge both the Yankees and the Mets to keep me away from the stadiums. I should be able to make a good living, since they play 162 home games between them. 😉
Laura and Sally Ann had a mini-spa afternoon followed by Vietnamese food, while Lois slaved away at her computer.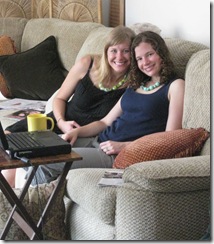 When we got back to the apartment, another round of showers was in order due to the aforementioned frying in the sun. Then we walked up to the Duck House, where David's college roommate and his fiancée joined us for dinner (nine of us in total). We had an absolutely spectacular meal. With that many people, we get to order that many more dishes, and therefore more tastes, than with the four of us who attended on Wednesday night.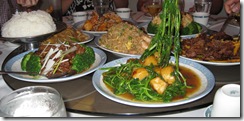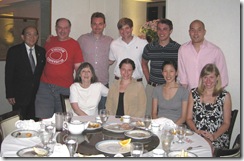 Again, the old folks headed home, and early to bed. The youth headed to see Harry Potter 6, and told us the next morning that they thoroughly enjoyed it!
On Sunday morning, the youth all attended Church Services at Redeemer. Lois and I headed to BB King and waited on line for them to join us. The same nine people who ate the night before at the Duck House now gathered to see the world famous Harlem Gospel Choir over a wonderful brunch at BB King. It was our second time, but the other seven were experiencing it for the first time.
It's hard to describe the show, unless you've been to a revival service, in which case it wouldn't be hard to describe it all! 😉 Awesome music (both the singing and the band), with wonderful spirituality, including forcing participation by the entire crowd.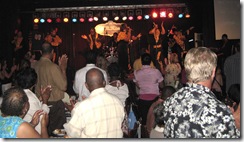 Only the infirm didn't stand (at least at some point during the show) and clap and dance along. As much as we enjoyed our first time, this one was substantially better, so we're doubly glad we suggested this activity for the group.
At each show, a group of people is invited on the stage (I won't tell you why, so you can be surprised if you ever see it), and one of the people in our group ended up on the stage. See if you can spot her (hint, hint). 🙂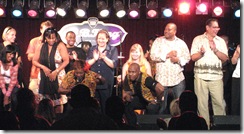 After the show, Lois bought one of their CDs, and got it signed by all seven of the singers, plus the founder of the Harlem Gospel Choir. We also made a separate donation to their ministry.
We walked back to the apartment and relaxed while watching the Yankees win on TV. I'm awaiting my royalty check for not attending the game yesterday. At the same time, I finally caught up on the weekend's email and Twitter stream, having not logged on at all on Saturday (a very rare occurrence for me!).
The youth headed across the street for a superb Sushi meal at Hane Sushi. Just as they finished up, the heavens opened up, and we all waited out the thunderstorm. The second it let up, all of us (except for Lois) walked nine blocks to Berry Wild (only Laura and Chris had been there before). Everyone loved theirs, including me. I had Banana and Coffee yogurt, with shredded coconut on top. Yummy!
When we got back, our Richmond friends headed out to JFK. Their flight ended up being delayed by the continuing storms, but they did arrive in Richmond safe and sound, shortly at 2am! 🙁
The rest of us watched a DVD of the 1989 movie The Dream Team. Wes sent it to us as a gift a few weeks back, so we were looking forward to watching it. It starts off a bit slowly (or perhaps awkwardly is more apt), but, it builds, cleverly, and while it's kooky or corny, I have to admit that I laughed out loud quite a bit. Definitely an enjoyable evening.
David had a 6am flight back, so alarms were set for 4:25am, and Lois and I didn't get much sleep. David has already landed safely, so the weekend extravaganza is now officially over, but we're both wiped like the party is still going on. 😉
While we don't have company staying with us any longer, we do have plans for the next six consecutive nights (alone for the first four, then with other people on Friday and Saturday), before we finally get to completely collapse!