Send to Kindle
If you've read anything I've written in the past six months, then you know that Lois and I can't get enough of ambeR Rubarth, whether she's playing solo (and releasing amazing solo albums) or doing her part in the incredible duo, The Paper Raincoat. So, when an opportunity arises to see her live, it would take a team of wild horses to keep us away.
Last night she played two separate shows, 8pm at Rockwood Music Hall and 10:30pm at Gallery Bar a few blocks away. Given how exhausted we are from all of our running around, we intended to see only the Rockwood show, and we succeeded. 🙂
Joining ambeR on stage were The Paper Raincoat regular drummer, Adam Christgau and the wonderful bass player who accompanied ambeR at Joe's Pub for her CD Release Party, Tony Maceli. In the post about her CD Release Party, I noted:
Last night's show was one of the best concerts we've ever attended!
ambeR was wonderful last night at Rockwood in every song in the set, and the crowd was loudly appreciative in their applause (and whoops) after each one. For all but two numbers, she played beautiful finger-picked guitar. On the others she played the grand piano. She's wonderful on both instruments.
In a slight departure from past shows, she asked the crowd if she could play one of her favorite cover songs. Do you think anyone objected? 😉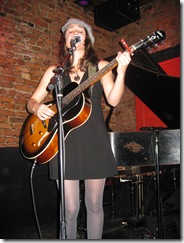 She performed a solo version of Bob Dylan's Just Like a Woman. While remaining totally true to the original, ambeR still made it her own. It was fantastic. You could have heard a pin drop in this extremely crowded (and tiny) bar, people were so rapt in attention. When she was done, yet another intense burst of applause.
They were on stage for 45 blissful minutes. After the set, there was a very long line of people wanting to buy her CDs. Exactly as it should be!
Rockwood Music Hall is very small, but a completely wonderful place to see live music. Most sets are one hour, including setup, so perhaps 45 minutes of music. As such, there isn't usually the concept of an opening act (there are exceptions), so other performers are playing before and after the act you might be interested in seeing. The shows are free. There is a one-drink minimum, and a suggestion of $5 per act to place in the tip jar.
The only other time we were at Rockwood, it was to see the alter ego of The Paper Raincoat, a.k.a, Cardboard Bikini. That was a 10pm show, and it was more packed than a sardine can. Thinking that this could happen for ambeR as well, I decided to check out who was on before her, to see if we would like to get there earlier both to enjoy more music and to hopefully snag two of the few seats.
Chris Kasper was listed from 7-8pm. I checked out his MySpace page and really liked what I heard. That made me want to get there in time to hear his entire set. Unfortunately, other tasks during the day conspired against the best laid plans. We arrived at 7:20 and Chris was in mid-song.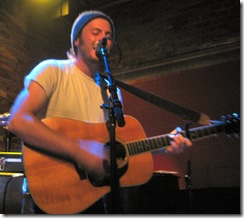 The other part of the plan worked to perfection. There were a decent number of people there, but it wasn't nearly full and we were able to get two seats up at the stage right in the middle (our favorite spot). I don't know if it's because Chris is from Philly and perhaps not well known in NYC, or it was just the earlier hour (noting that our only other time there was for a 10pm show).
Accompanying Chris was Ross Bellenoit on guitar and some harmony.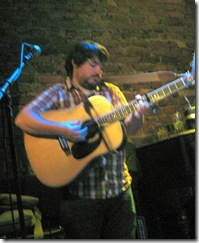 We were drawn to Chris (and Ross) even before he finished the song we just walked in on. He has a soulful, almost wispy voice (not wimpy, a little gravely, in the interesting sense!). He writes sophisticated lyrics which are beautifully constructed, triggering a rush of interesting images the minute you hear them.
He plays guitar very well (though for the most part, he deferred to Ross on the leads). They also played a cover of Help On the Way by the Grateful Dead, where their guitar leads were in perfect harmony between each verse. Awesome!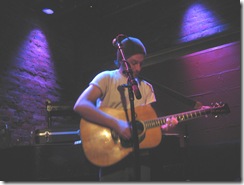 Ross played exceptional leads on an acoustic guitar on every song. The audience clapped after a couple of Ross' leads (and wanted to every single time), but no one wanted to miss the next verse that Chris was singing either. At one point, Chris had to stop, and prompt the audience to do what they badly wanted to do (after a particularly good lead). Very classy!
Ross sang harmony a few times. He was actually good, but I only know that because we sat about five feet from him. He didn't step up to the mic, so he was more of a whisper in the background.
After the set, Lois purchased three of Chris' CDs. Two are his directly, and the third is from a band call Lowlands that Chris was part of for a while, called Bark & Twine. We listened to all three this morning, and like them all a lot. This is not a knock on Chris as a solo artist in any way, but we both really loved the Lowlands CD, it meets all of the criteria we have for things that get to us immediately.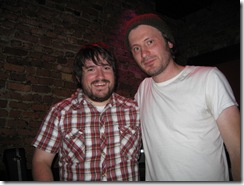 Anyway, a very nice surprise, with the bonus that we had seats for ambeR's entire set. Chris definitely benefited from being on before ambeR in terms of possibly picking up new fans. From the minute we walked in, a steady number of people kept coming in throughout his set, with the intention of being settled in for the ambeR show.
By the time his set ended, the place was nearly full (though not sardine like). The rest of ambeR's crowd clapped just as enthusiastically for Chris and Ross as we did, and I hope they too will support him and look him up in the future.
When we got up to leave after ambeR's set, we bumped into Jason (who we met at the Livestrong Fundraiser) and a friend of his, who happened to also be at the Brad Paisley show the night before. We chatted briefly, and headed out before the next act started to play.