Send to Kindle
I am being respectful, and writing ambeR Rubarth the way she capitalizes it herself, so no, I didn't make a mistake. 🙂 She is soon to release a new CD, Good Mystery, and last night had a CD Release party show at Joe's Pub in NYC, which we attended. You can hear some of the songs from that CD and a few from her previous work at her MySpace page.
In addition to her solo career, ambeR is also part of a duo called The Paper Raincoat. I wrote about them extensively when we accidentally discovered them opening for Colin Hay at the Canal Room. We were extremely impressed with both ambeR and Alex Wong (the other half of The Paper Raincoat).
Right after that show, I friended both of them on MySpace, as well as The Paper Raincoat. I've since followed both ambeR and The Paper Raincoat on Twitter: @ambeRRubarth and @Paper_Raincoat respectively. As a result, I saw a Tweet that ambeR was releasing a new solo CD. I was aware that The Paper Raincoat is also releasing a much anticipated CD, and now I know that their release party will be at Joe's Pub, on October 6th at 9:30pm, and we bought tickets to that last night!
We pre-ordered the new CD (in a Collector's Edition!) immediately, and bought tickets to the show. We knew there would be surprise guests, but we didn't realize just how many.
OK, the intro has already been too long. So,  I have to skip to the bottom line first, before I lose all of you, and then I'll add a lot more detail.
Last night's show was one of the best concerts we've ever attended!
Read that again, especially if you know us. We attend a ton of live shows, so it's not like we just went gaga because we finally saw someone perform in person!
To make the above statement even more amazing (to me), ambeR (and friends) were on stage for just about an hour (not a very long show by any measure), and yet, it was completely satisfying, in every regard. Of course, I would have loved another hour or two (or three, or four), but I didn't feel let down in any way whatsoever.
On to the specifics of the show. For the most part, ambeR had three people supporting her throughout most of the show. Tony Maceli on bass, Austin Nevins on electric guitar and Billy Hawn on drums. I'll cover them all after I gush some more about ambeR.
First and foremost, ambeR Rubarth is a superb songwriter. On any level that you want to take that statement. Her lyrics are moving, clever, authentic, wonderful. Her melodies are varied, interesting, lovely, terrific.
Her guitar playing is excellent (she could do a solo show, accompanying herself on the guitar, and we would be completely satisfied). She is an incredible pianist (again, she could perform a solo show, accompanying herself just on the piano, and we would be completely satisfied).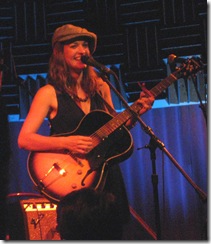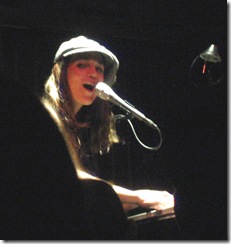 And yet, with many people on the stage at the same time, the arrangements were fantastic, complex, harmonious, subtle, effective, etc. ambeR arranged the entire show, except for the part that Threeds participated in, which they arranged. Add producing/arranging to the long list of strengths/talents that she possesses.
Finally, her voice. It's lovely, with good range, and excellent delivery of the appropriate emotion at the appropriate time. She can be wistful, soulful, smokey, vulnerable, flirty, bluesy, jazzy, rock 'n rolly and certainly, fully folksy. And, given her songwriting talents, she most certainly exercised all of the above during her set.
Tony Maceli was spectacular on the upright bass, playing a number of styles, including using a bow, and even slapping with the bow to achieve a sound I wasn't used to hearing with a bass. He also played the electric bass on at least one number. He's a star!
Austin Nevins was solid all night. I suspect he's better than I realize, as he played more of a supporting role. He was very good, a perfect fit of what was expected of him last night, just not flashy enough for me to really get a sense of how good he is when he lets loose.
Billy Hawn was wonderful on the drums (including Djembe). He was tucked in the far right corner, diagonally opposite us, so I couldn't see him except for a glimpse now and again, but his beat was excellent, and he never overwhelmed the mostly mellow sound throughout the show.
It doesn't end there. ambeR promised a bunch of surprise guests and she delivered. I already mentioned Alex Wong, who joined on the first song, and then on a few more toward the end, including the encore.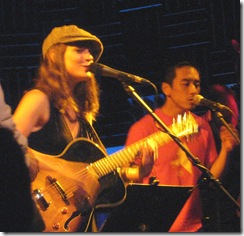 Opening the show was a trio called Threeds. I'll come back to them later. For now, I want to mention that all three of them came back on stage to play with ambeR during her second number, and they were great (as was the song, and the arrangement that included Threeds!). For two other numbers, Katie Scheele of Threeds joined alone. They/she added a wonderful dimension to ambeR's set.
Paul Brill joined to sing harmony on one number. Very nice.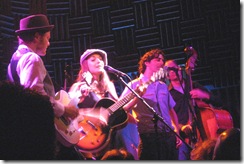 Vienna Teng joined for a stunningly beautiful version of In the Creases. Alex Wong, who co-wrote the song with ambeR before they formed The Paper Raincoat, joined as well. The three took turns singing lead (Alex kicked it off), and all three harmonized together. Vienna played the piano (her specialty).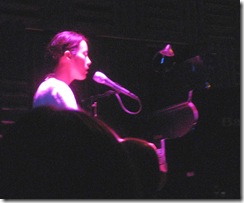 Ironically, the night before, Vienna Teng was the headliner at the Highline Ballroom. We've never seen her live. I discovered her through The Paper Raincoat, and really wanted to see her perform. I tried to rearrange our schedule to make it there on Thursday, but couldn't pull off the minor miracle. I was so happy to get to see and hear her (however briefly) last night, as I now know I need to go out of my way to ensure I see one of her full shows!
Rosi Golan joined to sing with ambeR on two numbers (including the encore). I admit that I simply couldn't hear her differentiated from the rest of the sounds (she only sang harmony, never lead), so I don't have an opinion. Sorry!
Adam Levy (pronounced Levee) closed the show with ambeR, just the two of them, performing a song they co-wrote. Lovely. Adam is a good guitarist, and has a very good voice as well. He also returned to sing during the encore.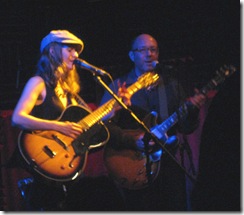 Chel O'Reilly joined for the encore, to sing along with the all-star cast. I couldn't make out her voice individually either, so nothing really to report. Sorry.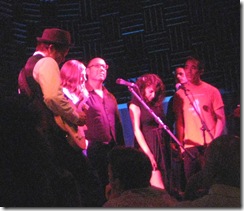 Simply a stunning show, all around. Kudos to everyone involved, in particular, the extremely talented ambeR Rubarth!
Threeds opened the show, and played a varied 20-minute set. Threeds is three oboists, Kathy Halvorson, Mark Snyder and Katie Scheele. In addition to the oboe, Katie also played the English Horn. I was impressed by the breadth of styles they covered in such a short set, all extremely well done. They are very tight together, and their music delighted the crowd.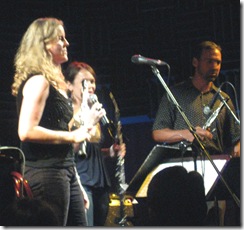 It was an incredible treat to have them come back on stage with ambeR and have them add such richness to the otherwise rich sound that ambeR and her crew and guests produced!
Thank you all for an evening we will never forget!
In addition to the performers all putting on such a great show, last night was one of the best audiences we've been part of. Bravo to all of you as well! 🙂