Send to Kindle
I was very late to the blogging world. Rob Page (CEO of Zope Corporation) needled me for a while, and I finally relented. My only goal was to document our lives (mostly the good memories) in excruciating detail, so that as our memories fade (or fail), we'd have a record to look back on, semi-authoritative.
In doing so, I told the stories of our lives in chronological order, because I was writing for myself. After a while, when covering music events became a major theme here, Lois strongly requested (she would be annoyed at me if I said insisted) 😉 that I cover the headliner first, then the opening act, then our background story. That became my pattern, which I've been faithful to for a long time now.
That isn't the case for this post (already, given this long intro), but really for another reason.
In every performance that we've attended for the past six years, if there was an opening act, the headliner at least acknowledged the opening act, typically thanking him/her/them, and usually requesting another round of applause. Often, the headliner gushes about the opening act. Occasionally, the headliner brings out the opening act to do a number with him/her/them, or surprises the audience by joining the opening act during their stint (Girlyman has done that a few times in our experience).
Last night was the only exception. Colin Hay didn't acknowledge (or even mention) the opening act, The Paper Raincoat. For that, I will cover their part of the show first, and then cover Colin's piece. They deserved the mention last night, and still do this morning. I would have preferred for it to come from Colin, who has a wee bit more influence than me, but here goes my take.
We saw Colin Hay live for the first time two weeks ago, at the Birchmere, covered in this post. We both loved the show, Lois in particular. I noticed that he was playing two nights at the Canal Room (4/15 and 16). We weren't scheduled to return to NYC until the 17th, but Lois got very excited about the prospect of seeing Colin again, in particular in such an intimate venue (we've been to Canal Room once before).
He had different opening acts for the two nights. I listened to both on their respective MySpace pages (The Paper Raincoat page is linked above). Both were good, but I particularly liked The Paper Raincoat. While it didn't hurt that they were the second night (altering our trip a bit less), I really did prefer to hear them live, given the choice.
So, we locked in tickets to see Colin again, influenced by the fact that The Paper Raincoat sounded like a group we would like. We were right!
While there are many differences, I would say that The Paper Raincoat has a similar sound and feel to The Weepies. You won't confuse the two, but if you like The Weepies (and we do, a lot), then you'll like The Paper Raincoat.
I encourage you to listen to all of the songs on their MySpace page, and to read the detailed biography there. I'll highlight one unique (and cool) feature about the band, but they go into much more detail in the biography than they did on the stage last night.
While every one of their songs stands alone musically and lyrically, and is thoroughly enjoyable, unlike other bands, all of their songs combine to tell one long story (basically, a novel, unfolding in a series of songs). The concept is very cool, and can serve as an extra impetus to follow the band long term, if they can keep up the genre and keep the story interesting. It's also the reason for naming the group The Paper Raincoat (but you'll have to read the MySpace bio to understand why).
Standing on the stage from left-to-right were:
Amber Rubarth playing electric keyboards and mini xylophone. She sings lead and harmony, and writes/co-writes their material. A very talented lady, who also exudes a ton of warmth on stage.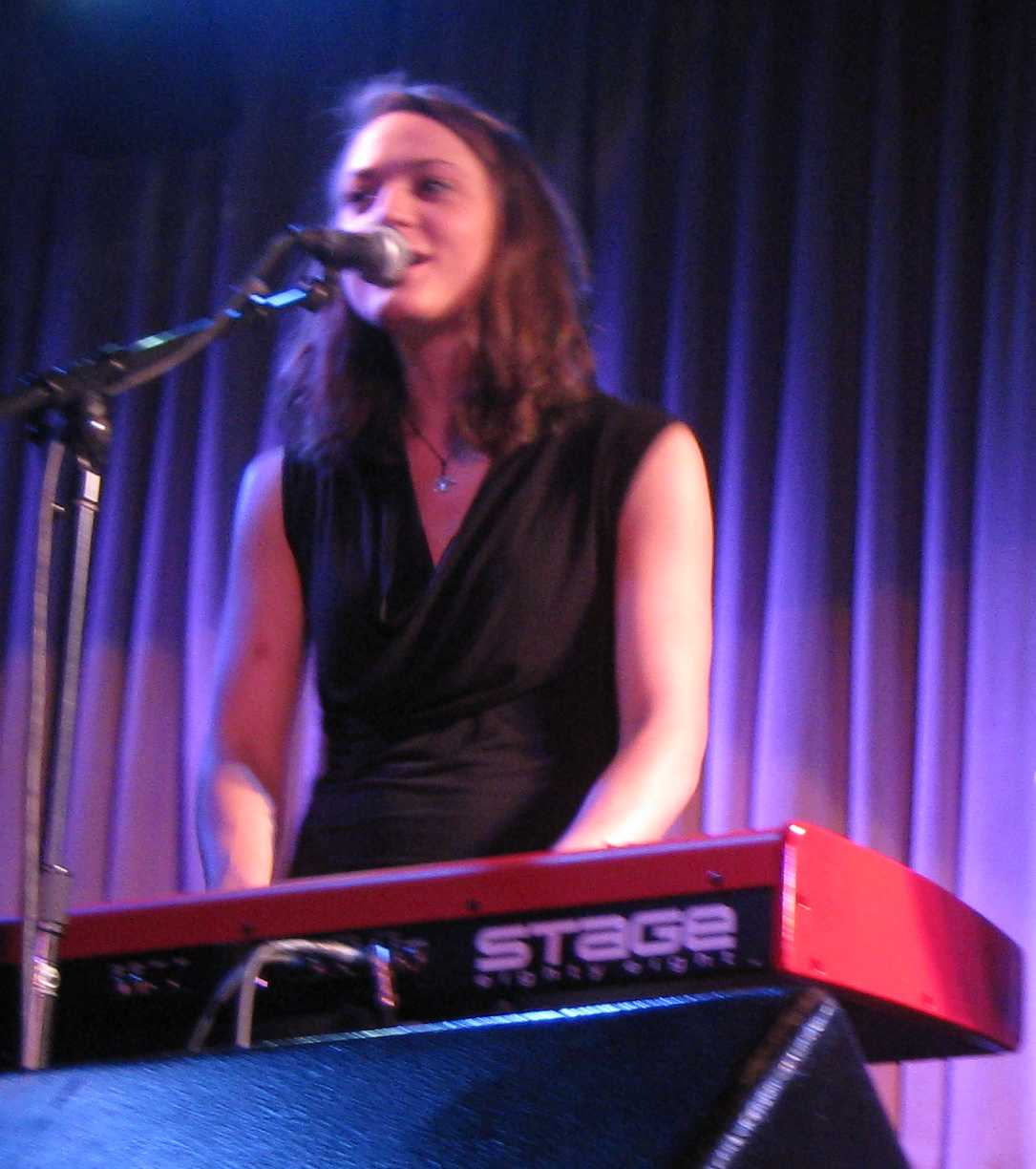 Alex Wong played the guitar, a tiny electric keyboard, and the mini xylophone. He too sings lead and harmony as well as writes/co-writes their material. He has an excellent voice, with a very self-effacing stage presence.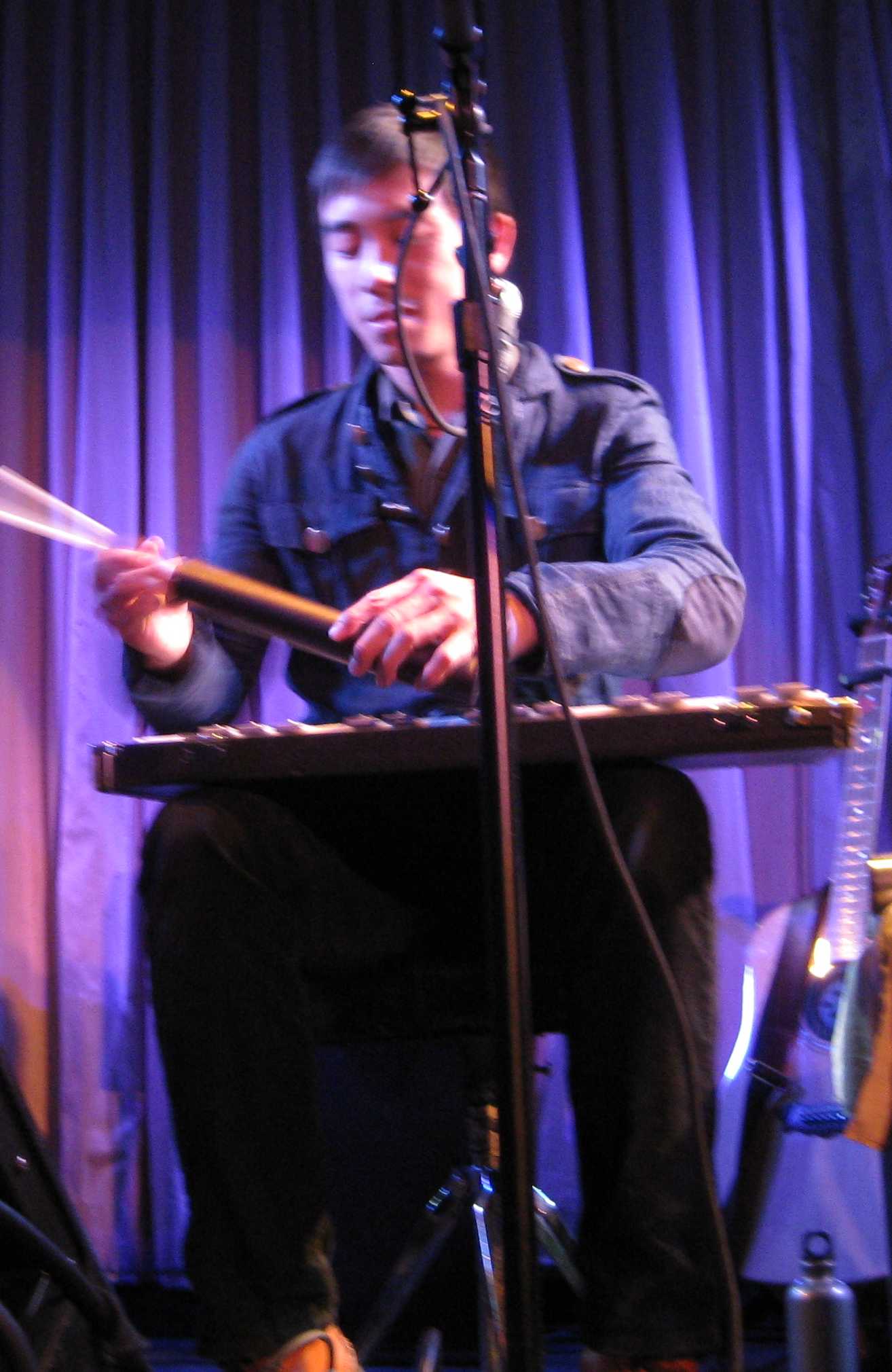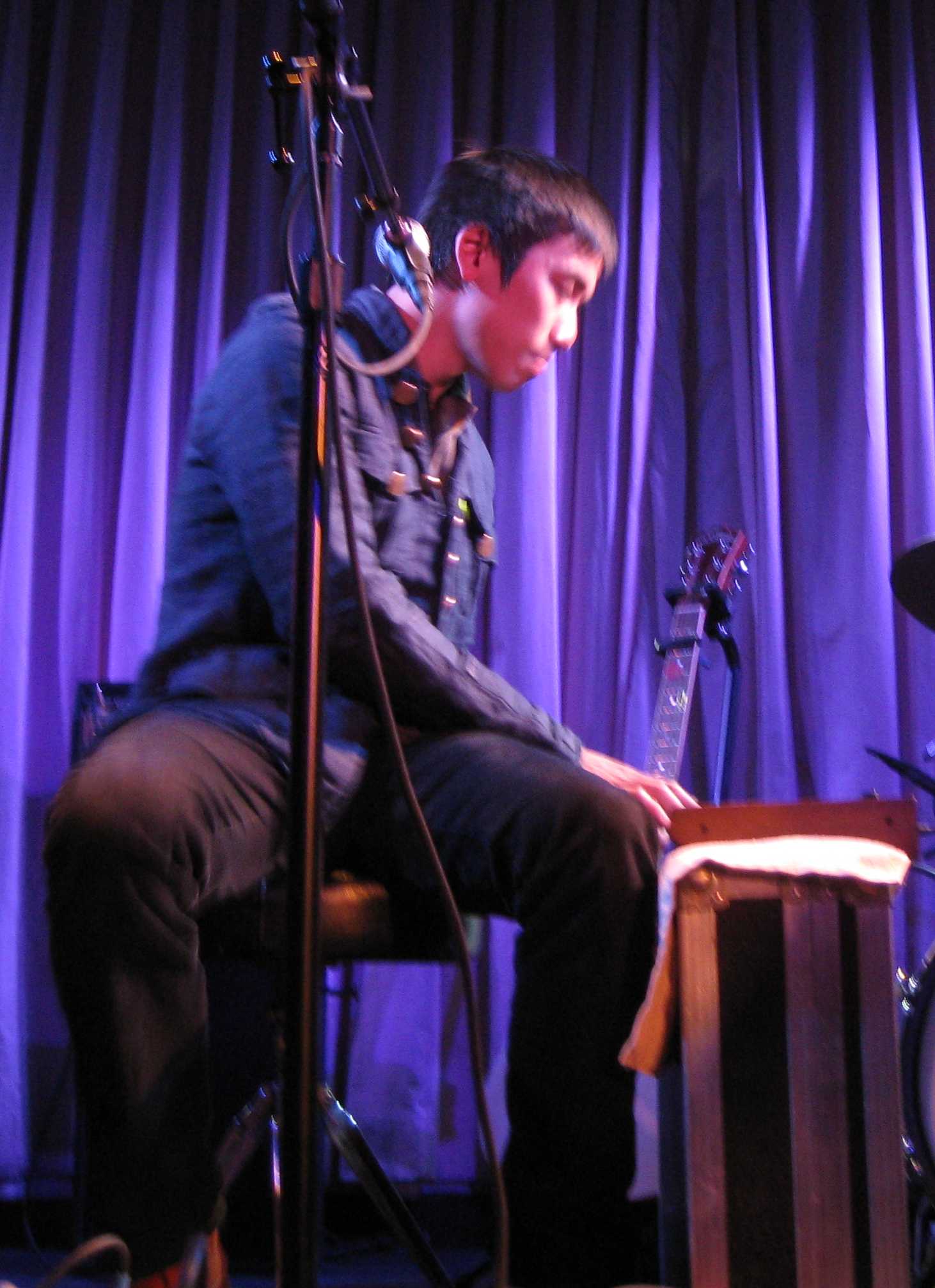 The two of them comprise The Paper Raincoat. In addition to them, they had a guest drummer.
Adam Christgau played the drums, and sang harmony for much of the set. He's really good, at both. He also did some unique (to me) things on the drums. On a couple of songs, he covered the snare drum with a towel, achieving a very interesting sound. On one song, he put the towel on the Hi-hat cymbal, also to good effect. Finally, he used a brush drumstick on a frisbee. Really? Yes, a frisbee (or at least, that's exactly what it looked like to me!).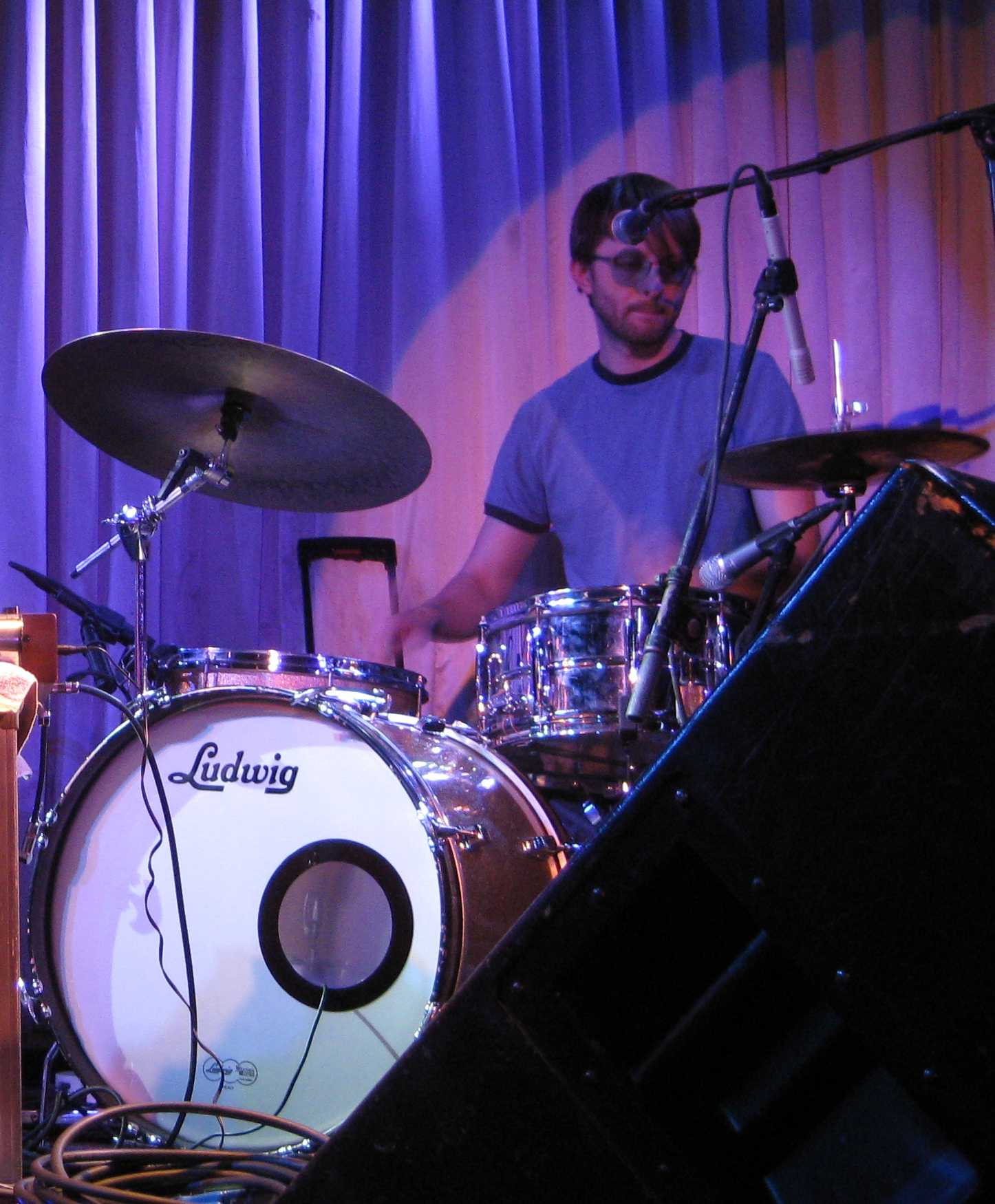 On their second-to-last number, they did something very cool. Alex had two tambourines in his hand, and he invited Colin Hay up to the stage to shake one with them. After 10 seconds of waiting (jokingly), he decided to offer the tambourine to an audience member (without the invitation to come up on the stage). The tambourine ended up in Lois' hands.
While Lois was shaking her heart out (pretty well, if I say so myself), Alex and Amber joined Adam, and all three of them played the one drum set simultaneously. It was really cool (not just because I was sitting the closest to the tambourine player). 😉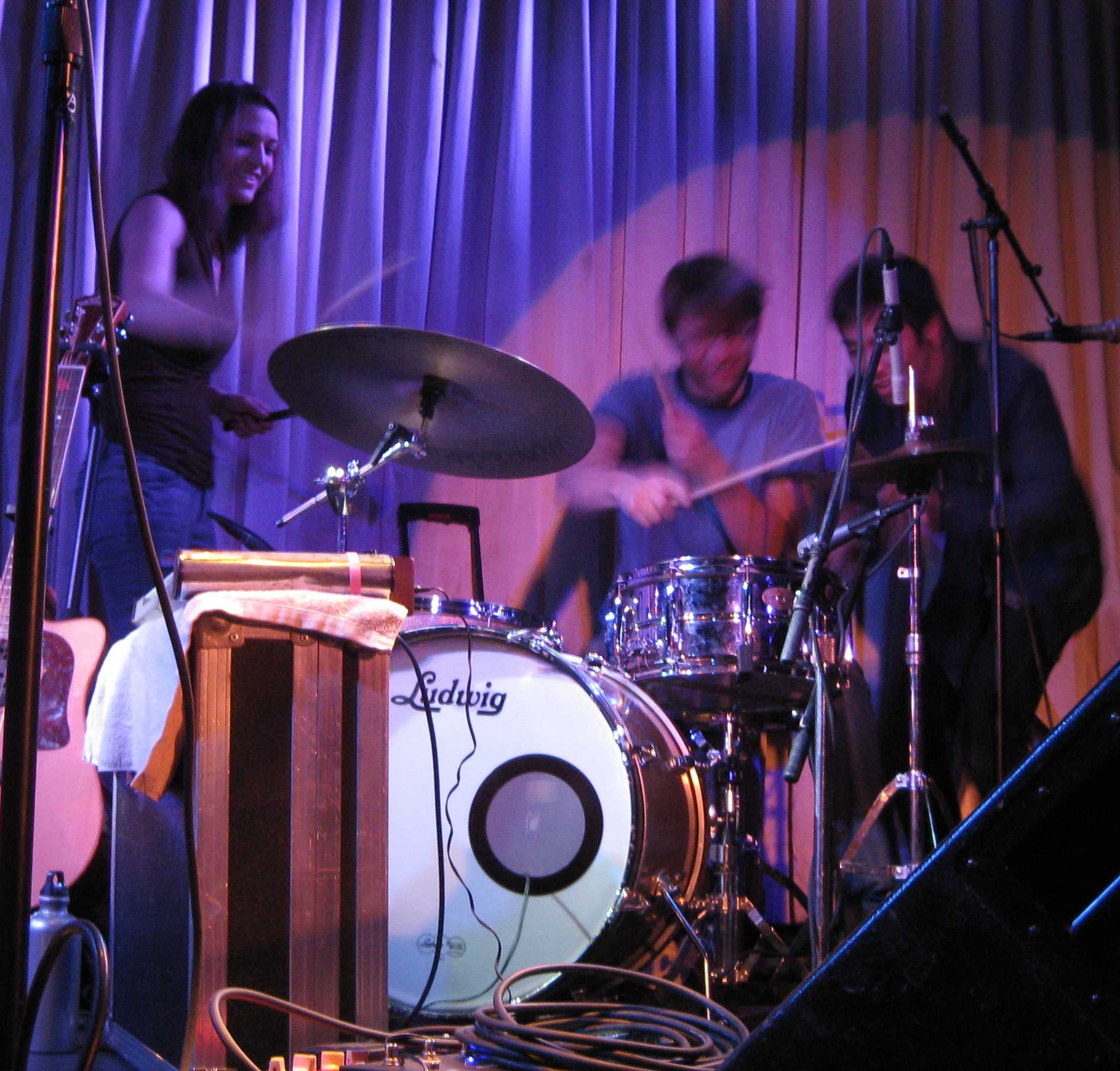 They finished their set with an a capella number sung by Amber, with Alex and Adam harmonizing, and playing percussion on their chest and legs. In addition to well-timed hand-clapping (for additional rhythm) by each of them, they did some cool cross-person hand clapping, making it a visually interesting song as well.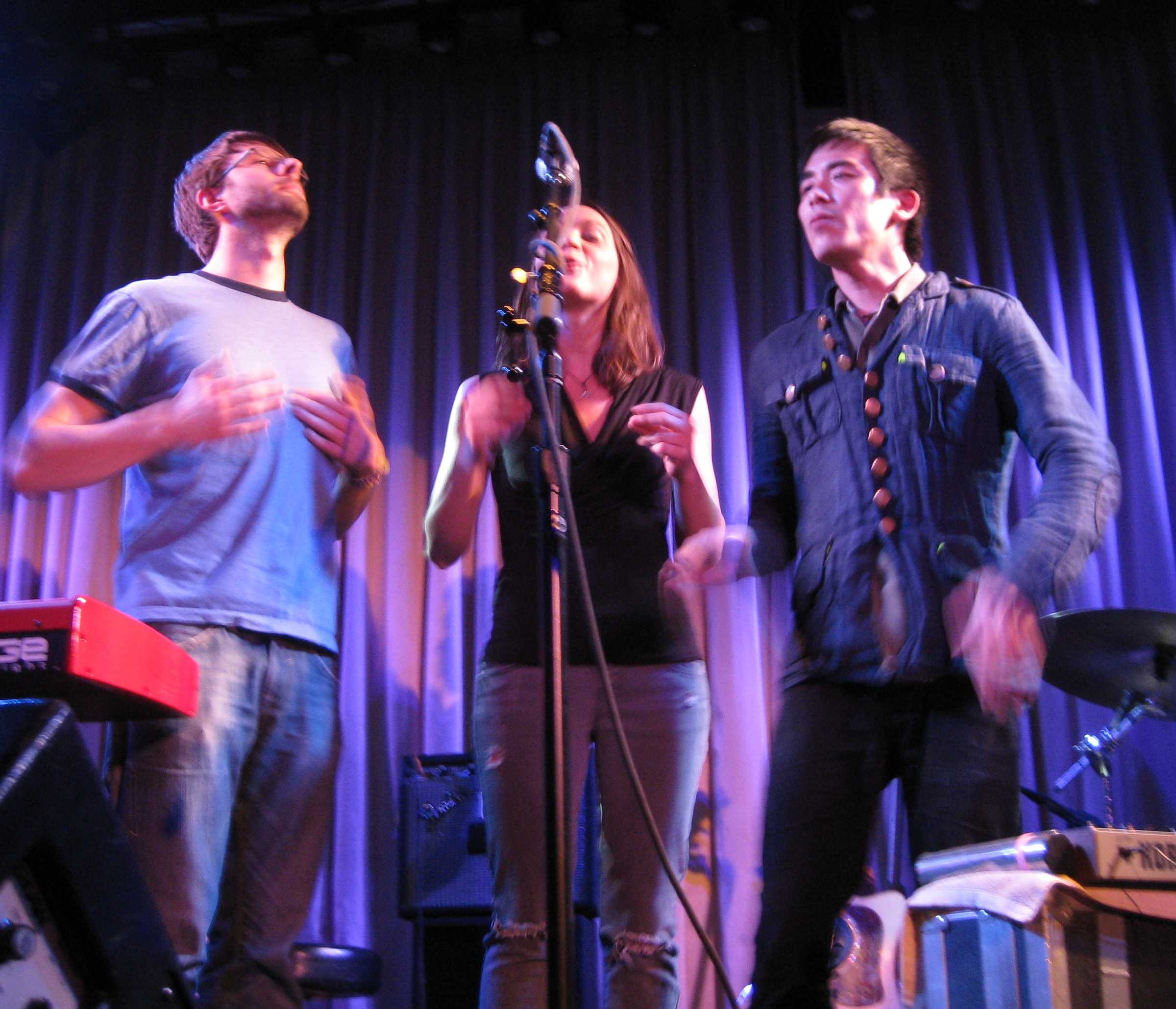 They were on stage for a total of 40 minutes, all of it fun and beautifully sounding. To repeat, they deserved more than a mention from Colin. Of course, if he had given it, I probably would have spent less time on them, so perhaps he did my readers a favor, in giving me an excuse to highlight them. 🙂
Colin Hay came out 30 minutes after The Paper Raincoat exited the stage, at 9:22pm.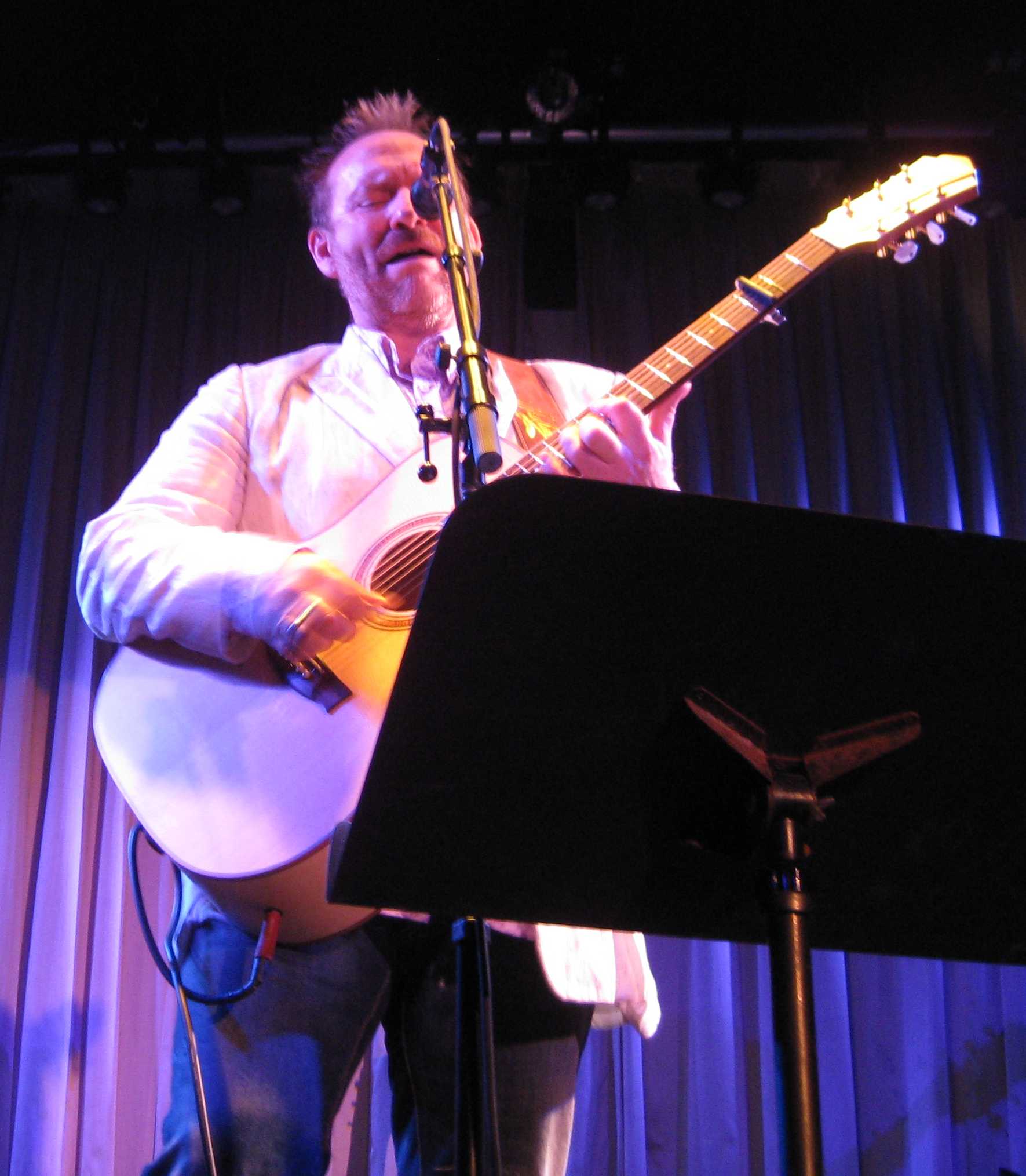 Everything that I said about him at the Birchmere applied last night. He was hysterical, had a great set list, sang amazingly and played the guitar wonderfully. It was an excellent show. I won't repeat those things. There were a few qualitative differences in the show, so I'll concentrate on that instead.
At the Birchmere, Colin noticed a kid in the front row (just a few feet over from us), who was likely around eight-years-old. It caused him to catch himself a couple of times when he was about to say something raunchy, or drug related. He still cursed a bit, but you could tell that he was trying not to do it as much as he wanted to (and told the audience that he normally does).
Well, last night, there was nothing holding him back. If you haven't heard the F-word spoken in a while, you should try to catch a Colin Hay show, so that you can get your fill quickly. It doesn't bother me whatsoever (Lois isn't a fan of this type of communication), so I'm just mentioning it in case any future concert-goer cares to know that in advance.
He also told more drug-related stories (mostly pot, not hard drugs). They were very funny, and usually related to the song he was about to sing (as were his stories at the Birchmere). While there were quite a number of repeats in his comedic stories (quite natural for a given tour, and for an introduction to the same song!), there were also a reasonable number of fresh stories, all well told, and all extremely funny. The audience was (once again) eating out of his hand!
The second difference is that at the Birchmere, the entire show was solo. Last night, he had a special guest, his wife, Cecelia Noel. In addition to having her own band, she occasionally performs with Colin, even when his full band is on stage (you can easily find YouTube videos of the full band, with Cecelia on stage too).
She has an excellent voice, and obviously knows the material cold. She dances in pantomime to the lyrics, which we found a bit distracting, but I'm sure that others enjoyed it immensely. Especially the men, since she's quite beautiful, and her movements are anything by shy and demure. 😉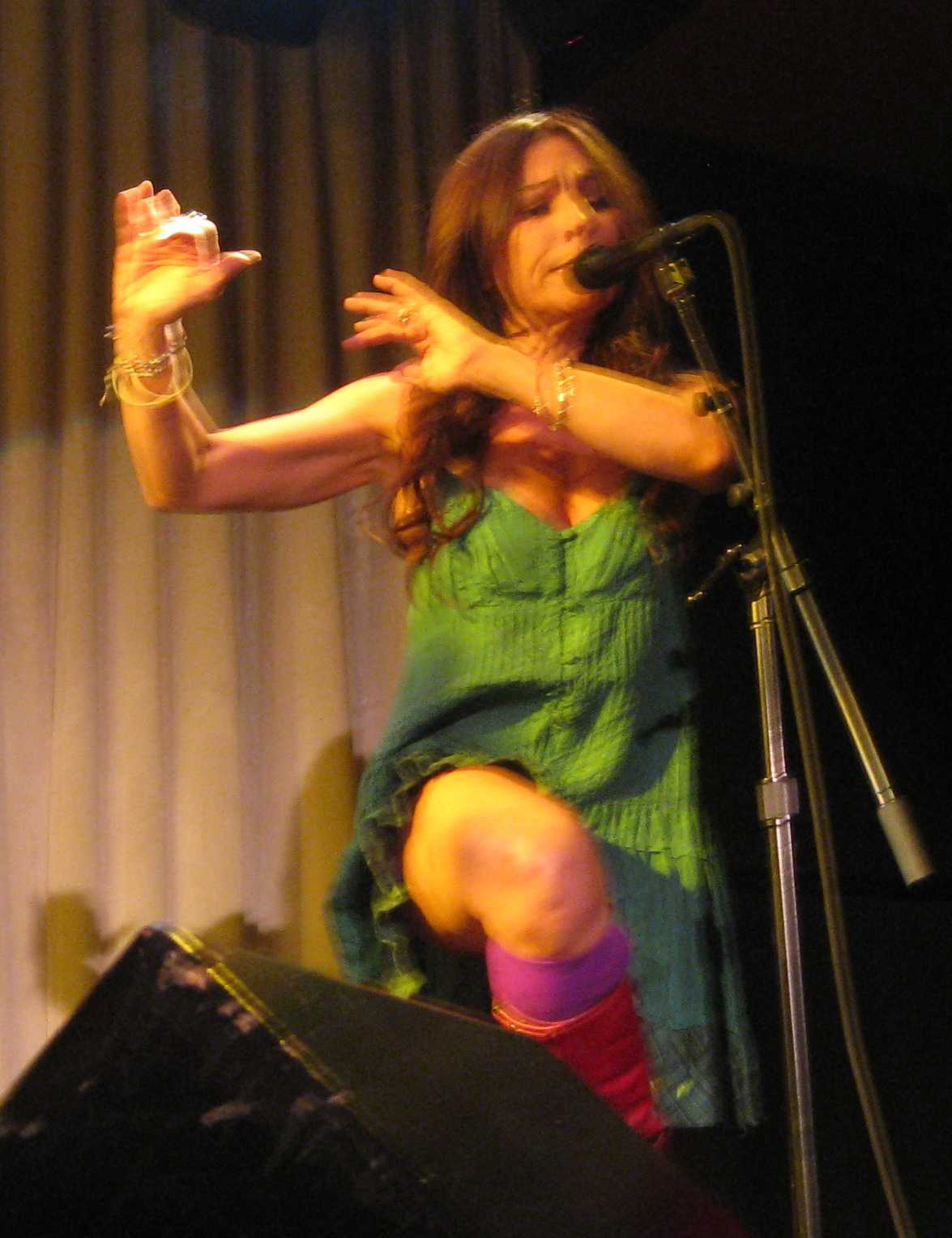 Colin was able to work her in to some of his gags as well. One small example is his song Beautiful World. There is a line in there "I Like Sleeping With Marie". At the Birchmere, he sang that line straight. Last night, with Cecelia on the stage (she joined him for roughly 1/3 of the numbers), after singing "I Like Sleeping With Marie", he smiled at the audience, and added "Not Anymore", in the pause between lines, very naturally, very good naturedly, and Cecelia played along as well. It was very cute.
The other difference was the venue itself. Birchmere is very large, with very large tables (it's a place where you eat dinner and watch the show at the same table). It seats 650 people, and Colin sold it out.
Canal Room is a small venue. The only other time we were there, it was set up in a lounge atmosphere, with plush chairs and sofas, quite spread out. In other words, not all that much seating, allowing a capacity of roughly 100 people (I'm just guessing). Last night, it was set up with tiny fold-up chairs (that hurt my butt quite a bit). That permitted a lot more people to sit, and then they crammed in the standing room crowd around the bar, and in every other corner of the place.
My best guess is that there were roughly 300 people there last night. As with the Birchmere, this was not a crowd that wandered in off the street to hear whoever was playing. These were hard-core Colin-loving fans, that knew every word to every song (except perhaps the gorgeous number that he did from his upcoming August release of his new CD). Whenever he invited the audience to sing along, they were only too thrilled to oblige.
Colin was on stage for exactly 105 minutes, all wonderful. He's a joy to see live, and I'm sure we'll do it again in the future.
We got to the Canal Room very early on purpose (we were expecting the more limited seating like the first time we were there). The doors opened at 7:30pm, but we arrived at 6:25 to stand patiently outside. It turns out that we were first on line! The bouncer felt bad for us, and actually suggested we go get a bite or a drink at his favorite place around the corner. There was no way Lois was going to miss out getting the best seat in the house, so we just stood there.
I am actually amazed at how quickly the hour passed, and that I didn't even have a second of physical discomfort for standing in one place for an hour. Whew. I am also extremely impressed with how organized the Canal Room staff are (and how nice they all are as well).
When they opened the doors, we were the first two in, and grabbed the two center seats in the first row. Aside from neck strain in looking up at The Paper Raincoat and Colin Hay all night, the seats were fantastic.
At intermission, Lois bolted out of her seat and bought two copies (both signed) of The Paper Raincoat's EP (four songs, all of which are on their MySpace page). Before the show started, she also bought Going Somewhere by Colin Hay (she bought two different CDs of his at Birchmere). We intended to hang around and have him sign it after the show. Unfortunately, we were really wiped, so just like Birchmere, we bailed and didn't say hello to him at either place. Some other time…