Send to Kindle
Last night was a real treat for us. We got to see one of our favorite musicians perform his first solo show. We also caught the set before his, which was wonderful, and I'll cover that as well.
Alex Wong is an incredible talent, something I repeat very often (well deserved repetition). We never had the pleasure of seeing him with his original group, The Animators, but we've seen him often as part of The Paper Raincoat (a group he formed with ambeR Rubarth) and when he tours with Vienna Teng (something he's doing again starting tonight in Atlantic City).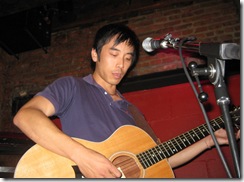 He has delighted us since the first time we saw him. It is my understanding that Alex isn't looking to launch a solo career, but rather, as with many artists, he continually wants to stretch and grow. Playing solo affords him the opportunity to do that.
He played a mix of his own, The Paper Raincoat and The Animators songs. His selection was outstanding. For The Paper Raincoat (TPR) songs (Brooklyn Blurs, The Same Old Things, Don't Be Afraid and Motion Sickness), hearing them in the pure mellowness of just Alex with the guitar was a nice change-of-pace. That said, I'm nowhere near getting enough of TPR's sound.
Adam Levy (covered in more detail below) accompanied Alex on an electric guitar on two songs (possibly three). One was the first song Alex Wong wrote with Devon Copley (his partner in The Animators) A Girl Like You. The other was In the Creases, a song Alex wrote with ambeR Rubarth before they formed TPR (one of our favorite songs!).
Adam was a great addition on both songs, in particular on In the Creases, where his leads were fantastic. On Creases, he also sang harmony. He didn't have a microphone in front of him, but since I was three feet away, I could hear how good a job he did. 🙂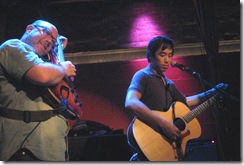 Alex didn't come on until 11pm. Even though it was that late, in the middle of the week, there was a really nice-sized crowd at Rockwood Music Hall. When Alex finished his set, the applause wouldn't die down. He had already unplugged his acoustic guitar from the amp, but it was obvious that people weren't going to stop clapping until he played another song.
Alex looked up at the sound engineer, who nodded to him that he could play another one. He closed the show with Motion Sickness. Like I already said, a real treat for us, even though it was way past our bedtime.
A number of the people that we are thrilled to see on stage were in the audience. In particular, Tony Maceli, Ward Williams and Melissa Tong. Always nice to see them, even if they aren't part of the show. We also bumped into three more friends there, proving yet again that Alex has a strong following.
Adam Levy played the 10pm set with a band. He wasn't opening for Alex. Rockwood typically has 45-minute sets with 15-minute breaks for the next artist to set up.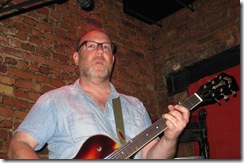 We've seen Adam perform solo (at Jammin' Java). We've seen him back Alex Berger, and we've seen him perform duets with ambeR Rubarth. This is the first time we saw him with a band. Hopefully, it won't be the last!
For those who don't know, Adam Levy was the guitar player in Norah Jones band, both touring and on at least three of her CDs. 'Nuff said!
He plays a number of styles and exhibited Country, Jazz, Blues and Folk last night (perhaps more?). He has a gravelly voice, but it's compelling and draws you in to the song.
Tony Mason on drums. In addition to playing solidly throughout the set, Tony distinguished himself on one extremely tasty drum solo. He also played sidekick to Adam on a number of bits/banter. Clearly, they are friends and mesh together well.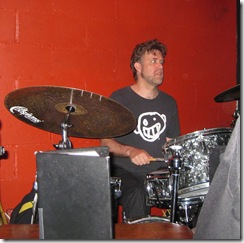 Jonathan Maron played the bass (I can't be sure the link is correct since there's no picture on that profile). He was good throughout the set, but not highlighted.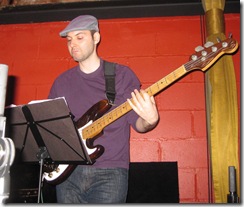 We already own Adam's EP that he recently put out with ambeR Rubarth, but after his set, we also picked up his CD Washing Day (also the name of a song that he co-wrote with ambeR, which we really like!).
We met a friend for dinner before the show. We wandered into Noodle Bar on a whim. We ordered three dishes (one rice, one noodle and one soup) plus ice cream for dessert. I was impressed with every one. The only disappointment came when the bill arrived, and it turned out that they are a cash-only establishment. I had enough (it's not a very expensive place), but it could have been awkward if it was a few dollars more…
Another wonderful evening out, adding to our already indescribable exhaustion.