Send to Kindle
amber Rubarth is an extraordinary singer/songwriter. I've written about her many times. Here is the post about her CD Release Party at Joe's Pub. Last night she headlined the Highline Ballroom and created another exceptional performance (a DVD of the show will be available later this year!).
Highline Ballroom is the biggest stage and room we've seen ambeR in to date. She nailed it both with a full band (eight people on stage at one point) and solo, owning the room at both ends of the spectrum.
She opened with the core of the full band, performing Full Moon in Paris from her current CD, Good Mystery. Throughout the set, musicians came and went in a fluid transition to create the right sound for each number.
The core band consisted of:
Tony Maceli on bass (upright and electric). I've written about Tony many times, including the above-referenced show at Joe's Pub. He's consistently wonderful on the bass, and was the musical coordinator for the New York Sings for Haiti benefit at City Winery. He's tireless and a positive addition to anyone he's performing with.
Dave Eggar on cello. I've written about Dave twice before. He's beyond awesome. He does things with/on the cello that you don't typically see others attempt, let alone nail, including playing it across his knee like it was a guitar. He plays effortless leads on the cello that are as mesmerizing as great lead guitar solos.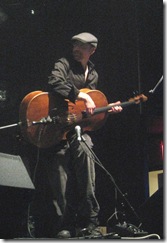 All of that would be impressive enough (like I said, we felt that way from the first time we saw him) but last night was even more amazing. He's never played with ambeR before, and rehearsed with her for the first time just 24 hours before show time. That would be fine if he were playing some light background role. He was not. His parts in each song were the highlights of the instrumental sections, and ambeR had a tough time containing her joy every time he thrilled the crowd!
Sarab Singh (ambeR introduced him as Sar Singh) played the drums. While we were somewhat disappointed that Adam Christgau wasn't there last night (one of our favorite drummers, and normally drumming for ambeR and The Paper Raincoat), ambeR has excellent tastes in drummers all around. At her CD Release show Billy Hawn played (excellent).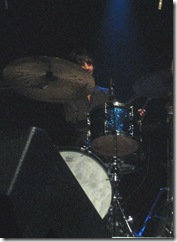 Sar was fantastic at the Haiti benefit, so I didn't worry in advance whether he'd be good. Thankfully, he was great, not just good. He has the same sensibilities that Adam has, knowing exactly how to deliver not just the right beat, but the right touch, including all the right sound effects (cow bell, rims of the drums, etc.) at the exact right moment.
I'm pretty sure Adam will be playing with Ian Axel tonight at Joe's Pub, so we'll get our fix then, and we can now safely add Sar Singh to our list of drummers who will enhance any performers show!
In addition to the above core, Threeds played on at least three numbers (coincidence? I think not!) 😉 and they were awesome, as always. They are an integral part of the ever-wonderful In the Creases and Edge of My Seat.
Paul Brill came out to sing with ambeR on three numbers as well (including playing the part of Alex Wong on In The Creases).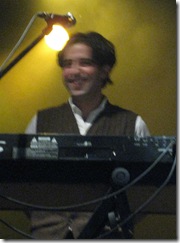 David Fallo joined for one number on viola.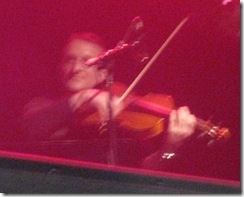 I mentioned above the fluidity of getting people on and off the stage. With eight people on stage for Edge of My Seat, ambeR transitioned to just two, she and Dave Eggar for Rough Cut. Dave was spectacular on every number, but this one truly highlighted him, as he carried every second that ambeR wasn't singing (and of course, supported her voice and guitar even when she was singing!).
Dave then quietly stepped off the stage and ambeR debuted a solo number called Lonelier Self (that might just be the short version, or working title). A gorgeous song that had all eyes and ears focused on ambeR. I doubt there was a single person there wondering where the rest of the band was.
After a one hour set, capped off with a Tom Waits cover (sung with Paul Brill), ambeR came out for an encore. She performed Washing Day (a song she co-wrote with Adam Levy). Joining her were Dave Eggar and special guest star Ian Axel (who has his own show tonight at Joe's Pub).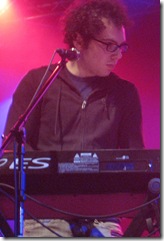 We hung around a bit afterward to catch up with some folks, and to buy a couple more of ambeR's CDs to give as gifts. An absolutely fantastic night out!
Opening the show was Cara Salimando accompanied by Julia Sinclair. Cara is a 17-year-old singer/songwriter. She played electric piano on all but one number, where she finger-picked the ukulele quite beautifully. She has an excellent voice, but still has some work to do to smoothly hit some of the higher notes. She's young, it will come in time, I'm sure.
Julia Sinclair accompanied her on every song, playing half on the cello and half on the guitar. She also sang harmony a bit, not enough if you ask me. She plays the cello very well (though there was a slight buzz on the bass notes). I was more impressed with her guitar play. She's an excellent complement to Cara. The set was exactly 30 minutes.
After resetting the stage, Kaiser Cartel came out. Kaiser Cartel is a duo comprising Courtney Kaiser and Benjamin Cartel (however did they come up with the name of the band?). They're a reasonably straightforward rock 'n roll band, putting out a pretty big sound for just two people (though they were joined for two or three numbers by someone who's name I thought was Jeff Kraft, but now I'm sure that's wrong).
Here's a picture of the guy whose name I'm not remembering, sorry!: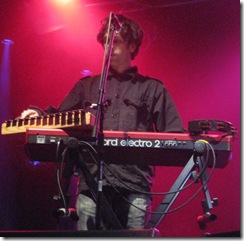 Courtney has an exceptional voice. She mostly played the acoustic guitar, but it was also connected to a muff pedal so she created some classical electric guitar sounds. She also played what seemed like a one-handed accordion. She played with her right hand and used the left to pull the bellows part in and out. She also played a glockenspiel, but with an electric device (looked like a cross between a grouting tool and an electric toothbrush!) so she got a fast ringing sound (like a telephone!) every time she struck a key!
Benjamin has a nice voice and harmonized well with Courtney. He played drums and acoustic guitar. One some songs he only played the drums. On the others he played the guitar, but continued to play the drum line with his foot. It contributed to their big sound for just two people.
Nina Lee on cello joined them for two numbers. She's excellent!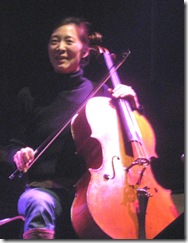 For their last number they did something very cool. Courtney asked the crowd to be as quiet as they could. They then came off the stage and walked throughout the entire audience (covering a very large room) and sang a song (Benjamin played the guitar, unplugged of course) stopping at practically every table and singing a line within a few inches of the people sitting there. It was pretty powerful to be so up close and personal.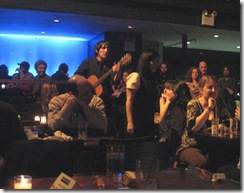 They were on for roughly 45 minutes before ambeR came out. If you want to help them fund their new CD, the info is below (click any picture in this post to enlarge it):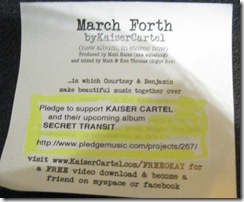 When we were heading down in the cab I tweeted a friend asking if she'd be there. She showed up a little later with her friend and they were able to join us at our table right up at the stage so we had some good times and good food before the show started. They bought CDs from ambeR too and the four of us shared a cab home after the show.
Closing with a pet peeve. I've written too many times (here we go again) about how rude some people can be when they speak loudly during a performance. That happened a bit last night too (not too bad for such a large room). But, what shocked me was that the worst offender last night was a performer. We've seen this person on stage once before (no names) so it was doubly shocking that they would ever treat someone in a manner that I can only imagine would annoy them if it happened during their show. Oh well…