Send to Kindle
We've seen Ian Axel perform three full sets before, plus a few songs at the New York Sings for Haiti benefit and some guest appearances. Still, we were looking forward to last night with great anticipation.
Joe's Pub is our favorite NYC spot to see a show, and Ian is one of our few current obsessions, so having the chance to see him headline at our favorite place was a real treat.
The show was sold out (no surprise). Ian put out a new CD, This is the New Year, on January 5th. The title track video has become a music-lover's destination on YouTube, with over 61,000 hits at the time I'm writing this.
I'm sure there were a few guests in the audience who hadn't heard Ian's music before, but from the roar and claps three notes into most songs, clearly the overwhelming majority were quite familiar with his material.
Ian is an exceptional pianist with an electrifying voice, who happens to write great songs. As great as his music is in our iPod, his performances are better for the energy that emanates from Ian, through his every pore.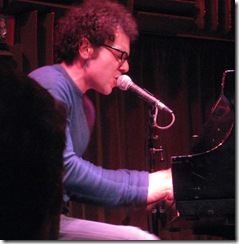 He opened the show with Waltz [Intro] (a solo classical piece for piano) with the band in the shadows standing quietly watching like the rest of us. Just like on the album, [Intro] flows directly into Waltz, where the band comes alive and everybody starts to tingle.
He played all but two or three of the songs on This is the New Year. He also played Say Something on the ukulele. That song isn't on his CD or EP, but we've seen him perform it before, and I know a few people who tear up each time they hear it! (You know who you are!)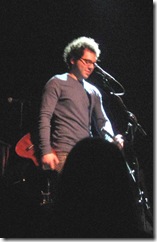 Toward the end of the set, Chad Vaccarino stepped onto the stage. It's hard to describe how much noise (and joy) can be generated by the roughly 200 people that were stuffed into Joe's Pub. Obviously, there was no secret as to what the next song was going to be. Chad was rightfully overwhelmed.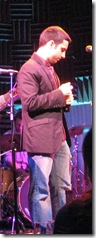 Chad is Ian's manager. He sings lead in one verse and harmony on the others with Ian on This is the New Year. He's our hero because he's the one who convinced Ian to start singing. Before that, Ian was just a piano player.
Chad is self-deprecating about his singing style (he sings wonderfully and expressively!), but the most interesting part is that he's perfectly matched in his energy with Ian, and it all comes across in This is the New Year!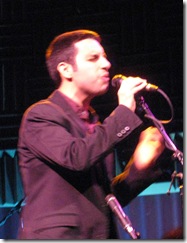 Two of Ian's core band members were on hand with two additions.
Chris Anderson played bass and a bit of harmony. We like a lot of bass players, Chris included. But, as with Chad, Chris is perfectly matched with Ian. He has an emotive, energetic style on stage, and he's fast enough to keep up with some of Ian's more challenging riffs. Chris is always a joy to watch and listen to.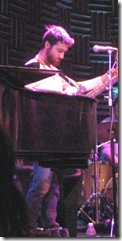 Adam Christgau on drums and a bit of harmony. We missed Adam the night before at Highline Ballroom (covered in this post, where I specifically mention that). I've noted many times that Adam always matches his drumming to the artist and song, but that much of Ian's music allows Adam to let out his wild child a bit. He was as tight and good as always last night!
(No, I wasn't drunk or high, just a little cold. We bumped into Adam before the show while we were on line.) 😉
Adam Tressler was a new addition (for us) playing electric guitar and a bit of harmony. I didn't hear quite enough to have a strong opinion, but the little I heard was quite nice. Ian's music doesn't tend to highlight solo guitars (which is fine) but Adam supported the rest well enough.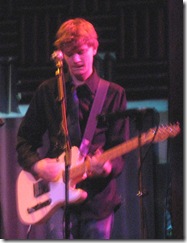 Dave Eggar played the cello on most of the songs. I covered him extensively in yesterday's post (linked three paragraphs above), so I won't get too repetitious here. This is the first time we've seen Dave sit in with Ian, so the comments I made about how well he blended with ambeR on such short notice probably apply here.
After the show, I accidentally crossed paths with Dave Eggar as he was leaving. I got to say the following to him (100% heartfelt!): "You are perhaps the greatest musician I've seen live, on any instrument!". The fact that his instrument is a cello astounds even me, and I said it! Obviously, that's a wildly subjective statement, but I'll let it stand.
Given how active Dave is on stage, and how dark Joe's Pub is, there wasn't a single photo of Dave that was worth sharing from last night. 🙁
Ian closed the show with a song that the audience sang along on the chorus. As the song went on, the band left the stage and Ian started playing the piano softer and softer, until the audience was singing with no accompaniment. At that point, Ian slipped off the stage too. The audience was supposed to keep singing (I suppose), but instead erupted in whoops and claps until Ian came out again.
For his encore, he performed Home which also isn't on the CD or EP (YouTube video of Home) accompanied only by Dave Eggar. A very emotional way to end a spectacular night.
One of the more amazing things is watching the band when they play with Ian. It's obvious (to me at least) that they are huge fans and aren't just there to pick up a paycheck (though what indie musician doesn't desperately need one of those?). They are as happy as we are to be a part of the evening, though their part is just a tad more integral and difficult than ours is.
In case you doubt me when I say how much energy they put into the show, I'll try and prove that assertion. Ian broke a piano string during the performance. A few minutes later, Adam cracked a drumstick.
I can't name names, but someone was kind enough to make sure that we got both the piano string and the drumstick as mementos. We're grateful for that, and we're willing to share our booty/bounty with the rest of you (at least through these pictures):
Greg Holden opened for Ian. We've seen Greg a number of times before, and his music continues to grow on me. He started the set a bit more mellow than usual but it had a nice feel. He got more energetic throughout the set.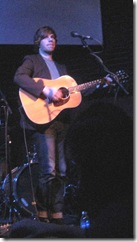 Ian joined him for one number (just piano, no harmony). Nate Campany joined Greg for one number as well, also just piano. Greg said that he co-wrote that song with Nate.
Dave Eggar joined Greg for two numbers. No such thing as "too much Dave"!
Greg also joined Ian on Say Something. Greg sat at the piano, but didn't play it (during the song), singing very soft harmony. Before the song started, Greg tickled the keys a bit, threatening to start a couple of Ian songs (including This is the New Year), and Ian retaliated by starting a Greg song on the ukulele. The crowd was in stitches.
Apparently, Ian is giving Greg piano lessons. Even though he only played a few notes, I bet he'll master it in the not-too-distant future.
After the show, Lois bought a few more T-Shirts (we already had two) and posters. If you've watched the video (if you haven't, shame on you) then you might recognize that Lois had one of the women in the video model the poster for us (and now you):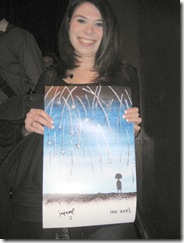 You have two chances to catch Ian on the East Coast before he heads out west. In Philadelphia at Tin Angel this Sunday, then on March 12th at Nightcat in Easton, MD. If you can, do it, you won't regret it!