Send to Kindle
If you've been here before, you know we're big fans of ambeR Rubarth both as a solo artist, and as part of The Paper Raincoat. It's no big surprise that we would try to arrange our schedule to catch one of her shows.
What's a bit of a surprise was trying to arrange our schedule to see her in another state (not NY), and using the opportunity to surprise her as well! We've been on the road for a bit longer than usual, having spent Thanksgiving in Birmingham, AL. We could have gotten home a day or two earlier, but chose to work in VA those days to catch ambeR and Adam Levy at Jammin' Java.
We had heard good things about the venue, so we were interested in checking that out as well. ambeR and Adam were opening for Brooke Waggoner, whom I will say a few words about at the end.
We were expecting ambeR and Adam to be playing together for their entire set, because they are touring in promotion of their new EP. That's not what happened. ambeR came out first, with her guitar. She did a solo set for 30 minutes. Fantastic!
We've seen ambeR a number of times now, and have loved every show. For the most part, she has been accompanied by at least two other musicians. I have mentioned in those posts that while she arranges most of the music, she is so strong on her own that the others are gravy to her meatloaf. Last night, the meatloaf was cooked to perfection. 🙂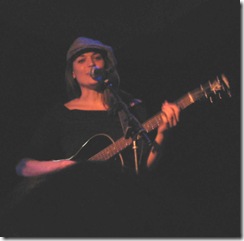 There was a 13-minute intermission after ambeR's set, then Adam came out and did a wonderful set. We have only seen Adam once before, performing a duet with ambeR at Joe's Pub during ambeR's CD Release party. That was great, but seeing Adam command the stage himself was a real treat.
He has a terrific voice, writes excellent songs, and plays the guitar particularly well. He takes nice/tasty leads at least once every song, and they are always welcome.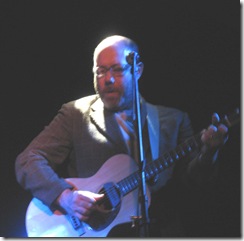 Toward the end of his set he invited ambeR to join him for his last two numbers. Both were excellent, and included the song they performed at Joe's Pub, Washing Day, which they performed as well (if not better) than they did at Joe's. Including his time with ambeR, Adam was on stage for a little over 30 minutes.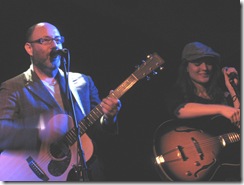 After a nine minute break, Brooke Waggoner came out. She sings and plays electric keyboards. She is really incredible on the keyboards, playing many styles and sounds (from classical piano, to funky electronica beats, with jazzy sounds in between).
She has a really good voice too. We weren't drawn in by the lyrics themselves, so I can't comment on how good a songwriter she is. In any event, her voice complements the keyboards, or vice versa, so no problem either way.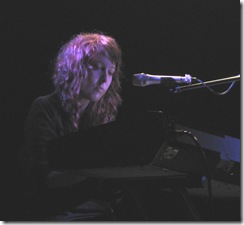 Including a one-song encore, which she seemed a tad reluctant to return for, she was on stage for a little over an hour.
Jammin' Java is a really nice place, and my Chili was superb. It is now squarely on our list of venues to keep an eye on, and take advantage of whenever we are in VA (which is all too often…).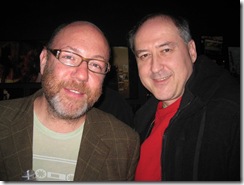 We were planning on spending the night in a hotel and returning to NYC this morning. Amazingly, I had a burst of energy when we started driving, and we made it all the way to NY, getting to the apartment at 2:25am. Long day, but worth it! 🙂