Send to Kindle
Last night was our 14th time seeing Girlyman perform. Tonight will be our 15th and I'll write about that tomorrow. 🙂
From March to October each year, we tend to see Girlyman in bursts, keeping our need/desire in check. Most years, we have a Girly-drought from October to March. It's a rough patch, aptly named Winter, and we were happy to officially declare our version of Spring last night!
We were pleased and surprised to see Girlyman book Jammin' Java. For the past two years, they have played The Barns at Wolf Trap this time of the year (on their VA visit). The Barns seats 400 people and Girlyman has sold out both times they've appeared there. We love The Barns, but the more intimate, the more we like it.
We've been to Jammin' Java once before, covered in this post. We liked everything about that evening, including the food quality and selection. While that show was reasonably well attended, it didn't prepare us for trying to accommodate Girlyman's fans in this smaller venue.
Gone were the tables that were set up near the stage (making it easy to sit up close and still eat comfortably). Instead, they had rows of seats (theater style) from the stage all the way back to the bar area. People sat on the floor (lots of people) wherever there wasn't a chair. Many more people stood behind the chairs all the way back to the entrance.
Jammin' Java earned it's name a few times over last night. First, while waiting for the seating to begin, the smell of their fresh brewed coffees was intoxicating. One of our guests commented to me that he would need to have some as dessert. We did. We got Lattes to go after the show was over and drank them on our way back to Fredericksburg.
Next there's the intended meaning of Jammin', the music. Wow, Girlyman was/were their usual extraordinary selves. Finally, people were literally Jammed into every opening, and no one seemed to mind in the least. We were all just happy to be part of the music and the energy (and the comedy) that is Girlyman.
So, why we do go to see groups that we love this many times, and often go out of our way to do it? The easy, obvious answer, which is 100% true is that we want to support (financially and emotionally) the groups that we love. But that's not the whole answer.
The live experience brings with it a joy that is qualitatively different than listening to the CDs (which is something we also do a lot). With a group that has a large a catalogue like Girlyman, each show has a number of unique elements to it, even on back-to-back nights on the same tour. Then there's also the inevitable moment of discovery, when they perform something on stage we've never heard, or they tell a story and reveal something we were unaware of, and our love of them deepens further.
There were a number of examples last night. We had an opportunity four months ago to tell Ty how much we love the song Could Have Guessed (on the new CD, Everything's Easy). Last night, before playing it, we got our first shout out from them, as Ty dedicated the song to us. Cool!
Ty told a story that we hadn't heard before they played Young James Dean (a song we've seen them perform many times). She said she was inspired to write that song when she read The Last Time I Wore a Dress. Lois told me when we left that she wants to read the book.
They played a few songs we hadn't heard them play live, including one we've simply never heard before, because they haven't recorded it yet. They were:
St. Stephen, a song Ty co-wrote with Nate in 2006. I could feel Lois tingling throughout the song, her reaction was that palpable.
For the first song in the encore, Doris sang a cover of Loretta Lynn's Fist City. We love country music, and it was fun to hear Girlyman's take on this song.
They closed the encore with Up to the Sea, a stunning a capella number on the new CD. The music is by Beethoven, Nate wrote the lyrics. The three of them bunched up together and shared one microphone. We've listened to the song many times on the CD, but have never seen them perform it. It was magical. You couldn't hear a rustle (let alone a whisper) in the crowd.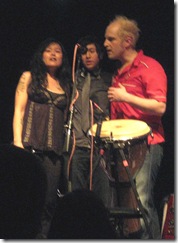 Girlyman now officially has a fourth member, JJ Jones on the drums. We've seen JJ play with Girlyman twice before, but she was actually the full-time drummer for the opening band, Po' Girl each of those nights, also sitting in with Girlyman.
JJ is an incredible drummer who adds a nice depth/dimension to Girlyman. Many of Girlyman's songs have a full drum set on the CD version, so it's quite natural to hear that full sound on stage as well.

During Young James Dean, JJ was beyond awesome. I am grateful that I know the song so well, because I might have missed it given that I was fixated for much of it on JJ. I wasn't alone in my awe. The second the song was over, before Ty even thanked the audience for their wild applause, she turned to JJ and introduced her, and said something to effect of "Wow, thanks JJ!". Thank you indeed!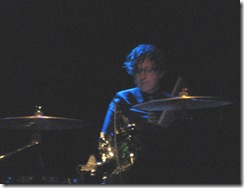 JJ also was perfect on the always upbeat Joyful Sign, a song that really benefits from strong drumming. JJ never speaks on stage. Well, she never used to speak on stage. Nate asked her a question last night, which JJ typically answers with a particular drum roll. Last night she said "Yes". Nate was as flabbergasted as the rest of us. 😉
The other thing that Girlyman did wisely last night was not have an opening act. While we have discovered some of our favorite bands by accidentally hearing them when they were opening acts, sometimes it's better to skip it.
Girlyman was in effect their own opening act. They performed a 45-minute set and then broke for an intermission. They did something we are not accustomed to seeing (even in our few previous 2-set evenings seeing them). They came out during intermission to say hi to the fans and to sign merch and take photos. It's a wonderful touch, especially for people who need to hit the road the minute the show is over and can't wait in long lines no matter how badly they want to.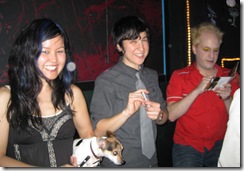 When they returned to the stage, they played a 70-minute set, including the above-mentioned two-song encore. An absolutely wonderful evening, as I'm sure tonight will be as well. If you're anywhere within driving distance of Charlottesville, VA, come see the magic at The Southern Cafe.
Here's our gang (minus us) from last night: