Send to Kindle
Another night, another Girlyman concert. This one was in Charlottesville, at the relatively new The Southern Cafe. This used to be Gravity Lounge. It changed hands and was gutted on the inside.
Last night was the final show in the current East Coast tour for Girlyman. I can only imagine how exhausted they were. Thankfully, none of that was projected on the audience, as they performed with incredible energy over two sets.
All of the praise I heaped on them for the show the previous night applied last night. They varied the set list a lot, with at least half of the songs swapped from the night before. Their banter was almost 100% fresh. One of the reasons that this is almost always true for Girlyman is that they feed off the crowd's reactions. They might start with a seed that they have in mind, or have used in a previous show, but each audience will take them in a completely different direction.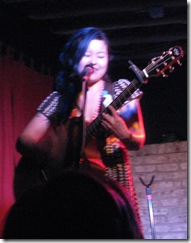 There were more, and longer tuning songs last night. Not because Ty and Doris had more trouble tuning, but because they got stuck (in the best sense) on a particular theme/interplay and drove a truck through it at every opportunity.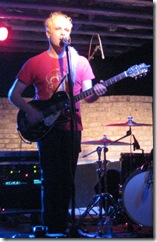 Girlyman audiences are among the best, at every venue, on a consistent basis. They are true fans who make unreal noise between songs, and are reverently quiet during songs. That's all you can hope for.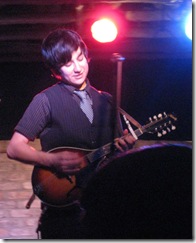 They played a 45-minute set and took a break to sign merch and mingle with the audience (exactly like they did the night before at Jammin' Java). They returned for a 70-minute set including a three song encore.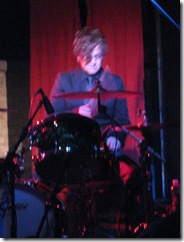 The first song in the encore was the Girlyman Benediction. It's been quite a while since we've seen them do it live, and it was fantastic (as it always is). In addition to their normal antics during the song (e.g., Doris does the belly-rubbing and head-patting motions at one point), adding JJ Jones to the mix (the newest Girlyman) was hysterical. She was balancing drumsticks and water bottles, making it very hard to look anywhere else to see what the rest of them were doing. 🙂
Next they played the other encore favorite, Son of a Preacher Man, which has also been a while since we've seen it. They closed the show with the amazing a cappella number, Up to the Sea (from the new CD) like they did the night before.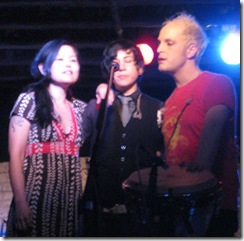 After the show Nate signed their latest CD for our friends. Lois bought one of their Everything's Easy T-Shirts (for me, since they were out of her size).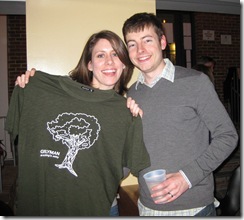 Opening the show was Andy Moore. We missed the beginning of Andy's set (my rant about that will come in a minute) but caught her last two numbers. She has a beautiful voice and accompanies herself well on an acoustic guitar. Very moving lyrics.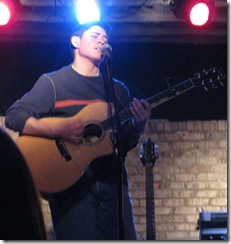 Lois made up for our guilt of missing her entire set by buying two of her CDs, so we now have a chance to get to know her music better. We also spend a lot of time in Richmond, where she's based, so we might get to catch one of her shows there.
The Southern Cafe is still relatively new, so it's important to cut them some slack while they get their sea legs. On the other hand, I'll still rant a bit in the hopes of sparing someone else what happened to us, and encouraging The Southern to get it together a bit more quickly than they seem to be.
The show was listed for 8pm, with doors opening at 7pm. We wrote in advance because the website is one of the things that hasn't quite gotten fleshed out yet. They wrote back saying that the opening act would come on at 8pm, with Girlyman hitting the stage at around 8:30pm.
We arrived at 6:20pm, and our guests arrived at 6:30, exactly when we asked them to. The doors to the cafe were already open (very welcome, since it was drizzling outside). We tried multiple times to order dinner, and each time were politely told that they wouldn't be taking orders until roughly 7pm (fine, that's when the doors were officially supposed to open).
They did indeed take our order at 7pm. Even though it's traditional southern style comfort food (I had an amazing pulled pork sandwich with equally amazing sides of mac 'n cheese and slaw), it took forever to come out. The good news is that the food is good enough so that you should go there for lunch or dinner even if you're not interested in the music.
Unfortunately, while eating our food (which got to the table at around 7:35), we heard some applause. We ignored it while we ate, but then Lois got curious. She went to check it out, and it turns out that Andy Moore came on at 7:30. No announcement was made in the cafe part that we were sitting in. We wolfed down the rest of the food and caught the end of her set.
Summary: The Southern Cafe is going to be a great venue for both food and music once they get their act together. You should still attend now, because the overall evening was fantastic, but, be aware that things might not be perfectly smooth, or as advertised, for the time being.