Send to Kindle
Last night we finally got to scratch a 20-month itch, seeing Cherish the Ladies again in concert. They performed a Christmas show at Towne Crier Cafe, the place where we first saw them in April 2008, covered in detail in this post.
We love Cherish the Ladies (CTL), we love Towne Crier Cafe and we love Christmas music. A win/win/win, not just in theory, but executed perfectly last night, even though the Nor'easter tried to thwart CTL from making it (they were in Providence, RI the night before, and were nearly snowed in!).
Every member of CTL is a world-class musician. You should really look them up individually, their accomplishments are impressive. Together, they make magic. In addition to playing traditional Irish music (and last night, Christmas songs), they also write new songs that have the feel of traditional Irish music, but have just the right amount of originality to keep everything fresh.
The two women who started CTL, Joanie Madden and Mary Coogan will be celebrating 25 years of playing together on January 5th, 2010. Wow. Joanie is as entertaining a personality as you could ever want on stage (and off!).
They played mostly Christmas music last night, but that included an original or two, plus some non-traditional arrangements of some classics. All beautiful, played to a very appreciative crowd (which included a few of Joanie's brothers, and her mother). In fact, her brother John sat in on four numbers and played the drums. One of the rarest of times that CTL has had a drum set on stage with them!
Their current CD is called A Star in the East and they played many songs from it last night.
Sitting left to right on the stage:
Joanie Madden (OK, standing the entire time) plays all manner of flute, whistles, recorders, etc. She's a genius on all of them. She sings a bit of harmony, very well. She's the MC, keeping the action moving all night, making everyone laugh, and bringing an energy to the performance that doesn't seem sustainable, yet she delivers that energy each and every time.
Mary Coogan plays guitar, beautifully. She took a few solos, most notably What Child is This / Greensleeves. Absolutely gorgeous!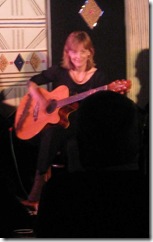 Roisin Dillon on fiddle. She is absolutely incredible. One of the few fiddle players who sits the entire performance, and actually barely moves (you can see the bow move, of course, but otherwise, her play appears entirely effortless!). When Joanie and Roisin play harmony together (Joanie on the whistle or flute, and Roisin on fiddle, it's truly heavenly).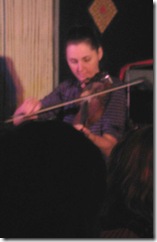 Mirella Murphy on accordion. Mirella is also an extraordinary musician. In addition to winning many accolades and competitions herself, 22 of her students have won gold medals on the accordion, and she's but a kid herself! Like Roisin, her accordion playing appears entirely effortless.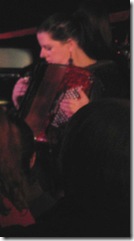 Kathleen Boyle (KT) sits behind the others playing piano, wonderfully. She played a song that she wrote that was fantastic. No good shot of her at the piano, because it's buried in the back of the stage, and her back was to us the entire evening.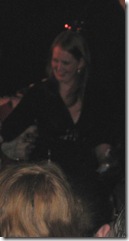 Michelle Burke is the lead vocalist. Michelle has a gorgeous voice. She joined CTL just before we saw them 20 months ago. In fact that night was only her second performance with them. She was great that night, but last night she was obviously more comfortable and more integrated into the group and the set. Of course, singing traditional Christmas songs can bring out the best, and Michelle did a terrific job, including getting all of us to sing along a number of times.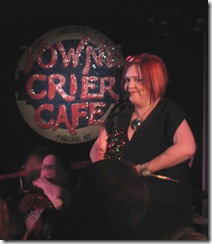 After the show we bought a copy of A Star in the East and got Joanie to sign it. A wonderful evening in every respect, including the always tasty (and spicy!) food at Towne Crier Cafe. Looking forward to our next visit there already. 🙂