Send to Kindle
Lois and I are very big fans of traditional Irish music. This should come as no surprise to those who know us (or regularly read this space), not because I write about Irish music a lot, but because we really love tons of roots music and there is a lot of Irish roots in that. 😉
Six weeks ago I stumbled upon a notice that an all-female group called Cherish The Ladies was going to be playing at the Towne Crier Cafe in Pawling, NY. I had never heard of Cherish The Ladies (a major shame on me). I had also never been to Pawling, but at least I knew where it was. 😉
I hopped on to YouTube and checked out a dozen videos of Cherish The Ladies. Each was better than the one before, I was instantly hooked, and after checking with Lois, I grabbed two tickets including dinner reservations. Last night finally came and we drove the 45 minutes from the house to Towne Crier Cafe. As is the current custom, I'll review the show first, then circle back and describe the venue.
The Ladies came on stage at 9:11pm (11 minutes late). The crowd went completely nuts. Joanie Madden (one of the two founding members of the group) asked the crowd how many had seen the Ladies before and roughly 75% indicated yes.
Joanie plays all types of flutes and whistles. She came on stage with a cloth (canvas?) tube rolled up. She unrolled it on the table, and there were individual tube-like pockets, each housing a whistle or a flute of different types and lengths. I'd guess on the order of 20! It was like watching a master surgeon unroll their package of specialized scalpels.
I can assure you that she plays every single one of them with the same precision, cutting through to your soul with every breath and movement of her fingers. Awesome would be too mild a word to describe her musical talent.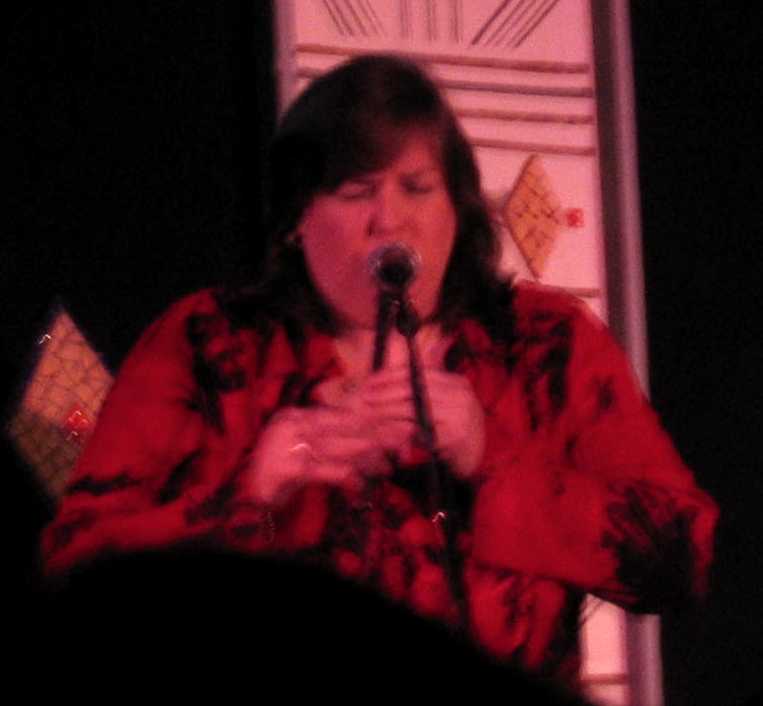 Mary Coogan is the other co-founder. Last night she exclusively played the guitar (beautifully!), but I can see from her CDs (I'll mention what we bought later on) that she also plays the banjo and mandolin.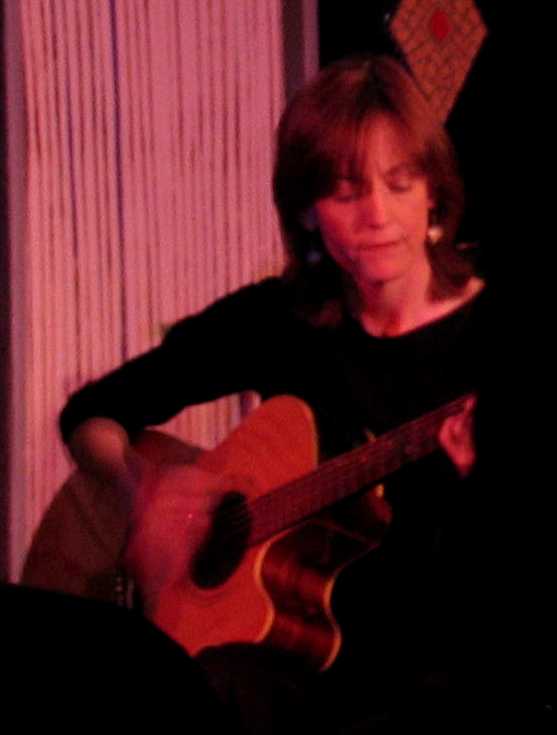 Joanie and Mary formed Cherish The Ladies 23 years ago! That's why I said shame on me for not having heard about them until now!
Roisin Dillon sat in the middle, playing a fiddle that was breathtaking the entire evening. I kid you not when I say that every time Roisin took a solo, the crowd burst into rhythmic clapping, keeping time with her amazing solos.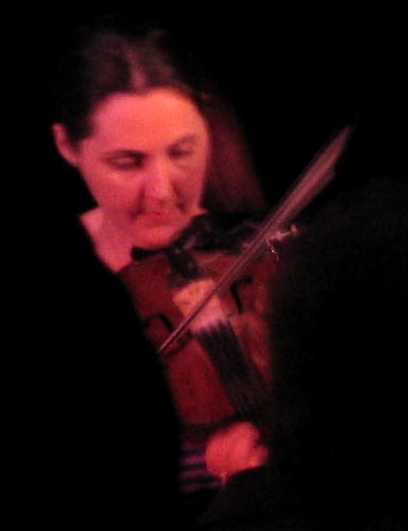 Mirella Murray was next in line on the stage, playing the accordion. She too is awesome! In addition to winning the All-Ireland competition a number of years back, she teaches accordion and has had a number of her students win the competition. Either she's a great talent scout or a great teacher. Most likely, both! 🙂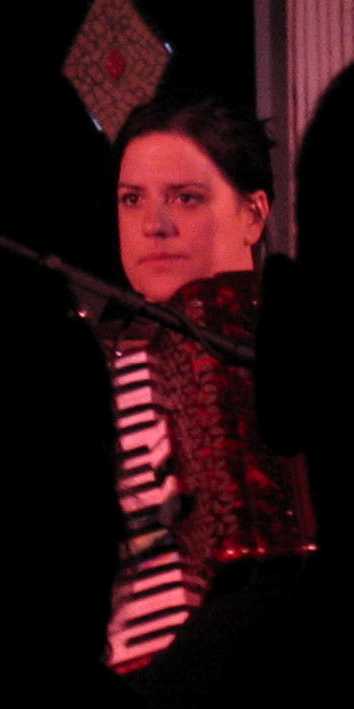 Michelle Burke was spanking brand new to the group (hence no link). Amazingly enough, they only met Michelle two days earlier when they played in Cleveland. I don't know whether Michelle sang with them that night, but she definitely sang with them the night before we saw them, in Buffalo, NY. She sent them a CD of her work, and clearly they liked what they heard.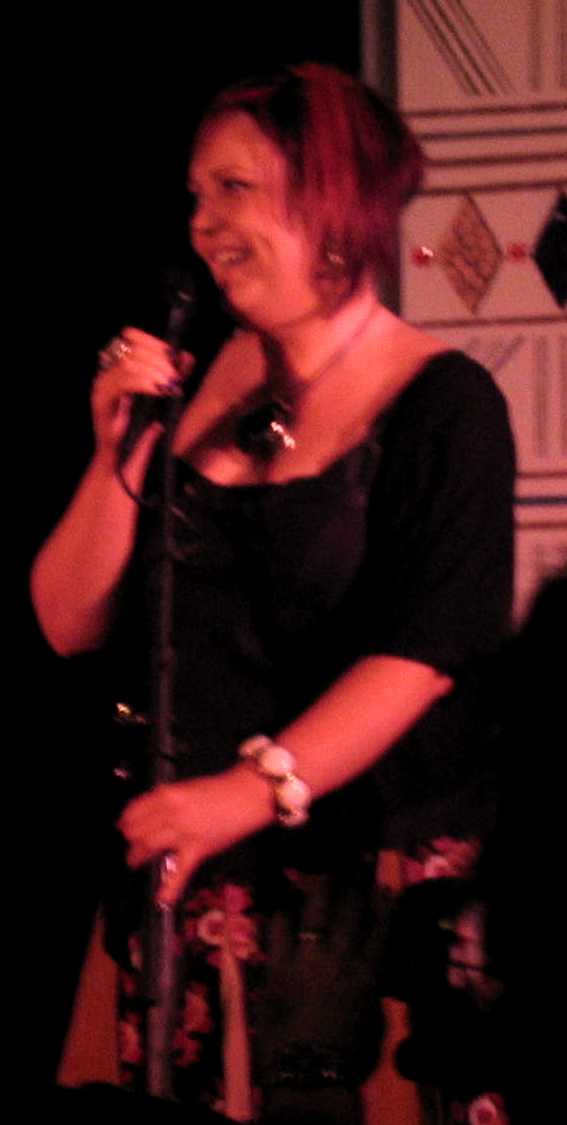 Michelle sang lead (no instruments) on five or six songs. She was fantastic on every single one of them. Joanie sang harmony (all too briefly) on most of the songs, as she harmonizes beautifully with Michelle. Here's hoping that now that they've met, they'll get a chance to actually work up more harmonies together. 🙂
Kathleen Boyle, sitting behind that row of five women, with her back to the crowd most of the night, played the piano, phenomenally. She's not listed on the Cherish The Ladies web site, so I don't know if she's a regular with the group. Her MySpace page (linked to her name) has two gorgeous songs on it, but neither of them is her playing the piano. Last night she played a song from her new CD, about her parents returning home to Scotland, which was stunningly beautiful.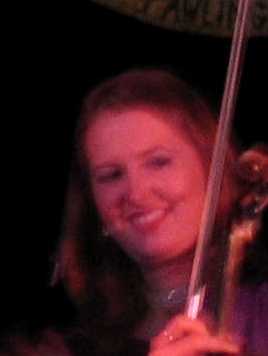 Last night was Kathleen's (K.T.) birthday, and Joanie had a cake delivered on stage and we all sang Happy Birthday to her. 🙂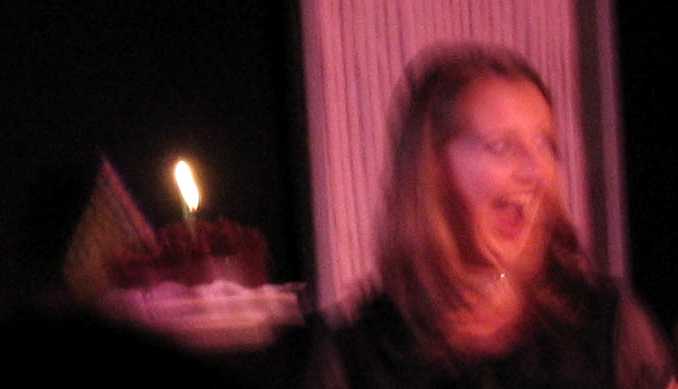 OK, on to the music. Cherish The Ladies are simply fantastic. Not a moment of boredom to be found all night. Their selection (very wide ranging!) was wonderful and while each of them is an incredible solo artist, together, they gel on every song.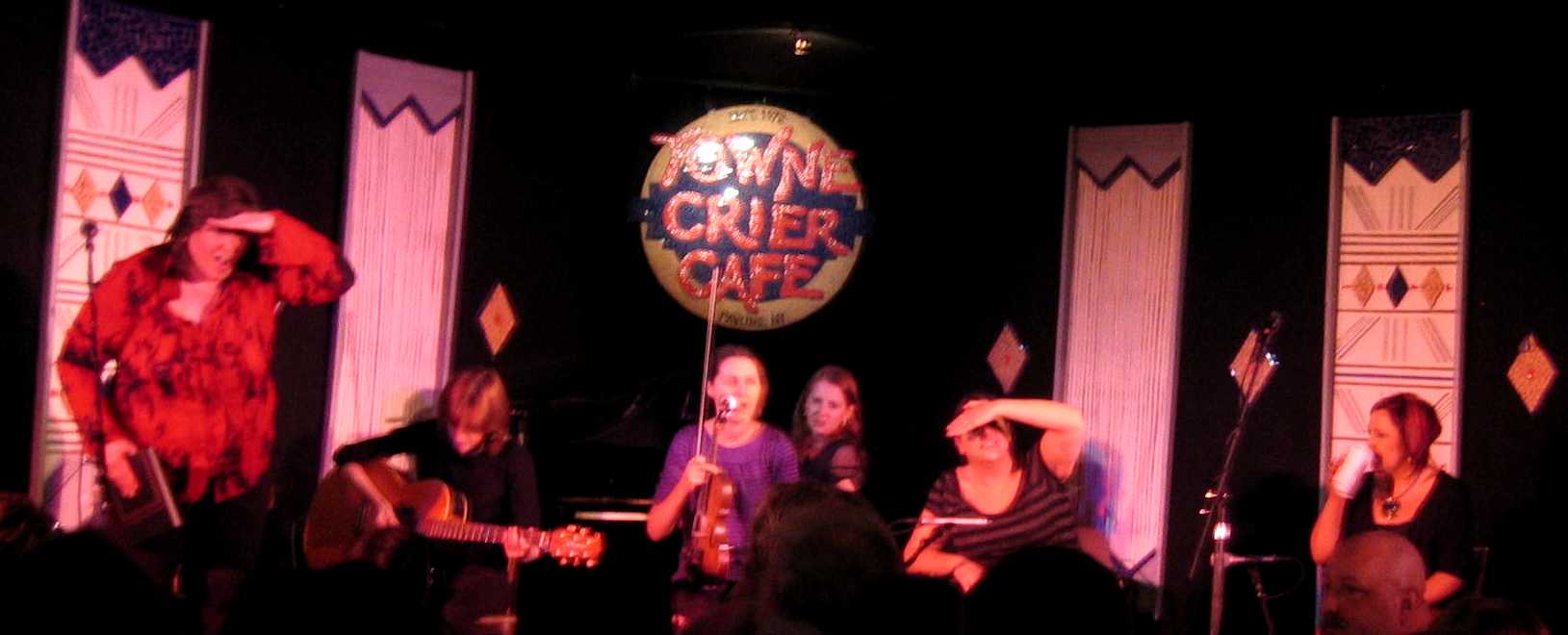 In addition to playing very traditional songs (does a 400-year-old song count?) 😉 they also play quite a number of newer (yet traditional sounding) numbers, many written by Joanie (she's an extraordinary song-writer!). You can hear some of their stuff on their MySpace page. While I recommend that, seeing them live is a much bigger treat.
Perhaps you can get a touch of that flavor with the following YouTube Video of them. The video is long (12.5 minutes), but it also shows a nice range and solos from Joanie, Roisin and Mirella. It also ends with some step dancing, which we missed last night due to the very small stage at Towne Crier Cafe.
You can also hear more of Joanie's stuff on her MySpace page.
If you were there last night, and didn't clap along, or stomp your foot, or at least tap your toes or fingers, check your pulse! 🙂
In addition to the awesome music, Joanie is masterful at working the crowd. She's a bundle of energy and it emanates from her every action and word. She's hysterical and a wonderful story teller as well. Every year, she and Mary host a week-long musical tour of Ireland. I truly hope that Lois and I can make the time in the very near future. This year it's May 20-27th, and we definitely can't make it. Perhaps next year!
During the second set Joanie brought her father up on the stage. He's a life-long musician as well, and had a big band years ago. He plays the accordion. He wailed with them on at least three numbers. He was great, and everyone enjoyed having him up there, including the Ladies themselves. 🙂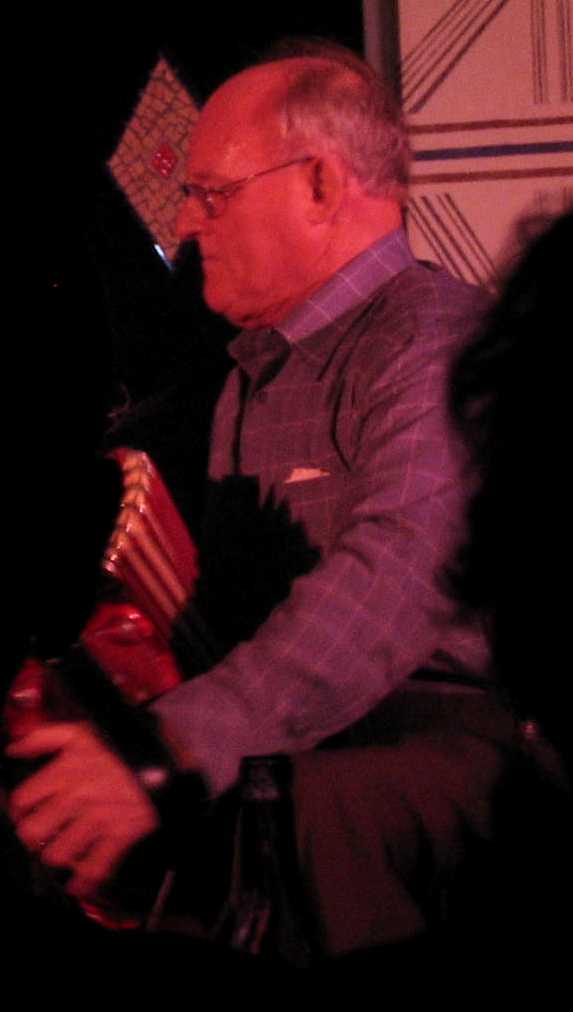 They took a 25 minute break (announced as a 15 minute break, but they actually mingled in the crowd, and weren't released to get back on stage). With a one-song encore (after a rousing standing ovation) that involved not leaving the stage (thankfully, since it's so small it would have been a waste of time!), their total on-stage time was 2 hours (not including the intermission!). Very generous (if a little late for us old fogies).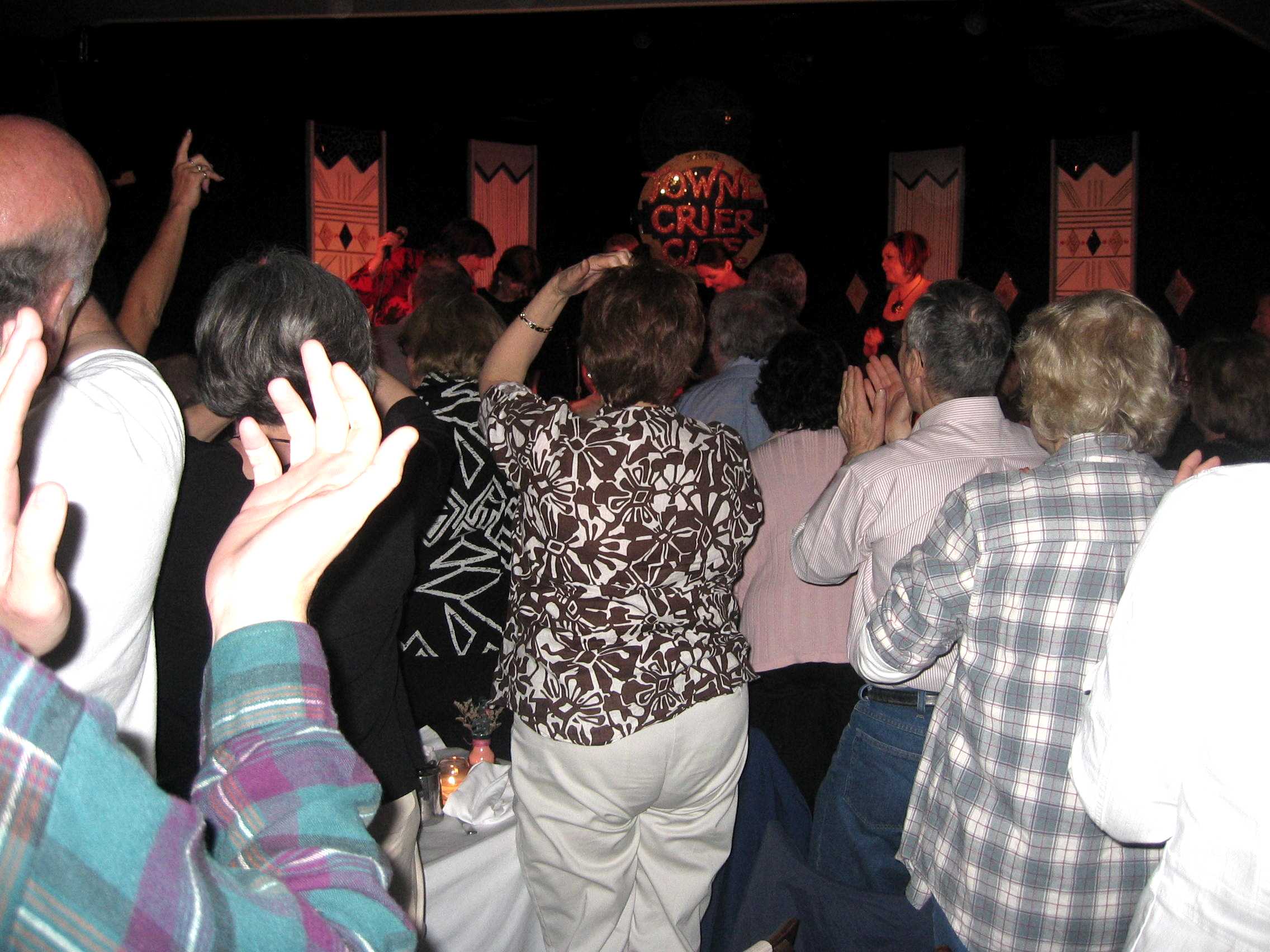 A very magical evening indeed!
On to the background and venue. I already mentioned that finding Cherish The Ladies and Towne Crier Cafe was accidental. Even though I made the reservations happily, as time passes, the normal discomfort sets in. What will the venue be like? Will the group disappoint? Will the show simply be too late for us?
You already know the answer to the second two questions. 😉
You get to pick a wide range of dinner reservation times at Towne Crier. We're quick eaters (too quick) so picking an early time is attractive to us only to secure better seats. The show was scheduled for 9pm, so I picked 7pm (way too early eating wise, but I hoped very good for seating). I could have picked 6pm, but that seemed crazy (at least I hoped so).
Leaving some extra time (having never been to Pawling) we ended up arriving at 6:40pm. The place was easy to find and the parking lot had plenty of spaces that early. It's basically an upscale Mexican / Southwestern style restaurant (exactly the kind of food we like). The attitude of the staff was very warm and we felt very welcome immediately. We were seated nearly dead center in the room, very nice seats.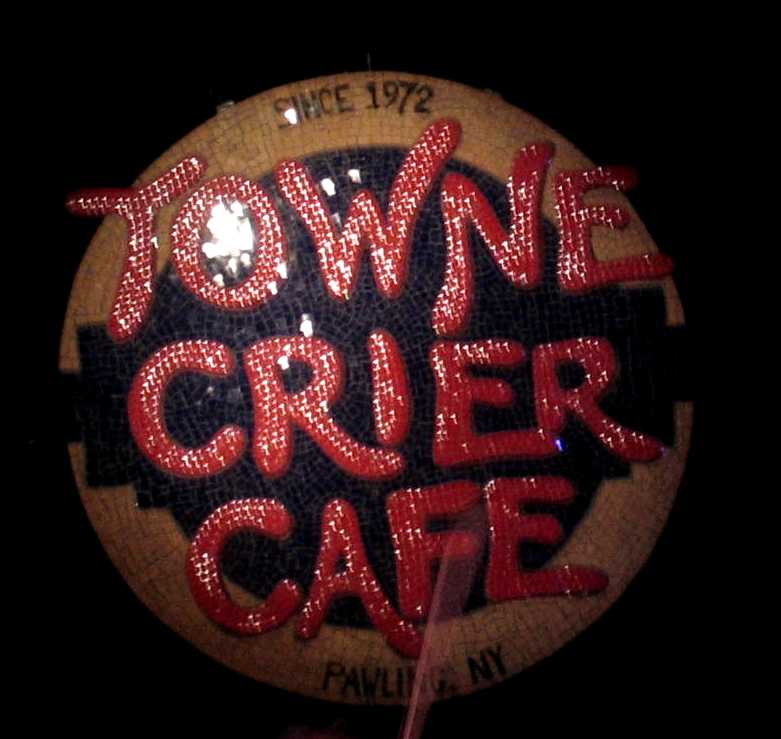 The dining room is a very open rectangle on two levels (the upper level is just a single step up). Most of the room is filled with dining tables. At the very back (on the upper level) there aren't any table cloths, so it's more of a bar seating area, but it's still waiter service, no actual bar back there.
As opposed to other places where you eat dinner at a table and then watch the show, Towne Crier orients the majority of their tables on a diagonal (the stage is in the far left corner of the room) so that most seats have a decent view of the stage no matter which side of the table of you are on. In many other venues, one side of the table has to twist and contort to get a good view.
The room holds roughly 150 people seated. The food was fantastic. Service was good to begin with, but as the people kept pouring in, it got a little hectic. Never an attitude, but even though it seemed that they had enough staff, we were left unattended for a reasonably long period. It didn't bug me, but I know people who it would bother, so I mention it as a potential warning.
Even though we sat down at 6:45pm, we didn't finish dinner until nearly 8:20pm. The pacing is (or at least last night was) extremely slow. That's fantastic for people who prefer very leisurely meals. We get a little fidgety in situations like that, but it worked out well given how early we showed up.
They bring out chips and spicy salsa for each table. They also include a few pieces of spicy cornbread. The salsa is extremely spicy, but also extremely tasty. I definitely ate too many chips, just to have something to scoop up some more of the salsa. The cornbread was heavenly.
When the show was over we rushed to the entrance where they were going to use a long counter (where the desserts were originally laid out) as the merch table. We were first on line, a line that grew reasonably long. The Ladies didn't leave us hanging more than a minute or two (very welcome at 11:35pm!). We bought five CDs. Two of Cherish The Ladies, two of Mary Coogan, one with her Dad (now unfortunately deceased) and one with Kathy Ludlow performing Children's music, and one solo CD of Joanie Madden.
We only made them sign one of them, The Best of Cherish The Ladies. Thanks to all of you, we promise to cherish it. 🙂
Lois meant to buy their new CD as well, but didn't grab it, and we were feeling guilty about holding up the line with a hand-written credit card order. We'll be buying more of their stuff online, including the latest CD.
To repeat, a very magical evening (venue included!). We already have tickets to go back to Towne Crier on June 15th to see my favorite Jazz group, Acoustic Alchemy. If you can't make it to Pawling that night, they are also playing the next night, June 16th at BB King in NYC.
Don't forget (how could you?) that there are still 11 days left to win a free copy of a signed Girlyman Live CD! Enter the contest now and do your best to win the CD and spread the Girlyman love! 🙂