Send to Kindle
We had a big birthday celebration weekend for Lois. I just put up a short blog (OK, short for me) about The Addams Family which we saw on Friday night. Last night, we had a special dinner at the Peking Duck House, and I will write about that in the next couple of days.
We pushed the dinner up to 6pm, so that we could be sure to make it to Rockwood in time to see Ian Axel and Joey Ryan.
We've seen Ian mostly with a full band, and once mostly solo (with others, like Joey Ryan, accompanying him a bit). He's great both ways. Last night was the first time he was solo on a grand piano (the other time he was on electric keyboards).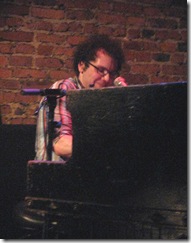 Ian creates a big enough sound to fill the room with the piano and his voice alone, so no disappointment at not having the full band. That said, if I get to choose, Adam Christgau and Chris Anderson are so wonderful, and fit Ian's sound so perfectly, that it's a case of the whole being greater than the sum of the parts (or some other high brow observation).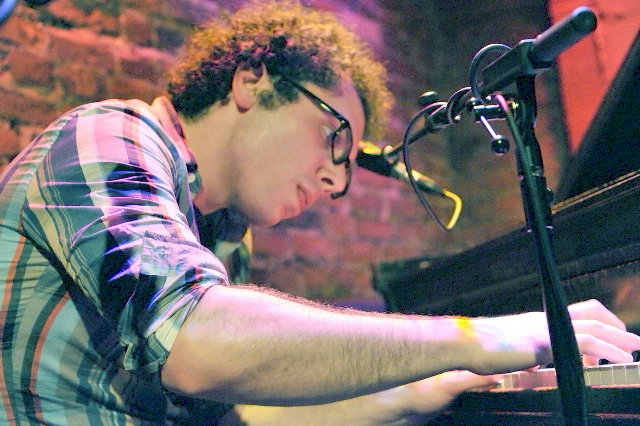 Joining Ian for two songs was the ever-wonderful Chad Vaccarino. They did both Shorty Don't Wait and This is the New Year. Even though it was just the piano and the two of them on the stage for This is the New Year, when the two of them were belting out the vocals together, the sound got very big.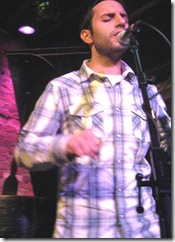 Joining them on stage for Shorty Don't Wait were both Joey Ryan and Kenneth Pattengale (who I will call out later on). Joey and Kenneth were also on stage with Ian for Say Something (which Ian played on the ukulele, which he also played during Shorty Don't Wait).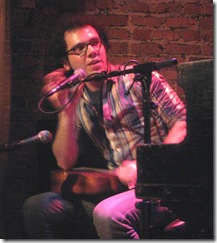 Ian played a song that he co-wrote with Greg Holden. Greg joined him to sing harmony. Gorgeous song. It was the first time we've heard it.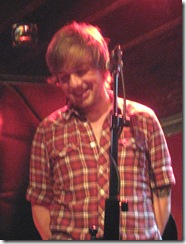 Rockwood was packed to the gills. Ian mesmerized the crowd. When he whispered during a song, you could close you eyes and believe that you were the only one in the audience, it got that quiet. That's not the norm, even for Rockwood, where you can often hear people chattering during the songs.
We spotted a number of friends in the crowd, who also juggled other plans to make sure that they didn't miss Ian. Kindred souls we are. Check Ian out sometime soon, and join our club. 🙂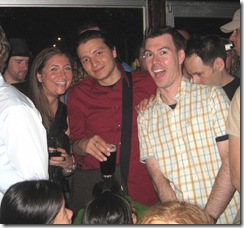 Coming on immediately after Ian was Joey Ryan. This is the first time we've seen Joey play with a trio. We have loved Joey both live and on his CDs, even when it's just him and a guitar. I have to say that putting together this trio, with their exceptional harmonies and guitar interplay was brilliant.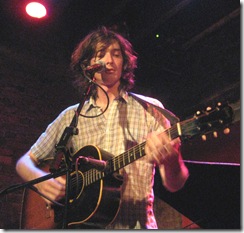 Joey's songs are rich musically and lyrically and his self-effacing banter is endearing. He's also an excellent guitar player. He was hitting on all cylinders last night.
To his left (stage right) was Kenneth Pattengale on guitar, harmony vocals and lead vocals on one of Kenneth's songs, Charlie (which you can listen to on Kenneth's site, linked to above). Kenneth's voice blends beautifully with Joey's. But the real magic happens when you lose yourself in Kenneth's lead acoustic guitar.
Kenneth has a feel for dancing in and around the melody of a song enhancing the basic structure with his soulful leads. He sounded great on the few songs he played with Ian, but he is so much more familiar with Joey's music that he felt looser and more creative during every one of Joey's numbers.
Rounding out the trio is the very talented Mark Stepro. Mark played guitar and sang harmony throughout the set. All three have excellent on-stage personalities.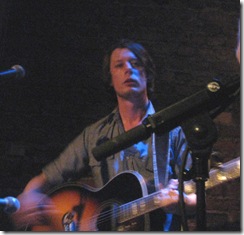 Ian joined them for two numbers.
Rockwood is mostly a set of 45 minute sets. Matt Duke played the set before Ian. Matt has been touring with Ian and Joey, so technically, he was opening for them last night. We got there in time to catch his set.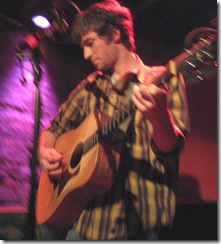 Matt plays mostly straight up folk style, solo vocals accompanied on an acoustic guitar. He's a talented guy, good guitar playing. Unfortunately, for people who came to see Ian and Joey, worse if they already knew Ian and/or Joey, it was a little hard for Matt to hold the crowd's attention or live up to the others musically.