Send to Kindle
Ian Axel grew up in Fair Lawn, NJ. Last night they coaxed him back to play in the beautiful Fair Lawn Community Center. It was a very special night, filled with family, friends and fans. I can't even imagine the emotions running through Ian's head throughout the night, even though he did a great job giving us all a tiny glimpse with his stories and song intros.
They had a beautiful baby grand on stage, which Ian owned. He had his full band with him (I'll mention each member shortly) and two special guests. As incredible as Ian is playing solo (an example was his last Rockwood show), the full band experience amplifies that significantly.
That said, Ian played quite a number of solos last night (one in the the middle of the set, then all of the encore pieces), and each song was phenomenal, so take what I said above with a grain of salt. 😉
Ian mentioned that he had lost his voice the day before the show. Let me assure you, he found it just in time, because he hit the high notes as crisply as you could hope for. Of course, he never lost his fingers, so the piano playing (and ukulele on one number) were top notch throughout as well.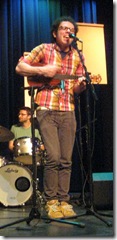 From left to right on the stage with Ian:
Chris Kuffner played electric guitar. I've mentioned a number of times that I've had trouble picking out Chris' sound during Ian sets. Last night was totally different. Chris' amp was angled slighted, and pointed dead on to my seat. His volume was perfect (for my seat) as well. It's the first time I got to fully appreciate how much his sound complements Ian's playing. Bravo!
Adam Christgau on drums. I can never say enough about how amazing Adam is on drums. Some drummers need to take a solo to show your their chops. Adam shows it on every song, just by enhancing the song itself, no solo necessary. He is one of the reasons that the full band experience is such a plus (for me) at an Ian show.
Chris Anderson on bass. As I've mentioned many times before, Chris is the perfect bassist for Ian's music, not only because he nails his part on each song, but because he has the energy to keep up with (or is that match?) Ian (which is saying a lot!).
All three of the above sing a little bit with Ian. Not so much harmony, but more like call-and-answer parts, where typically, the audience ends up singing with the three of them as well in the answer part.
Joining for two number was the ever-wonderful Chad Vaccarino. It's so heart-warming to see every crowd (this one being no exception) go nuts (literally) when Chad comes on stage. He's a major vocal talent (with a deep passion for what he's singing), and to have so many people be aware of that, in advance, is the kind of recognition he deserves.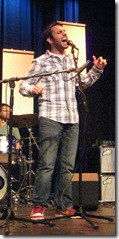 The first number Chad did was Shorty Don't Wait. On that number, Ian played the ukulele and the other special guest, Mike Campbell joined and played guitar and sang. I've apologized a few times in the past for not having a good link for Mike Campbell. I snagged him after the show to ask for one, and he told me that I was right that he doesn't have a web page. So, until he does, I'll stop apologizing. 🙂
There are a few times during Shorty Don't Wait that Chad hits some high notes in such an electrifying manner than the audience reaction is palpable. Last night was about as good as I can imagine him hitting those notes, but I look forward to being proven wrong in the future! 🙂
The three of them (Ian, Chad and Mike) sing harmony beautifully together. Given that Ian doesn't do much other harmony, any additional arrangements that he does with these fellas will be just fine with me.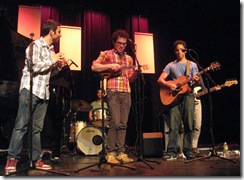 After Shorty, Mike left the stage. There was some hilarity in watching Chad flit back-and-forth between two different microphones, deciding which to use for the next number. Once that issue was settled, they jumped into the song that everyone knows by now (if you don't, shame on you): This is the New Year. Like I've said before, if we all showed up and Ian and Chad just performed that one song 10 times in a row, we'd all leave feeling that we saw a great set!
After the set was over, we all gave Ian a standing ovation. He returned to the stage alone, and played one song. When he left again, people were chanting for him to return. When he did, he ended up playing three more songs, including Home (a song he doesn't play often, but should!).
Lois cried when he played Mozart, a song he wrote after his dog (guess his name) passed away. I think it's the first time we heard Ian play that song (solo, during the encore).
After the show, the entire band was out in the lobby to meet and greet. It was a party atmosphere given the makeup of the audience, and the quality of the performance.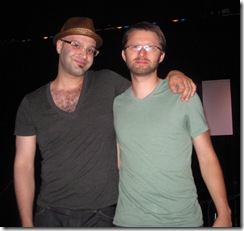 Apologies for the red eye in the following shot. My crude editing tools only made it worse so I left the red eye in (every photo in every post can be clicked for a larger version)…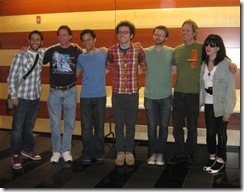 Opening for Ian was a last minute substitution, Patti Rothberg. From the introduction, it's clear that Patti was a big deal a number of years ago, largely in the Rock world. Last night she played exactly 30 minutes of solo acoustic guitar (singing on each number). I was impressed with her voice.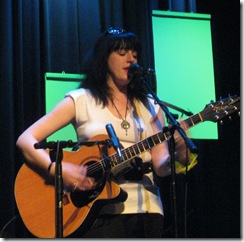 The audience certainly wasn't all family and friends, at least three other fans from NY came across the river to see the show, all of whom we are friends with due to our mutual connection to another wonderful singer/songwriter, Alex Berger. We monopolized the center of the first row, and enjoyed every second of the show!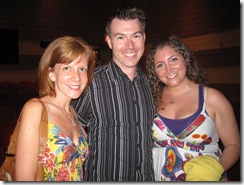 For you New Yorkers, Ian is playing at Rockwood Music Hall Stage 2 on June 29th. If you're on the west coast, you'll get to see him sooner, along with the wonderful ambeR Rubarth!
Here's the set list from last night, missing a few songs (mostly from the encores):