Send to Kindle
After seeing Alex Wong perform a cameo appearance at ambeR Rubarth's Rockwood Music Hall show, we ran over to Caffe Vivaldi to catch Alex performing his own show!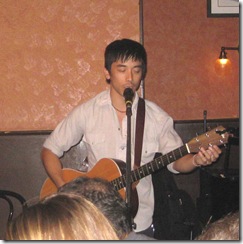 The last time we saw Alex he played mostly solo (Adam Levy joined him for a song or two). This time, Alex was supported by some of the best musicians in NYC, though he did perform at least one song solo.
That song was In the Creases [Update: I've been told by two people that I am wrong, that Ward Williams joined Alex on this song, so I'm sure I am incorrect. Apologies!], the same song he performed earlier with ambeR at Rockwood. Very cool contrast. There (as mentioned in this post) he sang while ambeR played the guitar. Here, he played and sang by himself, creating a completely different feel to the song.
Alex has a wide selection of songs to choose from, his own repertoire, songs he wrote as part of The Animators, songs he co-wrote with ambeR and The Paper Raincoat songs.
Joining Alex in various combinations were:
Melissa Tong on violin. Always a delight, as a person and as a musician.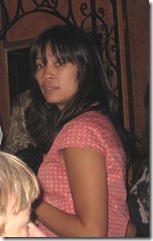 Ward Williams on cello. Ward's performances are always top-notch, and last night was no exception. In fact, he accompanied Alex alone on one song and played lead on the cello replacing ambeR's missing vocals from a Paper Raincoat song. Extremely well done.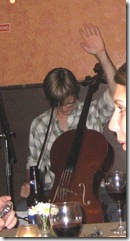 Kevin Rice on a snare drum (Caffe Vivaldi is too small for a full drum set, at least with last night's setup). Kevin always does a great job, even though he was constrained last night.
Martin Rivas sat in on one number, playing acoustic guitar and singing harmony. His guitar play was outstanding, as was his voice. It reminded me that I hadn't gotten around to snagging his new EP, so I asked Lois to buy it from him after the show. Can't wait to catch a full Martin set asap.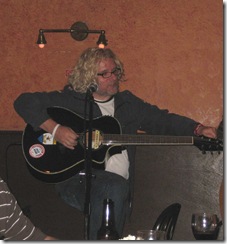 Candace Chien played the grand piano accompanying Alex on his last number (Help is on the Way). Sorry, I can't find a good individual link for Candace. Candace is a classical pianist and this was her first non-classical public performance. She nailed it and we hope to see and hear more of her in the future. Everyone at the Caffe sang along with Alex on the repeating chorus (just like we did when he closed the Haiti benefit with this number).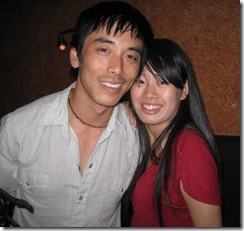 Even though we stayed up way past our bedtime, it was a ton of fun to see all of these wonderful people/performers do such an intimate show.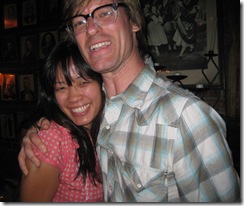 We've never been to Caffe Vivaldi before (it's in the West Village) and it won't be our last time. To make sure I'd want to come back, I forced myself to have a piece of Carrot Cake and a Latte. The things I do for the love of music… 😉