Send to Kindle
Another night, another show at Rockwood Music Hall Stage 2, same old, same old. 🙂
This night featured a totally different type of music, but was similar in that we love this group of performers as did the rest of the crowd.
The co-billed show was ambeR Rubarth (we love her solo, with a band, and when she's half of the duo The Paper Raincoat) and Adam Levy who is a wonderful guitarist and singer/songwriter.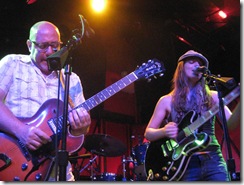 Adam had his band, the Mint Imperials backing him (I'll cover them later), and they backed up ambeR on the majority of her numbers as well.
Adam, ambeR and the band came out together and opened with an Adam number. Then Adam introduced ambeR's song Edge of My Seat with a crack that didn't seem like a song intro until the last second.
After that, it was a bit more of ambeR's set than Adam's, with Adam supporting her (with his patented bluesy guitar riffs and harmony vocals).
Then she invited Alex Wong up, her cohort in The Paper Raincoat. They played In the Creases (one of our favorites) just the two of them. ambeR offered Alex the guitar, but he deferred to her, so Alex just sang with ambeR supplying the music.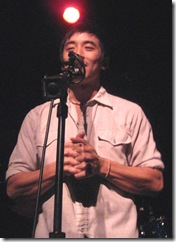 Just as quickly as he was on the stage, Alex was off like a shot. He had his own show across town starting a bit later that he had to get to. I'll write a separate post about that right after this one.
ambeR also performed solo and one number on the Grand Piano accompanied by the band. She closed her set with Novocaine, one of my personal favorites!
The focus shifted to Adam's songs. Adam had excellent energy and the crowd was definitely feeling it. He played quite a few numbers, including No Dancing, a ton-of-fun song.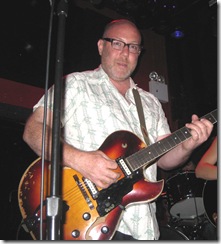 They wrapped it up with a song that they co-wrote (the first one they wrote together), Washing Day. It's a wonderful song and doesn't require any extras. But, what an extra they threw in to delight us last night.
They invited Ian Axel to join them (recall our experience from the night before in the same place!). Ian played a wonderful piano solo that was icing on a soulful cake. A great way to end an excellent show.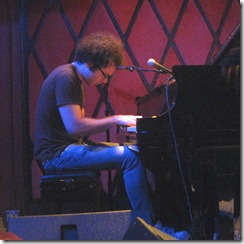 Back to the band.
Tony Mason played drums. He's a solid drummer and took a wonderful solo on No Dancing. We've seen him with Adam once before.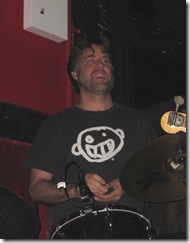 Andy Hess played the electric bass. This was our first time seeing Andy as Adam had a fill-in bass player the last time we saw him. I was very impressed with Andy and I look forward to seeing him play again.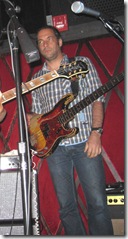 Opening for ambeR and Adam was Ed Romanoff. We've seen Ed once before at the Haiti Benefit at City Winery, but haven't had the pleasure of seeing him perform a solo set.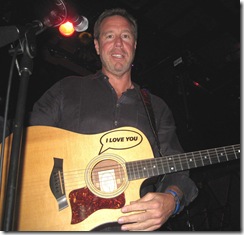 He has an extremely mellow folk/blues style and we really liked his set a lot. He's very warm on stage and we chuckled a bunch. He also told one very personal story as an intro to a song. He's a good story-teller, but the story itself is even more incredible. Even though he told it publicly, and I feel I could repeat it, just go see him and hope he tells it himself.
Accompanying Ed was Oscar Albis Rodriguez on electric guitar and very light harmony. I have to start a separate paragraph to make sure you're paying attention:
Wow!
I was hugely impressed with Oscar. He gently danced in and around Ed's acoustic guitar and singing, always complementing and enhancing, and never interfering or overwhelming. On the few occasions where Ed stepped back and invited Oscar to take the lead, he was incredibly tasty and interesting.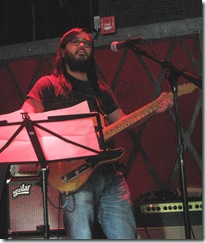 Wow, just to make sure you didn't miss it above. What makes this even more amazing to me (after the fact) is that I checked out some of Oscar's own music, and it's much harder rock, so he's really versatile!
Adam Christgau (one of our favorite drummers) joined Ed and Oscar on stage for one number. He didn't play the drums. He played a frisbee with a single brush stick. It's one of Adam's signature things. 🙂
ambeR also joined in on the same number that Adam Christgau played on, sitting at the piano (without playing). She and Ed sang very nicely together.
We ran out immediately and grabbed a cab with another couple to head over to see Alex Wong's show. Check out the next post to read about that one. 🙂