Send to Kindle
In yesterday's post I mentioned that I expected to knock another 1.5 items off my music bucket list. I'm upgrading the .5 to a full point! 😉
Not only did I get to finally see Martin Rivas perform a full set, but it was different than I expected (his adoring fans clearly knew what they were in for) in two wonderful ways.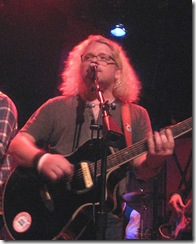 First, Martin had two lead electric guitar players and both happen to be among my individual favorites (we'll get to the band shortly).
Much more important, while I've seen people rave about Martin being a Rock 'N Roller, I have only ever gotten a hint of that, as most of his previous sets were acoustic or mixed in nature.
Last night was full-on Rock, with a dab of Soul (hard rocking soul!) thrown in for good measure. The place (Rockwood Music Hall Stage 2) was electric. Everyone around me was physically participating in the music. If you were just sitting there, it would have been prudent to check for a pulse!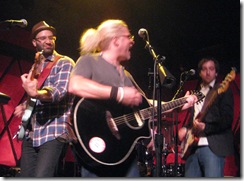 Martin was his usual shining light. I love his voice. His guitar playing is excellent, but he purposely takes a back seat when he has the full band on stage and just plays mostly rhythm (he somewhat picked on one number).
Here's the band, standing left-to-right on the stage:
Patrick Firth electric keyboards and background vocals. Patrick is excellent (we've seen him before on a grand piano). Last night he had stacked keyboards. I think he had one set to a more organ sound and the other a more piano one.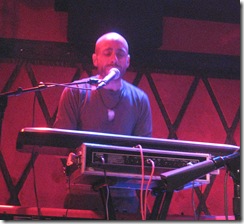 Chris Kuffner on electric guitar and background vocals. One night after finally seeing Chris play the bass, he was back to electric guitar. Given the rocking going on, that was awesome and freeing for Chris, as he wailed on a number of leads, fingers flying.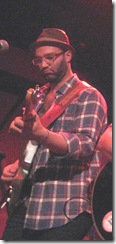 Craig Meyer on drums (still no good individual link). Craig kept the beat going strong with really tasty riffs. His smile alone is worth the price of admission (in this case, free, but a one drink minimum). 😉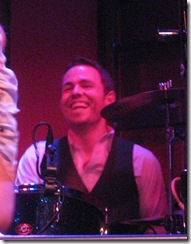 Brian Killeen on electric bass and background vocals (the link is to an unmaintained MySpace page). Brian is solid all around.
Greg Mayo on electric guitar, lap steel guitar and background vocals. We've only seen Greg once before (also playing with Martin) and he was an instant favorite. Buttery smooth guitar playing. He and Chris shared the leads equally and beautifully. Greg is still on my bucket list to see playing his own stuff as a headliner.
Rachel Platten joined Martin for one song. Rachel headlined the set before Martin's and she is the other full point that I wanted/needed to cross off my list. Check.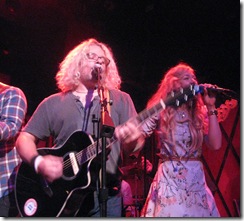 Until my friend pointed it out to me before the set began, I didn't realize that I had seen Rachel perform (ever-so-briefly). She and Kailin Garrity sang harmony/backup with Martin Rivas at the Haiti Benefit in January. I didn't catch Rachel's name that night.
Last night it was Rachel front-and-center. Rachel has a gorgeous voice and plays keyboards really well (last night electric). The set was mostly Pop/Rock. The energy was fantastic, with a similarity in the crowd's visceral reaction to what I described above for Martin.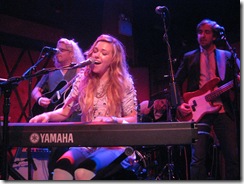 There's a sweetness to Rachel that is evident in her performance. Her smile is wide and never disappears during the set. She connects with many people in the audience.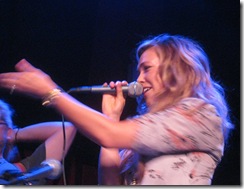 If you're looking to catch a fun show, with upbeat lyrics and melodies, delivered with passion, played by excellent musicians, I highly recommend Rachel Platten.
Backing Rachel were three of the same band members that played with Martin: Patrick Firth on keyboards, Craig Meyer on drums and Brian Killeen on bass.
Martin Rivas played guitar and sang harmony with Rachel throughout her set.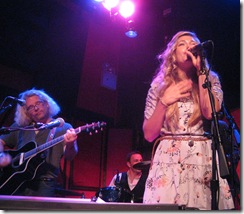 Nathan Eklund on trumpet and background vocals. Excellent on the trumpet, added a nice touch to the all around great sound of Rachel's set.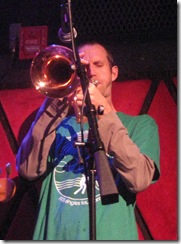 Lois had not recovered 100% so she couldn't join me again. Since I couldn't count on Allie Moss' mom for photos (not that I knew I could in advance the night before), Lois handed me her camera as I was walking out the door. Any photo mishaps can only be blamed on me this time.
Martin is playing again at Rockwood 1 this Friday night (Sep 17th, 2010) at 9pm. It will essentially be the same band, except that (lucky stiff) Brian Killeen will be in Las Vegas (my favorite city) so Chris Kuffner will be on bass.
We aren't supposed to be in the city that night, but the enticement of Chris on the bass for an entire rock set might be enough for us to rearrange, plus Lois will get to see Martin do a full set as well. We're working on it. 🙂
Update: just heard that Chris might be out of town on Friday, so if we go, it will be to see Martin and the gang again. I'll still be (not-so-patiently) waiting for another opportunity to see Chris on the bass. 🙂
P.S. On the way out, I passed Derek James (a lot of awesome musicians came out to hear Martin and Rachel!). I introduced myself and told him how incredible he is. There's one less musician in the world who needs to wonder what I think of them now. 😉
P.P.S. there's always time for a mini-rant. We've been to Rockwood 1 & 2 so many times I can't count. All but two nights have run as close to clockwork as you can hope for. Last night was the second time that something went off the rails (before I got there) causing a major delay.
The group that was supposed to be on from 9-10pm was still going strong at 10pm (the tip jar didn't even come out until 10:10, so they had to have started late). That caused Rachel's set to start at 10:50 rather than 10. Martin's set wasn't over until roughly 12:30am, making for a longer night than expected. Thank goodness it was incredible. 🙂