Send to Kindle
Alex Wong played a solo set at Rockwood Music Hall last night. Usually, that means a lot of guests (and this show was similarly teased). But last night was nearly purely solo, with the exception of Alex Berger (visiting here from the UK) joining on two songs.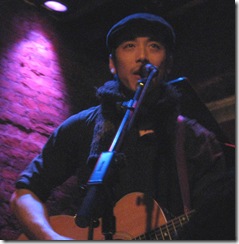 If you were there, but didn't know Alex, it's remotely possible that you didn't know who you were listening to. When he first introduced himself, he just said: "Hi, I'm Alex" (no mention of his last name). He quickly started playing on that. He said, "I'm Alex, with an extra two X's at the end." Followed by "Actually, it's Alex with an ick and three X's, as in AlickXXX", which ended up being his nickname for the night.
We'll take him with however many X's he wants to tack on to his name.

I saw Alex at Rockwood a month ago without Lois. Here's what I had to say about that night. You'll note the many guests that night. As importantly, you'll note the mention of three new songs, each co-written with a different person. I was very sorry that Lois missed them that night and just as equally happy that she got to hear them last night!
She loved all three (instantly) as did the other five people at our table (their reaction to the songs was palpable!). It's no surprise to those of us that love Alex. He's an amazing songwriter (solo or co-writer). He's one of our favorite producers as well. Aside from his musical talents, he's flat out one of our favorite people.
In my previous post, I mentioned that Alex performed Motion Sickness and split the audience in half, with me in the "na na na" section. Last night, the split was right where I was sitting, so I could have legally chosen either part. To shake things up, I chose the "Oh, oh, oh oh oh" part this time. In retrospect, I made a wise choice, it challenged me more than the "Na na na" part.

Alex teased us on his second number, playing the intro to Brooklyn Blurs. He then backed off, saying it was too much of a summer song, so he switched to a more wintry one.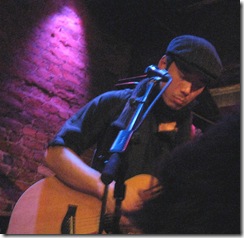 For his third song, he invited Alex Berger on stage. Alex played the grand piano and sang gorgeous harmony with AlickXXX (note how cleverly I avoided the confusing use of last names in that sentence!).

They played Don't Be Afraid.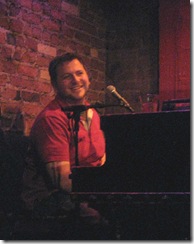 When Alex played the song he co-wrote with Nate Campany (I don't know the name, it's the one with the Yeah, Yeah, Yeah's) he noted that Nate was in the audience, but that he was unlikely to come up and sing. A few people in the audience were really vocal about encouraging Nate to come up, unsuccessfully.
Berger agreed to come back up, singing the Yeah, Yeah, Yeah part in harmony with Wong. Beautiful, the song and the harmony. I need a professionally produced version of this song, pronto. Get on it AlickXXX!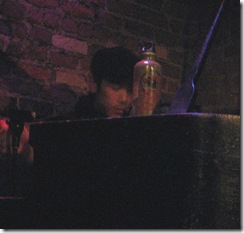 Another highlight of the evening was Alex (back to Wong now) playing In the Creases, one of our favorite songs. I couldn't stop thinking that an entire set of the various versions of In the Creases that we've see live would make for an awesome show.
First up, Alex playing In the Creases (ITC) solo. Then ambeR Rubarth doing it solo. Then the two of them (they could even do it three times in a row, once with each playing the guitar alone and once with both playing the guitar at the same time).
Next would be Alex playing it with Melissa Tong and David Fallo on the strings. Then bring ambeR back up to play it with the strings as well.
Finally, the crescendo, bring Vienna Teng up (keeping the strings) and add Katie Scheele on oboe and recreate the most perfect version of ITC we've ever heard live with Vienna on the grand piano and adding three-part harmony to the mix. Ahhhhhhhh, just remembering it brings me peace and joy!
Yes, we have indeed seen every combination of the above versions of ITC and loved them all!
Another wonderful set, thanks AlickXXX.
We got there 10 minutes before Alex's set. I stood outside (brrr) and caught up on some comms on my Droid. Lois went in and heard the last song of the set before Alex, Dorie Colangelo. Lois was extremely impressed by Dorie.
When I walked in, she was telling Dorie how wonderful her voice was. She asked if Dorie had any CDs/EPs and Dorie handed her one (she didn't want money for it). Lois insisted. She asked me for money. Since I wasn't privy to the conversation, I handed her a $5, thinking it was the standard fee for most EPs. When I loaded it up this morning, I saw that it was an 11-song CD. I'll slip Dorie some more money the next time we see her. Given Lois' reaction, I'm sure there will be a next time.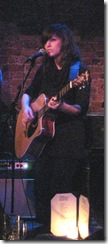 After the show, I made my way to the room on the other side of the bar. In all the times that we've been at Rockwood, I've never been in that room (used as the green room, but it's open to the public, so not quite a real green room, just a staging area). I bumped into Tony Maceli there and got to tell him in person how amazing he was the night before, playing as part of Greg Holden's band.
Only two shows (that I know we're going to) before we hit a month-long dry spell. The first will be on Sunday, 1:30pm, seeing Artemis Chamber Ensemble (at Holy Family Church in Larchmont, NY). They are amazing. Then on Monday night, we'll be at Rockwood Music Hall Stage 2, 10pm, to see Alex Berger perform. Can't wait!