Send to Kindle
We were supposed to be gone yesterday morning. When we heard about two shows we pushed our plans back by two days. The first of those shows was yesterday.
The Artemis Chamber Ensemble had another show at Holy Family Church in New Rochelle. One of the tenets of Artemis is to have a configurable set of musicians/instruments, to be able to perform a wide variety of works in a wide variety of spaces. The last time we saw them (also at Holy Family Church) they were configured in a 19-piece ensemble, with a conductor, paired with two Church choirs. I covered that concert in this post.
Yesterday had a dramatically different feel. There were a total of six musicians (who performed in a variety of configurations) plus one baritone vocalist. The conductor (the absolutely amazing Matthew Oberstein) was in attendance, but he didn't conduct. I asked him after the performance whether he had drilled them in advance and he said that he had nothing to do with it, he was there to enjoy it as we were.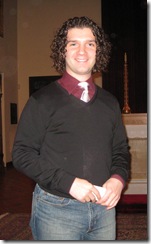 Another Artemis goal is to play as many pieces by contemporary composers as they can (obviously, Mozart's Requiem doesn't qualify). Yesterday's program was titled "Chamber Music: Then and Now".
The program started with String Trio No. 2 by Bohuslav Martinu. It was performed by Melissa Tong on violin, Christine Chu McGovern on cello and David Fallo on viola.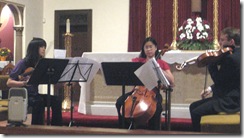 Melissa is one of our favorite violinists (and people!). She was, of course, fantastic yesterday, as was every single person who played and sang. She introduced the piece explaining the various influences that we would hear.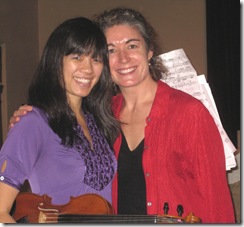 Christine Chu McGovern was superb on the cello on every piece.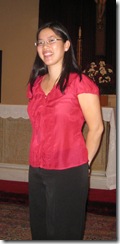 David Fallo was a very pleasant surprise for us. We've seen him a half a dozen times (at least), supporting Alex Wong, The Paper Raincoat and ambeR Rubarth (usually with Melissa Tong sharing the string duties with him). I've always loved his play in those shows, but you can't really compare background strings in a pop show to the kind of performance David gave yesterday. Wow!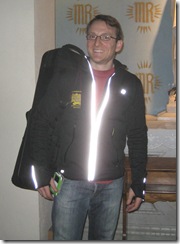 As for the piece itself, neither of us is likely to want it on our iPod. The virtuosity of the musicians was obvious (it's no easy piece to play), but it's way too dissonant throughout to be our cup of tea. I don't know Martinu, so I don't know if this piece if typical of his work.
Next up was Dover Beach, for baritone and string quartet, Op. 3 by Samuel Barber. Joining Melissa, Christine and David was an additional violinist, Bryony Stroud-Watson. Christopher DeVage supplied the amazing baritone singing.
Bryony Stroud-Watson also performed at the Mozart Requiem concert. She was amazing then as she was yesterday. I didn't mention her in the last post (though I included the program which listed her) because I only selected a handful of the 19 musicians to highlight. Last time, it seemed to me that both Melissa and Bryony played the same notes at the same time (most pairs did that as well, violas, bassoons, etc.).
Yesterday, even when Melissa and Bryony played together (as in the piece I'm discussing now), they played different lines. I'll mention Bryony again for the last piece of the program.
Christopher DeVage has a gorgeous voice (velvety). In addition to singing, Christopher introduced this piece, explaining that it began as a poem that was later set to music.
I found the singing beautiful, but distracting, since I can understand the English (as opposed to operatic Italian), but I didn't find the lyrics compelling in song. The quartet was amazing.
Voyage, for flute and string quintet by John Corigliano was next. Corigliano is the only living composer among yesterday's selection. Two additional musicians were added to the mix for this piece. Melissa Healy on flute and Scott Thornton on upright bass. Melissa introduced the piece.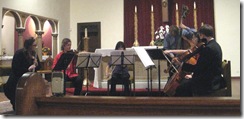 Melissa Healy is an extraordinary flutist. I've always been a fan of the flute (specifically, Jean-Pierre Rampal and James Galway).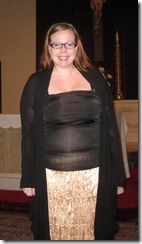 Scott Thornton also played the bass at the last concert. He did a very nice job on this one piece yesterday.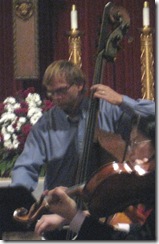 Love Blows as the Wind Blows, songs for baritone and string quartet by George Butterworth swapped Christopher and his vocals for Scott and his bass. This piece was introduced by Christopher, reading a piece of the poem/song before singing it with the flute and string quartet.
Again, I found the fact that I could understand what he was singing more distracting than enhancing. The music, again, gorgeous, as was Christopher's voice.
Saving the best for last (at least in my opinion), they performed Flute Quartet No. 1 in D Major, K. 285 by Wolfgang A. Mozart. The quartet consisted of Melissa Healy (flute), Bryony Stroud-Watson (violin), Christine Chu McGovern (cello) and David Fallo (viola).
The piece is spectacular. Melissa's flute play was heavenly (and mind-boggling). Lois wondered if Melissa took any breaths during her long lines.
Bryony was fantastic on the violin (as before, but without Melissa Tong on stage, there was no question as to who was hitting what notes on the violin).
Christine and David were equally wonderful, as they were on all of the other pieces.
Holy Family Church is a wonderful place to hear these types of concerts. The acoustics are wonderful and the people are so welcoming.