Send to Kindle
Morgan Holland had her EP Release Party last night at Rockwood Music Hall. She invited most of the people who performed on the EP to play with her last night. Two of them opened for Morgan before joining her in the extended (two hour) set.
Chris Ayer was first up. We've only seen Chris perform once before (covered in this post) and we were excited to see him again last night. He's excellent, all around.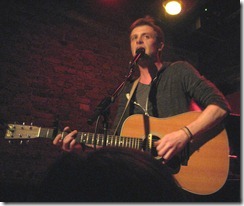 Chris has a fantastic voice, plays the guitar very well and writes interesting and entertaining songs. He has a charm on stage that is hard to resist. Oh, and the ladies can't take their eyes off of him. They'll show up even if they're tone deaf.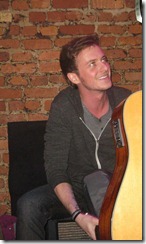 Chris had a strange-looking tattoo on his right forearm, or at least that's what I thought until I saw him consult it the second time. Then I realized it was his set list, written in sharpie.

Here it is the way it looked to us, then flipped and rotated, the way it looked to Chris.

After performing a number of songs solo, Chris invited Matt Simons to join him. Matt played the piano and sang harmony (beautifully).
To close out his set, Chris invited Morgan and Matt up to sing harmony with him on a gorgeous number. When the song was over, Chris and Morgan left the stage and Matt went into his solo set.
Lois and I participated in Matt Simons' Kickstarter campaign to fund the making of his current EP. I am really pleased with the result and encourage all of you to check it out (and buy it, of course!).
Matt played on the grand piano and electric keyboards (standing!) and of course sang. As with Chris' set, Matt invited Morgan and Chris up to join him on his last number.
As much as I like Matt (and I have more praise to heap on him in my next post), I wasn't as enamored with his set selection last night. Still, always a treat to see him!
There was a brief break before Morgan's set, since there were more instruments and musicians that needed to be squeezed onto the stage. I'll cover the additional musicians in a minute.
The night that we had previously seen Chris Ayer was the same night we discovered Matt Simons, who was accompanying Chris. Morgan Holland joined them for Chris' last song and sang harmony. At the time I didn't realize that she was also pursuing a solo career.
A few months ago I heard that Morgan released a new EP. It was available on Bandcamp (I linked Morgan's name at the head of this post to her Bandcamp page). I really like Bandcamp in general and have bought a number of albums/songs from them. One of the best reasons is that most (every?) songs are available for full, free streaming. You pay only if you want to download. Even then, it's often a pay-what-you-wish model (perhaps with a minimum).
It's hard to complain when you can check something out (many times if you like) before wanting to own it, and more importantly, supporting the artist.
It took me exactly one listen to Morgan's EP (Old New) to know I wanted to own it and support her. I bought it right away and have enjoyed it (multiple times) ever since.
Morgan opened the show with an a cappella number with Chris and Matt. I'm a sucker for any well-delivered a cappella, and this was extremely well delivered!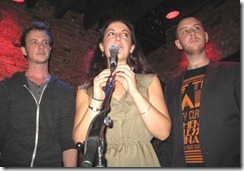 Morgan gave a good performance of a number of the songs last night, but she also threw in a cover. She praised her band many times, rightfully so.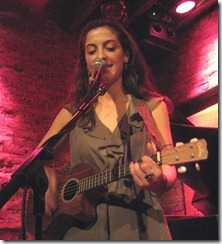 Joining her on stage, left-to-right were:
Chris Ayer on guitar, ukulele and background vocals. Chris was excellent. His guitar play complemented Morgan's play (she played guitar and ukulele on a few numbers) and his voice blends beautifully with hers.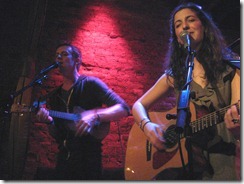 Matt Simons on grand piano, electronic keyboards and vocals. Ditto what I said about Chris above.

Chris Anderson on upright bass. Chris is one of our favorite bassists. Of the many times we've seen him, this might be the first time we've seen him play upright, but I wouldn't swear to it. He was excellent, of course!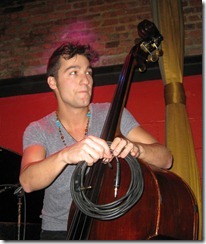 Stephen Chopek on drums. This was our first time seeing Stephen play. He was very good.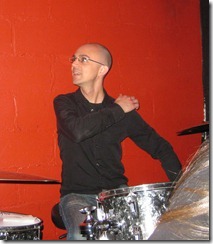 I can't tell you how mobbed Rockwood 1 was for this set, it was crazy. That would be impressive in and of itself. But, when you couple that with the fact that the show was up against none other than Sean Lennon (yes, that Lennon, John's son) playing immediately next door at Rockwood 2, it was even more impressive.
I'm very glad we were among those that chose to check out and support the up-and-comers, though I'm sure that Sean delivered right next door!
P.S. Wanting to grab seats for Morgan's set, we showed up 20 minutes early. We caught the last three songs of the previous set, a Jazz Quartet named The As-Is Ensemble headed by Michael Bellar. Michael played the grand piano and electronic keyboards (very well). I didn't catch the other names (sorry!), but the upright bass player was excellent, as were both drummers. Very impressive!