Send to Kindle
Ignorance is bliss, at least it was last night. 🙂
On March 14th, our friend @HappyBee3 tweeted the following:
Wow nice line up! RT @chrisayer: Added NYC show March 23 w/ @viennateng & Rachael Sage at Parkside Lounge!
I had never heard of Parkside Lounge before, but I made a mental note to see the show for three reasons:
Vienna Teng (OK, I didn't really need any more reasons) 😉
Rachael Sage (we saw her at Joe's Pub and I enjoyed her show)
Chris Ayer (@HappyBee3 saw him at Canal Room and tweeted her love for the show, so I was really looking forward to catching Chris, as @HappyBee3 has very good taste in music!)
The show was listed on Parkside's calendar as: "Stanford University Alumni Showcase". Tickets were not available for purchase, so it seemed like a free show, with a likely drink minimum. I knew Vienna graduated from Stanford, and I assumed so did Rachael and Chris, and this was a bit of fun to bill their show as such.
That was the ignorance part. We showed up and it turns out it was run by Stanford in Entertainment, with the audience all being Stanford Alums, as were all of the performers. Oops!
The ladies who put on the event were so nice to us and let us in. We made a donation to their "Raise Money for Haiti" drive (we would have anyway) and bought a few drinks (which had to help out Parkside, etc.). It's possible that we were the only two non-Stanford alums in the very crowded audience.
Vienna closed the show, but since I nearly always cover performers in reverse order, and since we mostly showed up for her, I'll stay with my tradition.
We've seen Vienna perform seven times before (hence, reason #1 above). This was the first time she performed every number solo. It's also the first time we've seen her on an electronic keyboard (I've seen her play one on YouTube videos, but live, it's always been a grand piano until last night). It's not that the sound of the electronic keyboards is different, it's the visual aspect of the performance.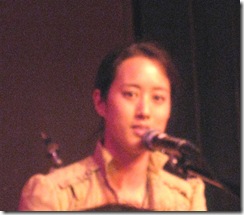 When Vienna plays on a grand, you have a profile view of her at best. For many, she's nearly completely obscured. When she plays the electronic keyboards, she's center stage, facing the audience. Vienna is an emotive singer, so the full-on view is very welcome.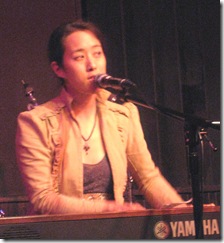 She's always very warm and engaging with the audience, but this was a special audience, with many shared experiences and memories. There were inside jokes (that everyone but us got). Vienna gave longer introductions to a few songs, something we love to hear, so that too was a treat.
She chose a very fitting set list for both the audience and the venue (in our opinion). She was a bit worried that she wouldn't pull off the magic in The Last Snowfall, since her looping machine was on a stool, much lower than normal. She needn't have worried, it was perfect!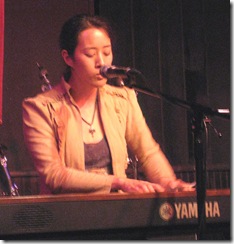 I know a number of her fans really want a set list from each show. I'm probably missing one or two, but here's what I recall (not necessarily in order!):
Whatever You Want, Blue Caravan, 1 Br / 1 Ba, Soon Love Soon, The Last Snowfall, Grandmother Song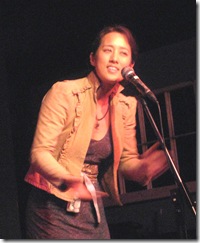 Amazingly, as much we love every one of those, there are many of our favorites that she didn't play, hence my remark about her tailoring the set list to the specific crowd/venue.
Next up was Rachael Sage. When we saw her at Joe's Pub, she had a full band, which included the mind-bogglingly brilliant Dave Eggar. It was a holiday show, and she played significantly more upbeat numbers that night.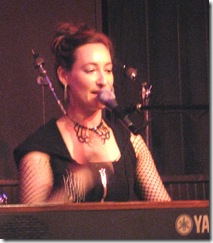 Last night she was solo, on Vienna's keyboards. She has an excellent voice, and plays the piano wonderfully. She cracks me up to no end (very quick, witty, inventive). Unfortunately, she too crafted her set list specifically for last night's show, and the choice didn't sit as well with us. Her songs were darker, a bit less melodic. I still got a kick out of seeing her, and laughing a bunch, but for my taste, the show at Joe's was substantially more to my liking.
Chris opened the show. He's a superb guitarist. He's a lefty, but I won't hold that against him. 😉 He has a wonderful voice, and writes very interesting songs. Excellent stage presence.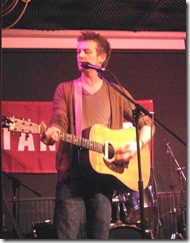 For 2/3's of his numbers he had Matt Simons join him. Matt played electronic keyboards and sang a lot of harmony. Their voices blended beautifully!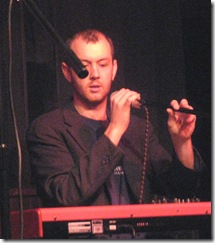 Chris played a few solo numbers in the middle of the set. For the last two songs he was also joined by Morgan Holland (sorry, couldn't find a good link for her). Here's a YouTube video of her singing with Chris at Capital Ale House (a lot of background noise…).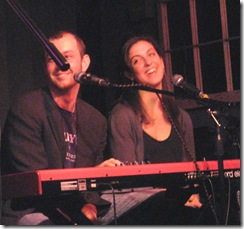 Stanford Alums, sorry we crashed your party, but thanks for being so warm and thanks to Vienna, Rachael, Chris, Matt and Morgan for making the evening so enjoyable!
Parkside Lounge is a very nice venue. We'll be happy to return there whenever we get the chance!