Send to Kindle
Another day, another post that's 24 hours late, another day of two posts (this one being the first).
Everyone knows the expression: Be careful what you wish for, you might just get it.
Let's add a new one: Be careful what you wish for, you might just think you're getting it, but get something wildly different than you expected, and be completely blown away (in the positive sense) in the process.
Perfect, just rolls off the tongue.

Regular readers know that I'm working my way through a mental music bucket list, mostly local performers who I have a burning desire to see perform full sets. Most come from seeing them support other artists and recognizing their enormous individual talent. The rest come from trusting other people who tell me "You have to see so-and-so".
Greg Mayo has been way up on my list since I saw him support Martin Rivas at a benefit for the Gulf on July 30th, 2010. I have seen Greg a number of times since then, always in a supporting role, always on the electric guitar.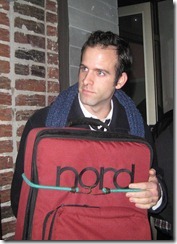 We see a lot of excellent local musicians, including a lot of fine guitar players. In my opinion, Greg is the best of them. His buttery smooth leads are flawless and always interesting. I had heard that he also headlines his own band/shows as The Greg Mayo Band. I knew that I wanted to see him bust loose even more, expecting guitar explosions extraordinaire.
When I saw that Greg was playing at Rockwood Music Hall Stage 2 (a simply fantastic place) I knew I was going. When I saw that it was at 10pm (normally a bit later than we like to go), I was doubly excited, because I badly wanted to see the show at Rockwood 1 from 8-10pm that I wrote about yesterday.
So, bottom line, you all want to know how amazing Greg Mayo was on the guitar, right? Well, your guess is as good as mine, because Greg didn't touch a guitar during his show. If I had done any research at all, I would have known that. Now go back and read our new rolls-off-your-tongue expression: BCWYWFYMJTYGIBGSWDTYEABCBA(ITPS)ITP!
Greg played the grand piano and electronic keyboards, fantastically. He sang, amazingly. In general, he and his big band put on a killer show that was completely unexpected (to me, not to his fans).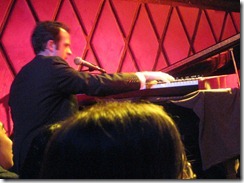 I would describe Greg's music as Rock-N-Soul, with a good measure of Big Band thrown in. I noted recently that the most people I've seen on stage at one time at Rockwood 2 is nine (Alex Berger's show). Greg only had eight in his band, so the record still stands, but it was quite a huge sound.
I love most instruments, so I always feel silly when I say things like: "I love the guitar", etc. But whenever an extraordinary musician plays an instrument, I am compelled to not only recognize that musician, but the fact that the instrument they are playing has its own special qualities that stir something in me that other instruments stir in different ways.
Ever since I was obsessed with music as a teenager, good brass sections (even good brass soloists) can reach somewhere inside me and get to places that other instruments don't typically reach (though other instruments reach me in different, often more interesting ways!). As an example, for years, Chicago was my favorite rock band, partially due to their brass section.
I can keep going with background, but let's skip all that and mention each person in the band, they all deserve their own shout-out! Standing left-to-right (stacked) on the stage:
Rebecca Haviland on vocals and tambourine. Gorgeous voice. Perhaps a bit under-mic'ed, but nonetheless a wonderful addition to Greg on the harmonies, with a reasonable number of leads for Rebecca as well. Her dancing and energy added to the color and impact of the set.
Matt Simons on tenor sax. From Greg's website, it seems that Matt is not Greg's normal tenor sax player. That appears to be Matt Abatelli. I can't speak to the other Matt's sax skills, but let me heap some crazy praise on Matt Simons, who I didn't even know played the sax to begin with!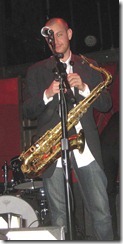 If you clicked on the link above about yesterday's post at Rockwood 1, then you know that I'm a big fan of Matt Simons' own work (solo and in conjunction with Chris Ayer and Morgan Holland). I had only seen Matt play keyboards, very well. His sax solos were killer. Now I need to find out what other instruments he plays. Awesome!
(Now an apology that I will correct later. I heard the trumpet player's name clearly on Saturday, so this isn't Greg's fault, but since I'm late in posting this, I've already forgotten it, and it wasn't his regular trumpet player. I sort-of remember Tony as the first name, so I'll use that as a placeholder, until I get the right name.)
Wayne Tucker played the trumpet. Kenny Warren is listed as the normal trumpet player on Greg's site. As with the Matts above, I assume Kenny is great, but I know that Wayne is! He didn't take as many solos as Matt Simons did, nor were they as long, but he was great in his play throughout the set.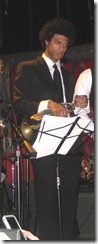 John Liotta on baritone sax. John was excellent as well, making for the brass section trifecta! Seriously, these three guys rocked it hard!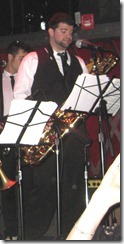 Kenny Shaw on drums. As you might imagine, a sound this big requires quite a good drummer to keep everyone charging (including the audience!). Kenny didn't disappoint. OK, that wasn't positive enough, he did his job wonderfully!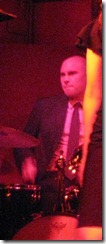 Chris Anderson on electric bass and vocals. I wrote about Chris in yesterday's post, as he, like Matt Simons, did the same 5-foot walk from Rockwood 1 to Rockwood 2. While Chris played the upright bass in support of Morgan Holland, he was an integral part of the big sound of Greg's band on the electric bass and of course, singing background vocals as well. Chris always delivers on the bass (always). For the huge sound that Greg's band produces, Chris was at the top of his game. The bass was quite loud and easy to pick out, even though I couldn't see Chris at all from my seat.
In addition to changing instruments, Chris also changed outfits, since Greg likes the band to dress up.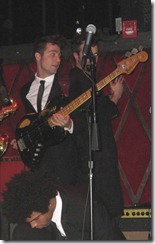 Paul Maddison Erik White on electric guitar and vocals. Paul was playing the instrument that I expected Greg to be playing, so he had a tall order to fill in my mind. He did an excellent job, but the music isn't really oriented to overly-highlighting the guitar (though there were enough cool licks to satisfy).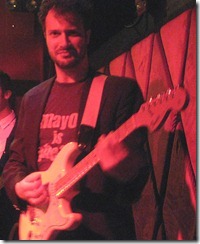 On one number, Paul was playing a riff that sounded exactly like a Doobie Brothers number. I turned to Lois and said exactly that. One second later, the song morphed, and Rebecca Haviland indeed sang two verses of a Doobie Bothers song before morphing back into the original number. Cool!
Like the set at Rockwood 1, Rockwood 2 was jammed for Greg's set. Not only that, but the energy carried a number of people to dance (in very close quarters), and to jump up and down when Rebecca did it on stage. The floor was shaking like there was a train passing underground. That's something we all experience at Joe's Pub (where the underground train is real!), but this was a first at Rockwood for me. The joint was literally jumping!
We'll be back for Greg's next show at Rockwood 2 on February 12th and you should be too!
So, who was on before Greg's set at Rockwood 2, opposite the completely mobbed show that I attended at Rockwood 1? None other than Beatle progeny Sean Lennon!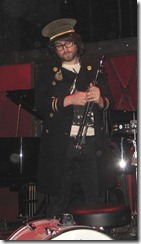 While we were settling in for Greg's show, Sean and his band were breaking down their equipment on the stage. Yes, he was packing up, being a regular musician. He stopped and allowed us newcomers to take some close-up photos as well. I didn't hear his music, but I got the strong sense that he's grounded and nice. So wonderful to see!