Send to Kindle
Another day, another very late night, again the need/desire to split the music into two posts.
First up, back-to-back sets at Rockwood Music Hall. The sets were related in that both headliners performed one song on the other's set, and each had the same special guest appear. Otherwise, nothing remotely similar about the music.
Mike Campbell played his first-ever solo show on November 20th, 2010. I covered it in this post. Last night was his second effort. It was similar in some sense, radically different in others. The similarities were good set selection, good guitar play, nervous banter (perhaps not as much as he did the first time).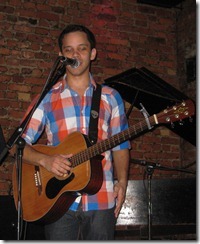 The differences: much stronger voice (Mike had a bad cold the last time), guest performers (he wanted the first solo show to be about him only, correctly so!).
Mike played a number of songs from the first show, but also added brand new and older tunes to the set.
He called up three different guests, in three different configurations. First up, the headliner of the next set.
Jerry Fuentes joined Mike to play electric guitar and sing a bit of harmony, including leading the audience in a refrain at the end of the song (which was a lot of fun to join in on). It was my first time seeing Jerry (I met him for a second the night before at Mona's). The song they performed was great (of course, I don't recall the name now, sorry!). I'll have a lot more to say about Jerry below when I cover his set.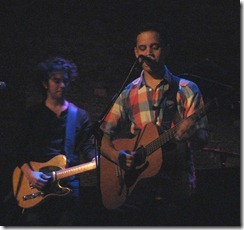 A few solo numbers again, then Mike called up the next guest.
Chad Vaccarino joined him to sing a song they co-wrote in June, Days Gone By. When they announced the song, I thought they were about to do a cover of Keith Urban. Nope, just the same title, nothing else similar about the songs.
Here's a YouTube video of their debut performance of the song last June (it appears to be at a house concert). In the video, Chad is singing lead. Last night, Mike sang lead. In both, Mike played the guitar, beautifully! They should perform this song much more often:
Days Gone By–Chad Vaccarino and Mike Campbell
Immediately thereafter, Mike called Ian Axel to the stage, with Chad staying up there. All three joked about the fact that they were about to perform the song standing up, something they'd never done before. They sang All the Love, co-written by Mike and Chad. It was perfect. The YouTube video below again has Chad singing lead. Last night, Mike nailed the lead, with Chad and Ian harmonizing.
All the Love by Chad Vaccarino and Mike Campbell, guest star Ian Axel
If I understand correctly, Mike arranged the harmonies. After the show, I went up to Mike to tell him how awesome it was. Watching the videos above gave me a new round of re-enjoying last night's show.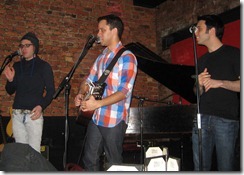 Mike writes beautiful songs all by himself, no doubt, but his collaborations with Chad Vaccarino are simply amazing.
When Mike was done, Jerry got on the stage immediately. Since Mike had only an acoustic guitar, they had set the stage up for Jerry in advance and there was no transition time at all.
Having never see Jerry before, I had no idea what to expect.
He's an excellent lead guitarist (smooth, fast and interesting). He has an excellent voice. He also played the harmonica on many of the numbers, something I'm less used to seeing in a rock set than a folk set, but Jerry made it work well.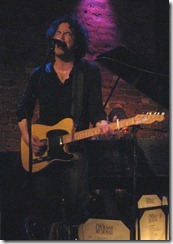 I would describe the majority of the set as ballad/anthem style rock. There were a couple of exceptions. If you click on Jerry's name at the top, his site starts streaming music instantly (not something I think sites should do), so you can get your own sense of his style.
Since Jerry began immediately after Mike's set, he opened with the one song that Mike joined him on. They sang and played well together. Mike then left the stage and Jerry turned up the heat.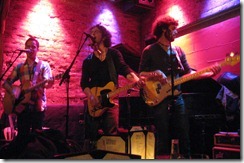 Jerry was accompanied by two band members for all but two songs:
Mike Tuccillo on the electric bass. I just saw Mike for the first time two nights earlier at the Soul Revue Benefit. He was very good that night, but I couldn't see him, mixed in among the 14 other people on stage. Last night, I was a few feet away from him and could appreciate his technique a lot more. Very well done.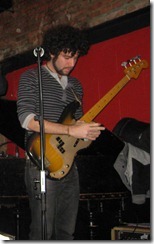 Aaron Steele on drums. Aaron is a real hitter (very powerful). That can be a great thing, especially for rock songs. The only problem was that my right ear was perhaps two feet from the drum set, so it took me a while to get used to it. Aside from that, Aaron was impressive. In particular, on the last song of Jerry's set (not including the encore), Aaron was incredible on the drums, very fast, totally clean, still hard hitting. Also very well done.
Ian Axel joined Jerry for five numbers. Ian played the piano on all of them, singing on one (or two?). The band sounded pretty full without Ian, but adding Ian's heart-pounding piano to the mix took it up a notch. This capped off a pretty big day in Ian's (and Chad's) life. Earlier, they were featured on the Rachael Ray Show on national TV!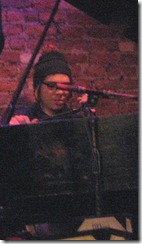 Ian performed the title song from his upcoming CD (This is the New Year, out in a couple of weeks!). Rachael Ray also posted a bonus song, Girl I Got a Thing, that Ian played for the live audience while the credits were running for the rest of us. Great job!
Two of the numbers that Ian joined on were exceptions to the rock style. One is a brand new song of Jerry's that will be on his upcoming CD. It's called Standing in Line. I am not linking to the online video he has of it, because last night's version was 100x better. Just wait until the CD is out and get it. The song highlights Jerry's lyrical abilities. He also played it on the acoustic guitar, taking the entire sound down.
He tried to get off the stage, but the crowd wasn't having any of that. He got permission to sing one more. He and Ian performed it alone. A lovely way to close a very good set.
Jerry is a theatrical performer and the band played quite loud. Rockwood 1 is not the perfect venue for that kind of music, partially due to the sheer loudness in such a small space. I think Jerry can command a much larger stage in a larger venue and be perfectly suited to it.
Once I gave Jerry my compliments, we were off next door (literally) to Rockwood 2. The two posts are really unrelated, so I won't even link them to each other (like I did last night). If you're interested in what I did next, you'll have to use some of your Internet skills to find my next post.