Send to Kindle
Looking for a night of good music in NYC? Every night of the week will present difficult choices. Occasionally, those decisions achieve Solomonic proportions. Last night was one of those nights. I had Carley Tanchon and Joey Ryan in our calendar for quite a while. Carley was appearing at Rockwood Music Hall Stage 1 at 7pm and Joey was at Rockwood 2 at 9pm.
Everything changed when a month ago, The Paper Raincoat (TPR) announced that they were appearing at Highline Ballroom on the same night. It's not (necessarily) the case that we would always choose to see TPR over Joey. It's that opportunities to see TPR live are rarer nowadays than they used to be.
We last saw TPR on September 7th, 2010. We have seen Joey live three times since then.
TPR was sandwiched between two other acts. I'll cover them first since we showed up expressly to see them.
TPR is comprised of two people, Alex Wong and ambeR Rubarth. They (nearly) always have a drummer, but which one will show up to any particular show has been a surprise lately (last night included). They often have special guests join them, last night was no exception.
The 9-song set was well chosen, kicking off with perhaps my favorite TPR song, Brooklyn Blurs.
The second song was Sympathetic Vibrations with its signature audience-participatory clapping. Our table (well, four of the six of us) clapped on cue (perfectly if I may say so myself). But, it seemed to us that very few people in the extremely crowded audience were clapping with us.
We must have been correct, because a little bit later in the song, ambeR looked at Alex and said that it might be a good idea to teach the audience the clap (it's sophisticated)

. After the lesson, more people joined us.
The next song, Motion Sickness has become a sing-along in the last year (mostly at solo Alex Wong shows). Half the audience sings the na-na-na-na, na-na-na-na, na-na-na-na-na part and the other half sings the ah, ah, ah ah ah part. Alex always seems to get the entire audience doing their part. Last night, the singing was anemic (except for our table, again).
I can't tell whether the majority of the audience was unfamiliar with TPR or they were shy.
After playing The Same Old Things, Rough Cut, Don't Be Afraid and Right Angles, they played another favorite (OK, I admit that the entire set was comprised of favorites), It All Depends. First, a photo of Alex and ambeR playing the keyboards together on Right Angles: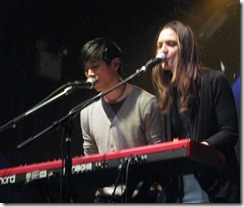 As they started It All Depends, Alex tossed (yes, actually threw) a tambourine at Lois. I was shocked and impressed when she caught it without flinching.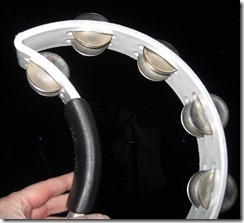 The rest of us did our clapping part until the finale, where Alex (and shortly after) ambeR both joined the drummer with all three of them drumming on the same drum set at the same time. I never tire of it and I never will! Of course, without Lois' tambourine play, the entire song would just be boring.

They closed the set with their signature a cappella Rewind, wonderfully!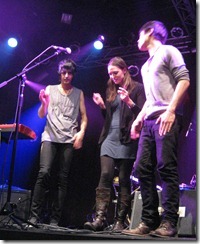 The drummer for last night was Sarab Singh who is the regular drummer for a hot local group, Harper Blynn (they have a new site coming too). We've seen Sarab once before, supporting ambeR's solo show at Highline as well. He's very good, but it took a few songs for him to settle into a good rhythm with TPR. The kick drum was mic'ed too loud and made my hair flutter every time he kicked it.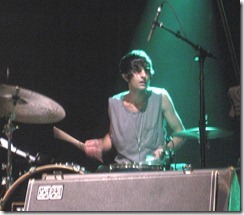 Alex is an amazing producer. TPR's self-titled CD (absolutely incredible) is but one of his masterpieces. One of Alex's specialties is crafting string arrangements that blend perfectly with Pop music. Last night we were treated to two top musicians playing some of those arrangements live.
Melissa Tong on violin. Melissa was wonderful (as always) throughout the set, but in particular, the opening for Right Angles is all violin.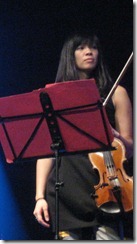 David Fallo on viola. David too was wonderful (as always) throughout. He too was highlighted a number of times, most notably on Don't Be Afraid where David took the lead.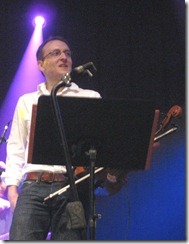 Another surprise occurred during Rough Cut. There is a local dance troupe called Insight Dance Company. Last year they set a ballet to the music of Ian Axel. They are currently working on a number of pieces by TPR and will be putting on a show in the Spring (I believe). ambeR called them up (six of them, I believe) to dance while TPR performed Rough Cut. It was interesting, but the stage was definitely an obstacle course for the dancers. It will be more interesting to see them in their own element.
After a 20-minute break, the headliner (co-billed) took the stage.
Gregory Alan Isakov sings, plays the guitar and the harmonica. I've heard of him but knew nothing about his music. He headlined a show at Highline where Rosi Golan opened for him. We had hoped to make that show but couldn't. I'm told he played solo that night. Last night he was joined by three musicians.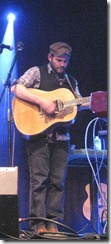 I was impressed by Gregory's voice, very rich and clear. That said, he had a setup I've never seen before, two microphones inches apart. One was normal and the other had a couple of effects attached to it (including heavy reverb, but more importantly, a vocal distortion). While it was technically interesting to see him switch (even in the middle of a song) from one mic (and sound) to another, I strongly preferred the normal mic to the more synthesized voice. It's a gimmick (to me) and I can do without it.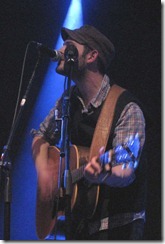 It's often tough for me to hang on to lyrics when seeing someone new the first time. Aside from the fact that there is so much else going on (when there are other musicians), big spaces aren't conducive for really close listening. Still, on occasion I heard some very interesting phrases making me feel that Gregory is a poet first and foremost, but it will require more listening for me to be sure.
The band, left-to-right on the stage:
Philip Parker on cello and vocals. Phil did a really nice job on the cello. He actually played it as much as an upright bass (plucking it) as he did as a cello (with a bow). While I could see him move his lips on many songs, I would be lying if I said I could hear a single sound coming from his mic. Before I got to say that to Lois, she told me that she thought he did a nice job singing with Gregory, so it might have just been me who couldn't pick out his voice.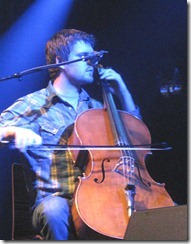 Jeb Bows on violin. I was very impressed with Jeb's play and felt that he was the most critical part of enhancing Gregory's sound. Gregory came out for a two-song encore, the first of which was just Gregory and Jeb, validating my feeling that Jeb was more central to Gregory's sound. On a number of songs Jeb plucked the violin. We've seen that before (in fact Melissa did it during the TPR set). But, for the first time in my experience, much of Jeb's plucking sounded a lot like a mandolin. Cool!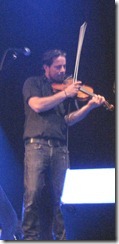 James Han on electronic keyboards. James had two keyboards placed at a right angle. He swiveled to play one or the other. His play was quite understated, but also excellent. It fit the mood of Gregory's music very well.
Paul Dempsey opened the show at 7pm on the dot (always a pleasure when shows start when they're supposed to). He has an easy charm, a good voice and plays the guitar well enough to accompany himself. His song intros (very short) amused us. Other than a few choice phrases though, I can't say that the lyrics made an impression on me.
He played for exactly half an hour.
Six of us had dinner before the show. The food and drinks at Highline are always a treat and our service last night was excellent as well. Another fun night out with friends, sharing some laughs, some food and a lot of music.