Send to Kindle
We've seen Marjory Lee perform once before, in a house concert. Feel free to read the entire post, but I'll pull out the two most relevant paragraphs here, because they will provide the foundation for my comments on last night's show:
Marjory Lee sang and played acoustic guitar (as above, 100% acoustic, with Marjory even tuning by hand, shudder ). Our friend warned us about Marjory's voice and she was correct. It's gorgeous! Power when she wants/needs it, subtlety when that's called for, range and perhaps most interesting, an ability to change styles and gears effortlessly.

Marjory was equally at home singing softly in the upper registers as she was belting out a soulful rendition of The Dock of the Bay, adding a gritty gravelly voice, sung in the lower registers.
Marjory Lee played with a full band at Arlene's Grocery, so I knew it would be different than the house concert. I had also seen a couple of YouTube videos of a previous appearance at Arlene's that we couldn't attend. So, I shouldn't have been as surprised as I was.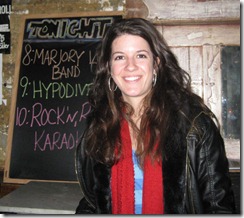 Last night's show was pretty much straight up Rock (even the two Country songs were of the more modern Country Rock style). I don't get enough of that live, so it was quite welcome.
I already mentioned above how gorgeous Marjory's voice is. In the second paragraph, I got a hint of the belting out part. But, nothing brings out a good belter's skills more than Rock (perhaps Soul) and Marjory was simply incredible. It didn't hurt that the sound engineer last night had everything leveled perfectly (that wasn't the case the only other time we've been to Arlene's).
Marjory accompanied herself on acoustic guitar. During some intros and bridges, that was the only instrument being played, so we got a nice taste of her skills.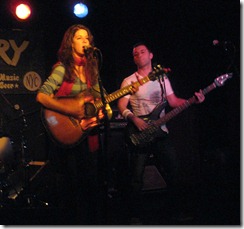 Backing Marjory up was a very tight band. Standing left-to-right on the stage:
Matt Mirando on lead electric guitar (no good individual link). Matt did a terrific job on the guitar. Solid on every number.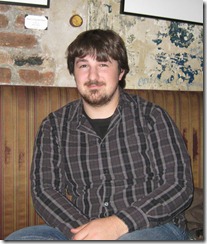 Mike Knobloch on drums. Mike did a wonderful job on the drums throughout the set. On the last number, he took a semi-solo, with the guitar and bass punctuating each measure. I liked it a lot because it kept the solo more tied to the song rather than some of the meandering drum solos that show off skills, but are disconnected from their origin.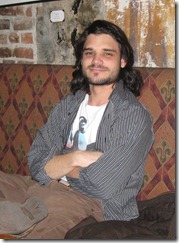 On one number, he was really fast with both sticks on the Hi-hat cymbal. Whenever he'd strike a drum, he was back to the fast hi-hat without missing a beat. It was impressive and my arms hurt just watching him (it was a long song).

Matt DePaolo on electric bass (also no good individual link). Matt was very solid throughout the set.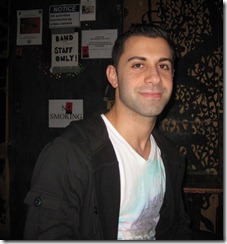 We planned the evening with our friends who hosted that original house concert (and introduced us to Marjory that night). Two more of their friends joined us at Arlene's. All six of us enjoyed the set thoroughly and look forward to catching Marjory (with or without band) in the near future.
Before the show the four of us had dinner together. We met at Arlene's Grocery in order to find a spot to eat nearby. As we walked by The Meatball Shop (their site seems to come and go the few times I visited it this morning) I mentioned that we'd never eaten there, but that all the cool kids eat there all the time and rave about it.
I kept walking toward Allen St. My friend doubled back, ducked in and asked if they could accommodate four. They got a very nice couple to slide down one seat which opened up four spots in the long table in the center (I think it holds 18 people).
I was blown away by the meal (and I am sure the others were too). I had four beef meatballs served over spaghetti with a spicy meat sauce. I had a side of the day's vegetables (cooked carrots with some finely chopped goodies which included beets). Simply amazing. Lois had the vegetable meatballs with a classic tomato sauce (and everything else I had). She just finished her left-overs a minute ago and was raving about them as much as she did last night's meal.
So, I checked, and unfortunately, eating at The Meatball Shop did not turn me into one of the cool kids, but it did at least prove to me that the cool kids indeed know a thing or two about good food.