Send to Kindle
Yesterday promised to be a perfect late afternoon / early evening. It didn't disappoint!
Jesse Terry is an amazing singer/songwriter (many easy ways for you to verify that claim for yourself, on YouTube, his own site, MySpace, etc.). We've seen him perform at a house concert, then at The Bitter End. We've been waiting patiently to catch him again, given his touring all over the US.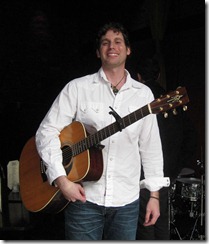 Jesse was listed at 7pm. Whenever we go to Rockwood, we check out the act before to see if we'd enjoy them, mostly to raise our chances of getting a seat. Listed before Jesse at 6pm (first set of the night) was Gavin Slate. A single song on his MySpace page was all I needed to hear to be sure we'd enjoy his set.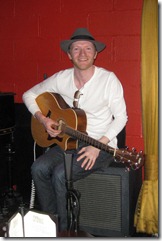 It turns out that Gavin came down from Toronto just for this show. He's good friends with Jesse and rather than have two separate sets, they combined the two and played together. I knew that in advance because I follow Jesse on Twitter (and our mutual friend also told me), but some of Jesse's supporters didn't walk into Rockwood until 6:40, thinking he wouldn't be on until 7pm.
Jesse and Gavin alternated songs throughout a 105-minute set. That was great because there was obviously no break between the 6 and 7pm slots, so we got at least 7.5 minutes extra (two songs worth) from each of them!
We love the in-the-round format in general. Even when it's only two people, there's a freshness from having each rest their voice and fingers between songs. The banter is typically a little faster paced because the performers feed off each other. The only thing missing is that while Jesse and Gavin are good friends and have tremendous love/respect for each other's music, they don't tour together (this was their first-ever formal show) so they don't sing harmony on the other's numbers.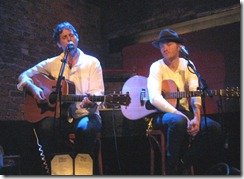 I can rave about Jesse all day long, but let me summarize by saying three things:
He writes beautiful songs
He has an extraordinary voice
He plays the guitar beautifully (I love his finger-picking in particular!)
All three were in play last night. Jesse debuted (at least from our perspective) a number of new songs, including one he just finished this week! They were all fantastic. I mentioned to his wife (they were married in December) that she is an obvious inspiration to him, because his songwriting continues to be on fire.
Jesse will be back at Rockwood on May 6th, for a 2-hour shared set with another of our favorites, Alex Wong and Michael Logen. They'll be on from 7-9pm. Not to make the same mistake (listing-wise), I heard Jesse mention that Keegan DeWitt is part of their set too. He's listed separately at 9pm. So, this is more likely a 4-person shared set from 7-10pm. Should be epic!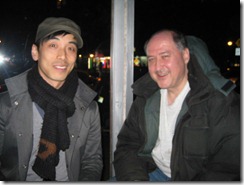 Gavin was a complete mystery to us, other than liking what we heard on MySpace. Like  I said above, we were not disappointed. Gavin has an excellent voice, plays the guitar well and writes very interesting songs. He has a relaxed style on stage and told a few good stories (one in particular had us in stitches and I had to go up to him after the show to chat about it!).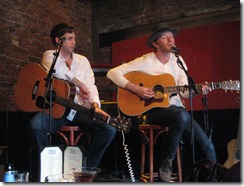 We bought his EP after the show and listened to it this morning. Wonderful! When I loaded it up, the Gracenote database had it classified as Pop. That surprised me, since Gavin was playing solo with an acoustic guitar last night and I would have described it as closer to folk. But, the production on the EP is terrific with a full band and I have no trouble accepting these songs as Pop. Very well done.
We heard all four of the songs last night. Each was completely recognizable on the EP, yet very different. More than the instrumentation (which was dramatic enough), the harmony on the EP struck both of us immediately. Gavin can certainly tour solo and hold our attention completely. It's nice to know he could show up with a full band and make good use of them as well.
We weren't scheduled to be in the city this Friday, but Jesse announced that Carley Tanchon has her Record Release show at Rockwood at 7:30pm at Rockwood 2 that night (April 1st). We were able to change our plans and we'll definitely be there. Hope to see you all there as well!
Having just discovered The Meatball Shop two days earlier (well, not actually discovered, but rather finally experienced), it was hard not to work that into our plans again. Since the show was early, we decided to have an even earlier dinner there. Five of us took two cabs down there. Ours arrived a bit later than theirs. We walked in at 4:30pm. The place was crowded and our three friends were seated at the bar. We could have sat at the bar as well, but not near them.
In a bold (and highly unusual) move, Lois decided to try and force Spring to appear on the spot. She made the executive decision that we would eat outdoors! It was definitely brisk, but surprisingly not the least bit uncomfortable. We had another amazing meal (I branched out and had the same exact dish, but this time with pork meatballs instead of beef).