Send to Kindle
Our first tiny taste of Carley Tanchon occurred on December 3rd, 2010 when she sang harmony on a song with Jesse Terry at The Bitter End. I give my first impressions of Carley in the last few paragraphs of this post.
Since then, we've come close to attending a number of Carley's shows, but scheduling snafus conspired against us each time.
Last night was Carley's CD Release show for Leave the Light On at Rockwood Music Hall Stage 2. We were actually scheduled to miss that too, but this time, we conspired successfully against our own schedule and were able to attend!

I knew Carley was performing with a full band, so I knew that I would hear something completely different from her harmonizing with Jesse with only an acoustic guitar accompanying the two. I was right.
The set started off with an extremely pleasant surprise though. In addition to a normal full band (two electric guitars, electric bass, electronic keyboards and drums), Carley had a horn section (trumpet and tenor sax). Have I mentioned how much I love horns? (you know the answer if you read this space regularly.)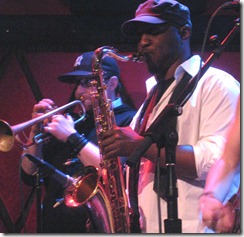 While I would describe Carley as performing a mostly Rock set, there was plenty of diversity (Jazz/Blues/Pop) to satisfy most people.
For me, first and foremost, experiencing Carley Tanchon is about being blown away by her voice. So powerful, so clean, so versatile. She hits the nearly-falsetto highs softly and sweetly. She belts out the midrange like the best rockers. She can sultry it up on more jazzy/bluesy numbers as well. Her voice is a fine-tuned instrument.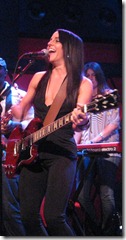 She's a talented songwriter, as you'll discover if you check her out online, or better yet, pick up her new CD! She also plays the guitar well.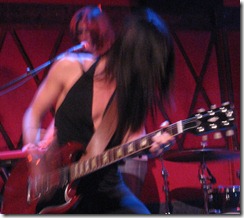 I listened to the CD this morning (we bought two copies last night) and I like it a lot. That said, it felt much softer to me than her more gutty/raw performance last night. I can't be sure whether Carley wanted it that way, or it was produced that way, but I encourage anyone who likes the CD to go out of their way to see Carley live for a more intense (in the most positive way) experience.
Carley was backed by an excellent group of musicians. Standing left-to-right on the stage:
Matt Owens on trumpet (I can find a number of mentions, but no good individual link). Very nice job. The brass section was on stage for a few of the numbers and to sing with the audience on the closing number.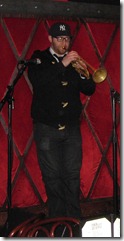 James Casey on tenor sax. Wow! Not enough of James, but since the set started off highlighting him, his skill was obvious from the first minutes. In searching for James, I noticed that both he and Matt play with Tim Blane. Now I have another band I need to look out for.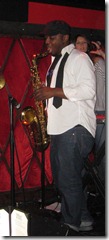 Amy Crawford on electronic keyboards and harmony. Given two electric guitars, a bass, drums and brass section, I honestly couldn't make out a single note on the keyboards, so I can't comment on Amy's skill there. But, I had no trouble hearing her sing harmony with Carley, beautifully. She has a wonderful voice (as you can hear on her site, linked to her name). She's locally based, so I look forward to discovering more of Amy's own music as well.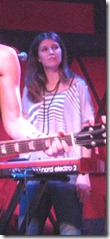 Nicky D'Agostino on drums. Nicky kept the beat lively throughout. Very crisp, even though he's a hard hitter. Two thumbs up!
Ethan Mentzer on electric bass and light harmony. Most links about Ethan relate to his work as member of The Click Five (TC5) so you can read about him there. Kyle McCammon is Carley's usual bass player. I don't know why he couldn't make it. I believe that Jesse Terry suggested that Carley reach out to Ethan. I am sure Carley has no regrets. Certainly the audience didn't have any.

Adam Tressler on lead electric guitar and harmony. Last, but certainly not least, Adam blew away the crowd with his extremely tasty, fast and diverse leads throughout the set. He also sang nearly as much harmony as Amy did, but it was only a few times that I could actually hear his voice. Those times were very sweet (because the three-part harmony came together).
Adam looked familiar to me, but I admit that I didn't have a clue as to why, until I looked him up (in my own blog!). We've seen Adam once before, 13 months ago, when he subbed for Chris Kuffner at Ian Axel's show at Joe's Pub!
Here's what I said about him that night:
Adam Tressler was a new addition (for us) playing electric guitar and a bit of harmony. I didn't hear quite enough to have a strong opinion, but the little I heard was quite nice. Ian's music doesn't tend to highlight solo guitars (which is fine) but Adam supported the rest well enough.
Since Carley definitely highlights the electric guitar (hers as well as Adam's), the above paragraph no longer applies. Adam has the skills!
In case you have any trouble remembering the name of Carley's new CD, here's a visual reminder that will hopefully stick: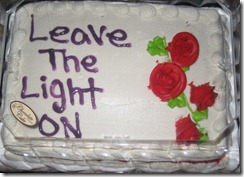 We had a great time and were thankful to have made the change in our schedule. We also thoroughly enjoyed meeting Carley's family. They made the long drive from Ohio to come celebrate this wonderful moment with her.