Send to Kindle
We saw three consecutive sets last night at Rockwood Music Hall. I could write about them in any order (they were independent) but I'll write about them in reverse order (which is the usual order here) because that's the order in which I heard about the sets and therefore dictated our planning the night out.
We've seen Mike Campbell a number of times now, solo, in a duet with Chad Vaccarino and with Chad and Ian Axel as well. We enjoy all of the variations. He's a good songwriter and his collaborations with Chad Vaccarino produce gorgeous songs.
Mike was up at 11pm last night, typically too late for us, but he doesn't play that often and we decided not to miss the opportunity. Aside from the earlier sets (which we enjoyed!), I'm glad we came out for Mike (on a monsoon-like night), because he surprised us by switching to an electric guitar from his usual acoustic one.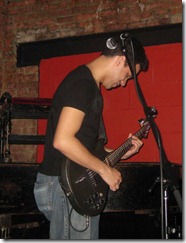 I will admit that more often than not, I really don't like a solo singer accompanied by only an electric guitar. Mike made it work really well. I mentioned that to him after the show. The only exception was his song Come Home, where he strummed the guitar a little harder and somewhat overwhelmed his vocals.
One of our favorite songs is Days Gone By co-written with Chad. We've seen them perform it with Chad in the lead and with Mike in the lead. Last night was the first time we've seen it completely solo. Mike did a wonderful job. I can't say I wouldn't have liked hearing the harmony, but to be honest, if this was the first time I ever heard the song, I wouldn't have known the harmony was missing and I still would have thought it's a great song.
Of the three solo sets we've seen Mike perform, this was the strongest, so he continues to grow as a performer.
I had tweeted to Mike in advance that we might not make it out that late. Even though we were committed to trying, finding out a short time later that Martin Rivas was performing the set before (10pm) sealed the deal for us.
We've seen Martin many times, as recently as two weeks ago, but it's been nine months since we've seen him perform a purely solo set (even that night, he was joined on vocals for two songs by Chrissi Poland). We love Martin's upbeat full band shows, but I have to admit (after the fact) that seeing him captivate the audience with nothing but his voice and acoustic guitar last night reminded me that there are many ways to enjoy Martin's music.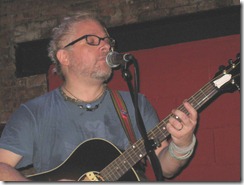 It was so quiet when Martin performed (a difficult thing to imagine at Rockwood) that a number of times, I caught myself feeling that I was the only person in the audience. Hearing the roar of the applause after each song brought me back to reality. It's so great to really listen without distraction. Nicely done Martin and Rockwood crowd!
Martin performed four new songs that will appear on his upcoming CD (hopefully out later this year) which will be produced by Alex Wong. All four songs were excellent. In addition, we were treated to other favorite Martin Rivas songs, including one Lois called out (but Martin already had on his set list), Raise Me Again.
Craig Meyer joined Martin on his last number, playing just the tambourine. I'll still call this a solo show and feel good about it.

A great set shared with a great audience.
Once we knew we'd be going for the 10pm set, we checked out who was on at 9pm so we could raise our chances of getting seats for Martin's show.
Chelsea Lee was listed. We saw Chelsea Lee open for Girlyman at Birchmere in October 2008. She was 17 at the time. Her voice was stunning but the set didn't do it for us (I'm not linking to that post, but if you're really curious, you can easily find it). After that night, I wasn't on the lookout to see her again, but this turned out to be an easy way to see if she'd matured in the 2.5 years since, so we both happily agreed to see Chelsea as well.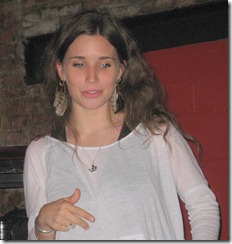 I am very glad that we decided to go. I enjoyed the set a lot. In a not-so-small irony, I don't think her voice was anywhere near as good as it was back then. It's still gorgeous, but it's smokier now, a little more rounded (reminded me loosely of Rosi Golan). But, the material was dramatically better (IMO).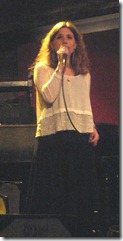 There were a few slower numbers (which I liked as well), with the majority of them being more upbeat light pop, very well executed. After the show, we bought her 5-song EP from her Dad. I listened to it this morning and I like it a lot. She has come a very long way since we last saw her and I will be happy to see her again.
Chelsea was accompanied by two people:
Wes Hutchinson on acoustic guitar and vocals. We've seen Wes once before, briefly, at the Haiti Benefit in January 2010. I liked him then, but didn't get enough of a sense. He's a staple in the NYC scene, but our schedule hasn't worked out to see his own sets just yet.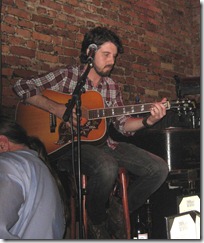 Wes did an excellent job last night of accompanying Chelsea on the guitar and his vocals were spot on. When they sang together, it also reminded me (a little, don't draw too strong a parallel) of The Open Sea (the collaboration of Ari Hest and Rosi Golan, which is another reason I compared Chelsea to Rosi above).
I don't know how Chelsea (based in DC) hooked up with Wes (based in NYC), but it's a very good fit.
Spencer Cohen on cajon, tambourine, shaker and cymbal. Very nicely done. While I could hear every beat on the cajon, it didn't seem to be mic'ed the way Alex Wong's is. Somehow, Alex produces a much richer sound on the cajon, but that seems like an easy problem to solve. Spencer has the talent.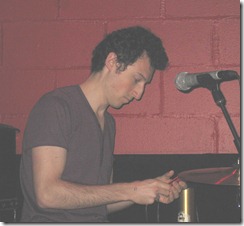 When I checked the schedule, I saw that Drew Yowell was playing the 8pm set. We've never seen him, but we've seen his brother (Doug Yowell) drum for both Vienna Teng and Katie Costello. I had an interest in checking him out, but not in sitting in Rockwood for four hours, so I decided to look for Doug another time.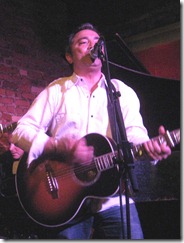 Even though the weather was bad, we made better time getting to Rockwood than we anticipated, so we caught the last four songs of Doug's set.
Guess what? I really liked it (OK, to be honest, I really liked three of the four songs).
Drew sings really well, plays the acoustic guitar nicely and was accompanied by as many as six people (that's a lot for Rockwood 1) on two of the songs. The upbeat numbers are infectious. I purposely stood for all four songs and found my foot tapping and body swaying during those songs.
Since we came late, I didn't hear the introductions to his band. They were good. The only one we've seen before was the drummer, who I recognized instantly.
Chris Benelli played the drums. The only other time we've seen him was in March 2010 when he accompanied Bryan Dunn. This makes for two separate small-world stories.
First, that same night was the first time we ever saw Doug Yowell play the drums, in the set following Bryan's, accompanying Vienna Teng. That Chris is the drummer for Doug's brother, Drew Yowell, feel's small world-ish to me.
Second, on Friday night I wrote about a bass player, Jim McNamara, who also plays with Bryan Dunn, a name I hadn't written about since we saw him the night we saw Chris Benelli. All good memories, brought back in focus by Drew Yowell. Cool.
Even though we didn't get home until midnight, in a monsoon-level rain, it was more than worth it. We had a great night out.