Send to Kindle
Yesterday I posted a long rant. I ended it with the following:
I'm going to stop now, or I'll miss the show we are attending tonight. Hopefully, I'll be back to my normal blog style tomorrow, having loved tonight's show.
I can happily return to my normal posts after enjoying last night's set very much! Whew.
Jeff Litman headlined the set at Arlene's Grocery. We saw Jeff once, playing electric bass in a fantastic benefit concert organized by Sam Teichman at the Bitter End. He was one of 15 people on stage. I had no trouble recognizing his talent, but at the time, I had no idea that he was also a multi-instrumentalist singer/songwriter.
I think Jeff started following me on Twitter and I followed him back. I then discovered his site (linked to his name above). I listened to some of the music he has available for streaming there and liked it. Much more important, I started reading his blog entries (right on the home page, just scroll down), in particular his post on giving away music.
I was extremely impressed by how smart Jeff is and how well he articulates his views. That made me all the more interested in seeing him perform. That opportunity finally arrived last night.
Jeff sang lead and played the electric guitar on nine of the 10 songs. He sings really well and plays the guitar extremely well (great leads and an excellent sense of rhythm).
I liked every single song (nine originals and he closed with a great cover of Pump It Up by Elvis Costello). Jeff wore a suit and tie for all of his originals. When he started Pump It Up, he took his jacket off. This was quite a feat, because he didn't take his guitar (and strap!) off, so he had to wriggle out of the jacket.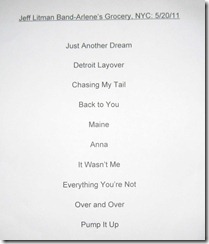 He tossed the jacket down on the stage and proceeded to stomp all over it during the song. Ah, the life of a Rocker!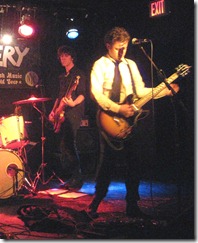 On one song, Maine, Jeff switched to acoustic guitar and added a harmonica. There are many songs that I love that took a number of listens to reach that status. That said, most of my all-time favorite songs grabbed me within seconds and by the end of the song were already on the list. Maine is on the list and it was obvious within seconds. Lois felt exactly the same way. She just told me that she wanted to yell out "Play Maine again!" for an encore.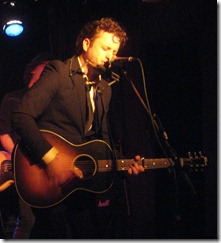 It is a blend of Dylan's first electric efforts coupled with some of the best Country stuff we love. I'm listening to it on repeat now while writing this. I'll never get tired of this song, I promise!

Jeff was supported by a fantastic band, left-to-right on the stage: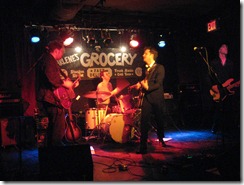 Bryan Dunn on electric and acoustic guitar and vocals. We've seen Bryan once before (scroll to the bottom to read about Bryan) and really enjoyed him and his set (and his band!). More recently, he's become the hub of a number of comments I've made on the blog. I didn't know he'd be playing with Jeff until yesterday afternoon.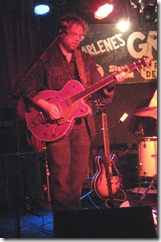 Bryan was wonderful. His leads on the electric guitar were terrific and he complemented Jeff's play when they were both on electric. He also played rhythm on the acoustic on a few numbers. His vocals were spot on, harmonizing beautifully with Jeff. It's been too long since we've seen Bryan's own set, but it sounds like we might have to wait until his new CD is out (September perhaps?) to see him again.
In the above-linked post, I mentioned that Bryan seems like a nice guy. I can now confirm my suspicions were correct. We chatted with Bryan and his wife (actually the entire band) after the show. We purchased Bryan's current CD (he didn't have it with him, but he's mailing it to us, once I get him our address).

Elliot Jacobson on drums. I've written about Elliot twice before. He's a great drummer, not much more to add to that. Last night, that was critical. Elliot's kick drum was mic'ed to the hilt. I was sitting on a bar stool. Every single time Elliot kicked, the floor shook my chair, and my heart and hair jumped around. Considering his perfect beat, it worked, as my body was part of the song (literally). Still, it could have been dialed back a notch.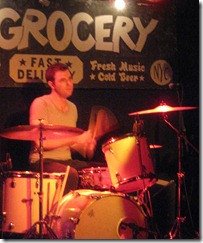 Matt Basile on electric bass. Excellent throughout, though I had to work at times to pick out his bass line given that it was often synchronous with the kick drum.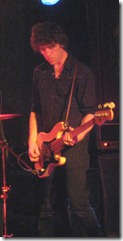 After the show we met up with the band in the bar area. In addition to purchasing Bryan's CD, we also bought Jeff Litman's current CD, Postscript (he's recording another right now). Four of the songs from last night are on Postcript, including Maine, which Lois asked before we bought it. The entire CD is really good (I listened to it once through before putting Maine on repeat). At the moment, I'm on the 11th listen of Maine. I can squeeze a few more in while I type and select photos.

I mentioned how great Bryan Dunn's harmonies were, but I also have to give a big shout out to Kelly Jones (I hope I guessed the correct Kelly Jones!), who sings co-lead/harmony with Jeff on Maine on the CD. Superb.
I have one complaint and one giant compliment for the sound engineer at Arlene's last night. The sound was well balanced (hearing leads, vocals, etc., were easy to pick out). But, it was insanely loud. Arlene's Grocery is a relatively small room. I know this is Rock 'N Roll, but it's one of the few times I would have shoved earplugs in if I had them (Lois did, and did!). Aside from volume as a consistent complaint, this was our third time at Arelene's, and I am very impressed with the way they run the place!
On to the major complement. While setting up, there was a lot of shuffling on stage. Jeff has a very large, sophisticated looking pedal board. He had to move it away from his microphone stand to adjust some settings on his amp at the back of the stage. While he was at the amp, Matt went over to Jeff's pedal board and moved it a few inches. Unfortunately, the mic cable was caught under the pedal board. Before Matt realized what was happening, the mic stand (with the mic attached) came crashing to the floor.
A few seconds later, order was restored. The show began a few minutes later. When Bryan started singing, the mic was cutting in and out. Obviously, the cable came loose when the mic hit the ground. Within seconds, the sound engineer came flying out of his booth in the back of the room and he jumped on stage. When tightening the mic cable on both ends didn't solve the problem, he grabbed an extra cable from the side of the stage, waited patiently, and then swapped the cables mid-song when Jeff finished a verse and was taking a short lead on the guitar.
By the time Jeff started the next verse, the mic worked perfectly. It's great to see someone who is good at their job, but even better when they're passionate about doing it well!
One last word about the loudness. The only other complaint about Jeff's vocals was that they were a bit too bright. In a not-so-small irony, when doing the sound check, Jeff asked the sound engineer to tone down the treble on his vocals in the monitor. He gave him a thumbs up after the adjustment. The same adjustment should have been made on the house speakers.
We were glad to be back on track for thoroughly enjoying a night out listening to great musicians doing their thing!
P.S. I ended up listening to Maine 18 times while writing this post. Not quite enough, but it will have to do, since I have a few other things to do today.