Send to Kindle
We've seen Abby Payne once before, briefly, at a Benefit Concert. I had only good things to say about her (in particular, her keyboard skills). Still, since she was one of a cast of thousands and sang lead on only one song, I admit that her name didn't register with me as someone I needed to keep track of.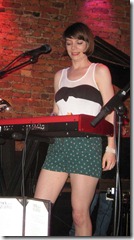 Aside from wanting to follow certain people (OK, I won't quibble if you call it stalking), I don't have too much fear that we'll miss out on a number of talented locals, because our friends (musicians and fans alike) know our taste well enough that they bother to point out shows we might not be aware of. Thanks all, for that!
In this case, it was none other than Chris Anderson, who we've seen perform a number of times this week alone, who mentioned that we wouldn't want to miss Abby Payne, when I told him we were coming to see Chris Ayer at 8pm at Rockwood. She was up the set before Chris Ayer. That was good enough for me.
I won't (or rather can't!) classify Abby's style/genre, as the set was incredibly wide-ranging. I'll describe my two favorite numbers in a minute (they were near-polar opposites), but she had a number of songs I'd describe as more dissonant/experimental as well.
As I said above, Abby plays the keyboards really well. She also has a lovely voice, but it has a thin, laser-like quality at the highs, which doesn't work well when mic'ed too high, something I'll get to at the end.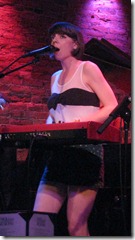 The two songs that totally captivated me came back-to-back. The first was an up-beat Country-like number that had me tapping and swaying throughout. That was immediately followed by a super mellow song, with two members of her band sitting out. I'm saving one of the more special things in that song for when I get to the band, which I'll do right now.
Left-to-right on the stage:
Wil Farr on electric guitar and vocals (I might not have heard the name correctly, but if I did, I can't find a good link). Will was very good on both. Unfortunately, his guitar was way too loud on most of the songs (even worse during sound check when it was only him playing). We were on the opposite side (near the door) and it was still relatively painful, largely because the amp was facing us, at ear level. Update: I now know he spells his name with 1 L, so I updated and found the correct link!
JP Schlegelmilch on keyboards (grand piano and electronic). I couldn't see whether he sang on any of the songs, as Abby was directly between us. JP did a very nice job, but I admit to being surprised that Abby had an extra keyboard player, since that's her primary instrument on stage. To be fair, on the numbers when he played the electronic keyboard, he had more of an organ sound while her keyboard was set closer to a piano sound.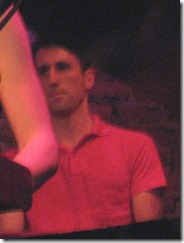 Chris Anderson on electric bass, vocals and ukulele. Say what? Ukulele? Yes! On the mellow song (mentioned above), both Will and JP took a break. Chris picked up a ukulele and played it so sweetly (not even the hint of the typical Hawaiian sound people associate with the uke). I realize it's a stringed instrument, so I'm not shocked that Chris can play it. That said, it was more of his feel for the instrument that impressed me.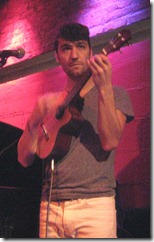 I've also noted a number of times that Chris is starting to sing more. That continued very nicely with Abby. He sang harmony a lot, often with Will as well.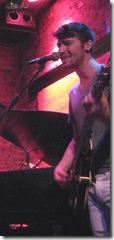 I would love to see Chris whip out the ukulele some night when he's on stage with Ian Axel and have a little throwdown.

Kenny Shaw on the drums. This was the fourth set we've seen Kenny play this week. Wait, it was the fourth set for Chris Anderson this week too (three of them had both in the same set). I used to think that I was the only stalking these guys, but now I think perhaps they are feeding me subliminal messages in my sleep to show up wherever they are.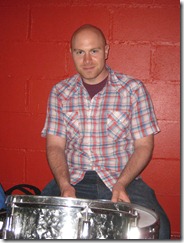 So, Kenny was great again, in particular on the other song I loved, the Country-like one. On that number, he used brushes, but was hitting them hard, for a just right sound/feel to match the song.
I mention the brushes to contrast the rest of the set (on the louder numbers). Kenny needed to hit pretty hard to match the sound coming out of the guitar. He did. Unfortunately, we were sitting 12 inches from the drum set and our heads were getting blown off.
That leads me back to my earlier point about Abby's vocals (in particular, the high notes). The entire set (with few exceptions) was simply too loud. This is Rockwood 1, an extremely small venue. It's simply not suited to cranking every instrument. Obviously, I blame the sound guy, but still, the band should try and do something about it, or book a different room.
Abby had to push to be heard, and her high notes were cutting like a knife. Clear (meaning, she hits every note), but I bet it sounds unbelievably better on her CDs. In an ironic twist, here's what I had to say about Abby from the Benefit Concert:
The only issue is that it took Abby a bit to crank up the volume on her voice, which was necessary because she (and all of them) were competing with tons of instruments and other vocalists.
My humble apologies to myself, if Abby read that last post and decided to crank up the volume every time to compensate.

The part that frustrates me is that at other times, the same sound person at the same venue will get a similarly equipped band playing at a much more reasonable level. That's why I have no idea who to really blame. You'll see an example of this fact two posts from now (which will be my last one of the day).