Send to Kindle
We saw Greg Mayo perform at Rockwood Music Hall two nights ago, in support of Rebecca Haviland (covered here). Here are two things I said in that post:
Can I praise Greg more than I have in the past? It's a difficult assignment, but I'll be sure to work hard at it.
and
We'll save more Mayo Hype for when he's front and center.
At the bottom of the post I mentioned that we also saw Greg jump on stage next door at the finale of the Idol Rejects Show. I bumped into him after the show and told him that while I was aware he had a show at midnight the next night (last night), we likely wouldn't be able to force our bodies to stay up that late. Obviously, he understood.
I've already written four posts today about 3.5 sets that we saw at Rockwood (6, 7, 8 and 1/2 of 9pm sets!). This is the fifth and last post of the day. After taking care of a small task at 9:30pm, we went home and collapsed (Lois fell asleep while I tinkered with my Droid).
Given the first quote above, I realized that I had set myself a difficult assignment and that I would be furthering the cause if I made the effort to go back out to see Greg at midnight. Since Lois is a light sleeper, when I just considered moving, she was up like a shot, insisting that she was joining me.
We arrived exactly at midnight. Greg and the band were just about done setting up. Perfect timing.
Greg introduced last night's lineup as "Greg Mayo and his Cronies". However, he noted that the name will likely change weekly, so don't get used to it. Brian Killeen, the bass player, joked that previously, they were called "Greg Mayo and his Acquaintances". Greg quipped back that eventually, they might be known as "Greg Mayo and his Family!".

The show was billed as a mix of originals and covers and they delivered just that. When I noticed that Patrick Firth was joining Greg, I assumed Patrick would be on the keyboards and Greg would on the electric guitar. This is what provided the added adrenaline I needed to get myself up and out.
However, earlier in the evening, when I mentioned exactly that to a friend of Greg's, she told me that Patrick Firth might break out some new songs he was recording and that if he did, he'd likely play them on the guitar. Ah, I was back to not having a clue.
Luckily for me (and any other serious guitar fans), my original instinct turned out to be correct.
Greg Mayo played guitar for the entire set, and of course, sang a ton as well (lead and harmony). What made this beyond special for me is that I sat directly in front of Greg. When he was at the microphone, I was roughly 18 inches from the guitar. When he stepped back to take a lead, I was all of 24 inches away. I was in heaven.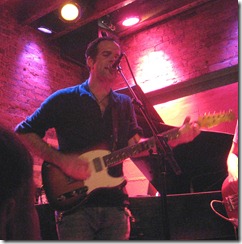 Unfortunately for Greg, I was able to study all of his secrets. I no longer need to come see him play. I can just whip out my own guitar (which I'll have to buy first), and recreate his leads flawlessly, whenever I'm in the mood.

Greg played at least two of his originals, taking incredible, long leads during each one. Of course the shorter leads during every song were just as tasty, but I could sense he just wanted to leave me hanging, wanting more.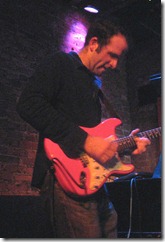 Patrick Firth on grand piano and electronic keyboards sang lead on two songs. The first was Take Me to the Pilot by Elton John. I've heard Patrick sing harmony on many of Martin Rivas' sets, but this is the first time he took the lead. He has an excellent voice. More important, as I mentioned just the night before (in the post linked at the top), he kicked off the song with a spectacular piano solo. Between his solos and Greg's, tiredness was no longer an issue. Getting my blood pressure down was the task at hand!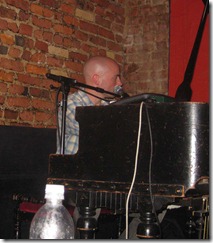 The second time Patrick took the lead he sang The Night They Drove Old Dixie Down by The Band. While his voice was just as good, it's not as suited to the gravelly, southern rock style that I'm more accustomed to hearing on this number (as done to perfection by The Big Apple Singers and The Narwhals, both bands that Greg Mayo is in). Also, Patrick lost the words a couple of times, which raised smiles on and off the stage. These shows are about sharing the experience, not about perfect recitals.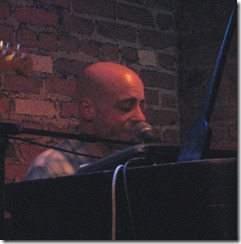 In the same post above, I mentioned that we finally heard Brian Killeen (on electric bass) sing! Well, in addition to continuing that last night (singing backup), Greg asked Brian to sing a song on the lead. Hilarity ensued, having nothing to do with Brian's voice.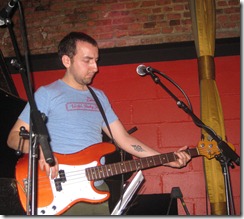 First, he had the lyrics typed out and they couldn't get the stand to work correctly. In fact, it came apart a few times. Finally, they decided to leave it in a stable position, too low for Brian to comfortably see. Then, the fans in the room kept the lyrics swaying back and forth (looking like they would fly off the stand). At one point, I held the paper steady, but by then, Brian had given up all hope of getting this done.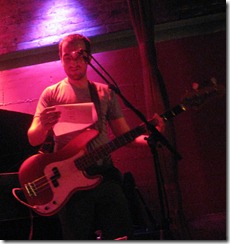 The song was still a ton of fun, it just basically was delivered with every third word instead of all of them.

Kenny Shaw rounded out the band, playing the drums, to perfection.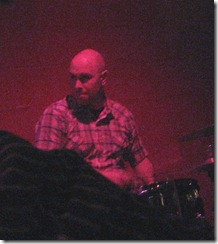 Such a great set, such a great time, so glad we went!
I was quite surprised at the size of the crowd. It was nice when we got there, but over the course of the next 15 minutes kept building. In retrospect, I shouldn't have been surprised. If I was willing to get out of bed, given how tired I was, why wouldn't everyone else (most of whom are younger and more vigorous to begin with). After all, it was an opportunity to hear four exceptional musicians jam their hearts out, in as relaxed an atmosphere as you could hope for.
Closing the circle on a comment I made in post #3 today, the one about Abby Payne. I lamented that there is often an inconsistency in the sound engineering, even in the same room, with the same people at the controls, with different bands that have similar equipment.
Since Greg's set occurred on the same night, I am sure the same guy was working the sound (tucked in the ceiling at Rockwood). There was one less electronic keyboard in Greg's set, but otherwise, the same instruments. The drummer was even the same (this was the fifth set that included Kenny that we saw this week!).
Even though I was three feet from Greg's amp, it was never too loud, even for a single note! This, even though his guitar was the main event (which it wasn't for Abby's set). Also, same drummer, same drum set, same loud music (no soft numbers in the Greg's set). This time, Kenny didn't need to be overwhelming to match the guitar. Granted, I was also further away from the drum, so that might have accounted for much of the difference.
So, the sound was just right last night. As opposed to blame, I don't know who to praise this time. Did the sound guy make the difference, or did these musicians realize that they didn't need to set the amps and instruments on 10 and hope for the best?