Send to Kindle
Even though it's only been a few weeks since we last saw John Schmitt perform (May 13th at The Living Room), we were really looking forward to this show last night. The set at The Living Room was excellent, which is reason enough to want more. But Rockwood Music Hall is also more intimate which in itself was a draw.
John delivered a completely satisfying experience (to high expectations!). He had a few surprises for us as well (another great reason to go see your favorite artists often).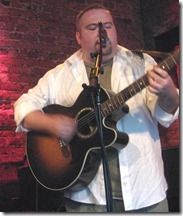 You can read a number of my posts about John. Here are the key facts that you'll learn:
he has a wonderful voice
he plays guitar wonderfully
he writes exceptional songs (OK, I should have said wonderful songs, to stick with the theme)
he has many talented musical buddies (both genders), who are only too happy to make music with him
All of those were in play last night, including John selecting an excellent set list.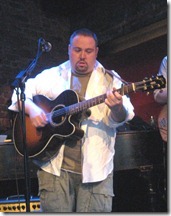 He played two songs solo, at least two with one female guest (two different women, we'll get to them shortly) and the rest with a full band (which also had a surprise guest).
First, the band:
Pasquale Chieffalo on electric bass. John joked on stage that I would have to work extra-hard to figure out the correct spelling of Pasquale's name. He was right, but he was also wrong, because I gave up pretty quickly and just shot John a message and he gave it to me, so I cheated.

Last night, I quipped back that I would just describe Pasquale as "The tall bass player". Man, he is tall.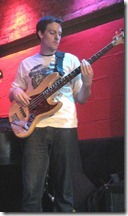 None of that is important, of course. The fact that Pasquale played really well and was at exactly the right volume is all that mattered. He played the bass on John's CD, Ophelia, which we love.
One of the songs that John played solo was called "Me and the Chief". He claims that it's about his grandfather, but now that I see how to spell Pasquale's last name, I'm less convinced.

Ryan Vaughn on drums. I just praised Ryan's drumming last week when he played with Robbie Gil. That was a louder, more upbeat set, and required a different kind of drumming. Obviously, Ryan handled the switch in styles last night extremely well (he's one of the top NY-based drummers). Also the right volume (I mention it as a contrast to the drummer the set before, who was good, but too loud).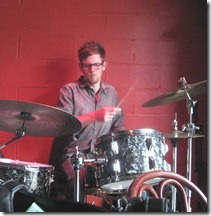 Matt Simons was a special guest on two songs, playing the saxophone! I pretty much like everything Matt Simons does, but from the first time I ever saw him play sax with the Greg Mayo Band, I knew that my softest spot for him would likely come whenever he broke out the sax. It was a complete surprise to see him play it with John.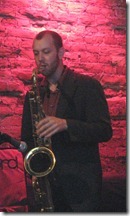 John was very generous in giving Matt multiple long leads, and Matt nailed every one of them. Kudos and Bravo! Needless to say, the sax was well-matched to both songs that John invited him up for, the second of which was You Got Me Brother.
On to the ladies:
Karly Jurgensen was invited up to sing two songs with John. The first was Evangeline, a cover of a version of the song performed by The Band with special guest star Emmylou Harris (in 1976!). If you haven't guessed yet, Karly played the part of Emmylou Harris. John performed the role of "The Band", since he gave his band the song off (he's generous like that). Lovely!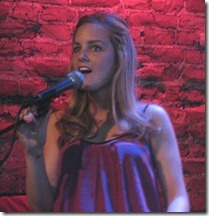 The second song was Ophelia, the title track of John's CD (this time his band played as well). On this song Karly's part doesn't come in until nearly the end, when she sings "Adieu Love" quite a number of times, in harmony with John, but also while John sings some other lines.
John just released a live CD (pay what you will, so I advise you to pay a lot).

Ophelia on that CD (which you can stream for free) has both Chris Ayer and Julia Poorman singing along. In that version, Chris speaks to the audience (at the 1:18 mark) saying: "I promise I'm going to sing at some point". I note that because Karly was much more patient and simply waited for the end of the song to do her part.

Update: two people independently reached out privately to me to say that Chris would never be so rude as to talk during John's song. One of them noted it was John who said "I promise they're going to sing at some point". It never occured to me that Chris was bring rude. Depending on how the show was going, previous banter with the audience and between them, I assumed (incorrectly) that he was being particularly funny. There was a wink at the end of the above paragraph, but I know not everyone trusts a winking man. 🙂
A little later on, John called up another female guest star.
Lissa Farquhar joined him to sing Going Back. In addition to singing beautiful harmony, Lissa sang lead as well. She then sang fantastic harmony on Ave Regina (what a wonderful song).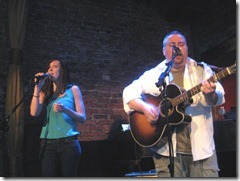 John is one of the more consistent performers of the (way too many) ones that we follow.
P.S. This was the second of five sets that we saw last night, and one of the three that we originally planned to.