Send to Kindle
Last Friday, John Schmitt had a Birthday show at The Living Room. At that show he announced that his first show at Rockwood Music Hall Stage 2 would be the following Thursday (last night). Of course, it immediately went on our calendar. Last night's show was just as much fun as the Birthday one, with different guests (and one change in the band as well).
Since I've written about John many times, I'll spare the regulars the intro, but I encourage all others to read the write-up on the Birthday show (linked above) and then continue here.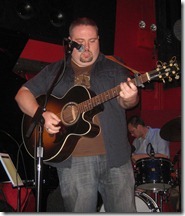 In addition to playing a bunch of his beloved songs, John broke out a brand new one. The song was written for a documentary called The Green Horns. It was the fourth song in a row he sang with one of his guests.
Lissa Farquhar has been a regular singing partner with John for months now, but she was unable to attend the Birthday show. I really like Lissa's voice, but I do have a complaint/suggestion.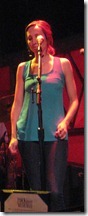 On the harmonies, Lissa put a reasonable amount of power to match John's volume and the two of them sounded wonderful together. Last night, her leads were way more delicate. I couldn't tell why she was holding back. At first I thought it was a stylistic choice. Then I thought she might have a cold. Then I thought perhaps she was being deferential to John. Either way, I preferred her pumping it up the way she did the first time we saw her.
Before singing the Green Horns song (Rise Today), they sang Ave Regina and Going Back (Lissa also sang on Ophelia, but there's simply not enough harmony arranged on that song). Two fabulous songs that are greatly enhanced by the harmonies. On Friday, John sang Ave Regina solo. It was beautiful, no doubt, but I'll take the duet if I have a choice, thank you very much.

Alec Gross was the other special guest. He played harmonica on two songs, extremely well. On Ave Regina, it was the only instrument besides John's acoustic guitar (the band took only that one song off). He wailed on Day in the Life right before that.

Alec just had a CD release party on Saturday night (there is some video up on his YouTube channel).
The band, left-to-right on stage:
Eddie Wiernik on grand piano and electronic keyboards. Eddie was a fill-in on Friday. By my count, that makes two rehearsals and two shows now. I had only high praise for Eddie on Friday night. That said, it was crystal clear, seconds into the first song of the night, that Eddie was way more comfortable with the music and the band.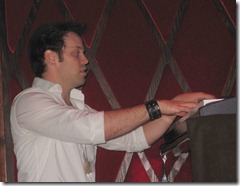 He opened up his play more and John highlighted him even more (he took a number of very tasty solos, both on the piano and the more organ-sounding electronic keyboards). It will interesting to see what John does if/when Greg Barbone becomes available again. Both Eddie and Greg are great, so John can't lose, unless they both get mad at him.
Mike Sutton on drums. I mentioned on Friday that my respect for Mike grew that night. Let's call it a trend, since I was even more impressed last night. His play on Musical and Valerie (in particular) was great. Don't slight the subtler play on numbers like Ophelia, where the drums are vital in creating the correct mood.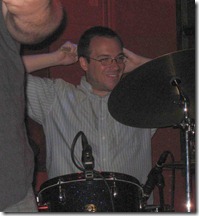 Brian Killeen on electric bass. We love Brian and see him often. He was filling in for John's regular bass player, Pasquale Chieffalo. Both are good fits for John's music, so I didn't feel a drop-off in having Brian sit in. At the end of Musical, they did a jazz jam, with Eddie leading on keys, but Brian was tearing it up on the bass and Mike was keeping up on the drums. It was a thing of beauty.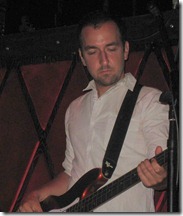 Here's the complete set list: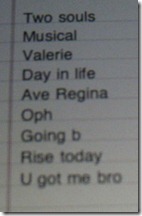 Right before the show we met John's girlfriend, Lucy. In addition to being nice and smart, independent of her real career, she's also a talented designer. She created John's business card:
We sat with her during the show and look forward to spending time with her (John can tag along if he wants) in the future.