Send to Kindle
On April 21st, 2011, I tweeted the following:
Crushing traffic on I95 yesterday. Listening to @johnschmitt and @chrisayer saved our sanity!
I received back the following back from John:
@hadarvc Thx Radar! If you're free on May 13th, Chris and I play the Living Room, at 10 & 11pm! Would love to say hello! I'll have my band!
Yes, iPhone autocorrect prefers my name be Radar, such is life.

That's all the information we needed to lock it in our calendar (the show took place at The Living Room, as noted the tweet above). Even though something else important came up, we weren't going to miss this show (see the very bottom of this post for our compromise/workaround). Doing my usual working backwards on the sets.
Chris Ayer started his set shortly after 11pm. I've written about Chris many times and how amazing he is. The last time I wrote about him I noted that Sierra Noble called Chris a poet (and I agreed). Let me take a stab at defining what I (and Lois) mean when we say that.
There are a ton of great lyricists out there. Substantially fewer of those are also poets. Great lyrics can tell a great story, have catchy rhymes or phrases and therefore clearly are the foundation of great songs. Poets create all that, but in addition, they emblazon images in your mind. Their turns of phrases are like Van Gogh's brushstrokes. Many great songwriters achieve poetry on occasion. Poets achieve it regularly and prolifically. Chris is one such poet.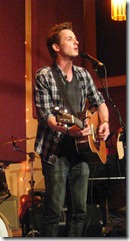 Chris played his usual fantastic set. It was a blend of solo, full band and duets, all of which were equally satisfying. He played a new song, something like Hide in Plain Sight (but I'm reasonably sure it's not that exactly). Wow, another one that had our table mesmerized.
Chris closed the show with Roy G. Biv. Lois might have tripped him on his way out if had skipped that song last night. Fortunately, she asked him to play it before the set started and he told her it was already on his set list.

The band unplugged for Roy G. Biv. John Schmitt joined Chris. Chris, John and Matt Simons came into the audience standing in a large triangle so they could serenade different members. Chris Anderson and Stephen Chopek (the other two band members) came to the front of the stage. It was an amazing way to end a wonderful night.
In addition to bringing John up as a special guest, Chris also brought up Morgan Holland to sing with him on two songs. Perfect! John Schmitt and Morgan Holland will be playing back-to-back sets at Rockwood 1 on June 4th, at 7 and 8pm respectively. Come join us to enjoy what will undoubtedly be a great evening!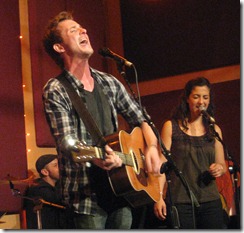 Speaking of upcoming shows, Chris Ayer will be at Rockwood 1 before them. May 27th at 8pm. We'll be there too.

The band, from left-to-right on stage:
Chris Anderson on electric and upright bass. Chris is one of our favorite bass players and last night was no exception. As fun as it is to listen to him play a more mellow set like Chris Ayer's, I am distractedly looking forward to seeing Chris play with Ian Axel at the Bowery Ballroom on May 24th. Aside from the fact that it will be one of the epic nights of music in NYC, Chris Anderson will let loose in a way that tickles me to no end!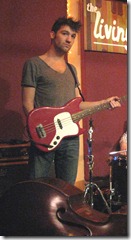 Stephen Chopek on drums and percussion. Stephen has quickly become a favorite drummer of ours. I was extremely pleased to see him playing with Chris Ayer last night, because he was not drumming for John Schmitt the set before. When we saw John and Chris at Jammin' Java, Stephen drummed for both (it's too expensive to bring two drummers I imagine). Another wonderful performance last night by Stephen.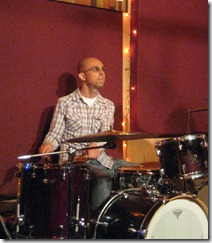 Matt Simons on keyboards (grand piano and electronic) and vocals. Matt is an excellent singer/songwriter in his own right and complements Chris Ayer perfectly when he plays sideman to him (which he does quite often). Their harmonies are wonderful and Matt's keyboard play is excellent. While he didn't play it last night, I love his sax playing as well.
I think we missed our tradition of showing Chris Ayer's unique set list (from his and our vantage) the last time or two. Here is the one from last night:
John Schmitt mirrored Chris' set (or the reverse, since John was on first) by playing solo, full band and duet as well. He just so happened to do it with an entirely different crew. While John is a somewhat newer discovery for us, you can see from the tweet that started this off, being late to the party hasn't cost him any of our affection.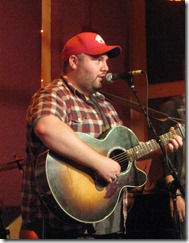 His recent CD release, Ophelia, is a gorgeous album. John has a fantastic voice (very soulful) and he plays the guitar beautifully. Add a top band (which isn't necessary, but always welcome!) and he too wows the crowd, every time.
We like a lot of John's songs, but at the top are Ophelia and Ave Regina. If he hadn't sung either of those we might have had to mug him in the (proverbial) parking lot. Thankfully, he performed both (more on each in a minute when I mention the guest stars). Both qualify as poet songs.

Joining John on Ave Regina and Going Back was Lissa Farquhar on vocals. Lissa has a beautiful voice and did a great job on both songs. Ave Regina has stunning harmonies in it, in addition to Lissa taking a verse on the lead. What I particularly liked is the fact that Lissa belted out the harmony as well as the lead. Many backup vocalists think it's incumbent on them to sing softly to let the lead vocalist shine. It's a nice thought, but it makes the harmonies so much more difficult to appreciate. Let your voices ring out!


Joining John for his last two numbers was Chris Ayer on vocals. Another wonderful piece of harmony.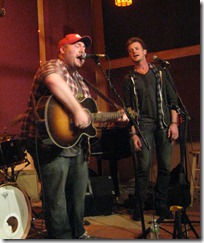 John's band, from left-to-right on stage:
Greg Barbone on keyboards (organ and grand piano). The Living Room has both a grand piano on stage and a double-decker organ (the size of an upright piano). They are on opposite ends of the stage. John joked that Greg was going to be running back-and-forth, but it turned out not to be a joke. So, I could have listed Greg first or last. Since he kicked it off on the organ, first it is.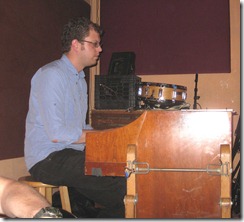 Greg was great on both. We already knew he would be great on the piano, because he was also the pianist for the set before (covered shortly). The organ was covered up during that set, so I didn't even know it was there (two feet from where I was sitting).
Brian Killeen on electric bass. We've seen Brian many times (mostly with Martin Rivas) and have enjoyed his play each and every time (last night included). When John mentioned that Brian had recently opened for Bon Jovi, Brian joked that it was a solo bass performance, and he did a quick and cute bass-rock-star like thing on stage.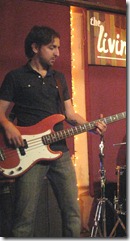 Mike Sutton on drums (sorry, couldn't find a good individual link to Mike). Recall what I said above, that I was expecting Stephen Chopek on drums. I was impressed with Mike's play, but I need to hear more to form a better opinion.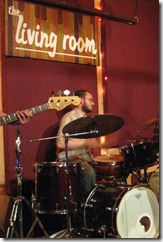 Here is John's set list. Don't believe everything you read. For example, Lissa did not join on Ophelia and there was no sax during the set (it does say "possible Sax solo" after all):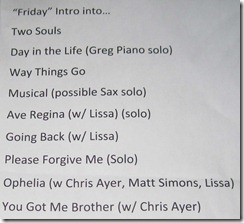 Originally, we had intended to show up just for those two sets. John tweeted that Andy Mac would be on at 9pm. We'd never heard of him, but if he's part of John and Chris' crew, we wanted to give him a shot. It was a fun set, so I'm glad we made the effort.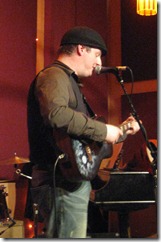 Andy started the show off with a bang. After being ready to go, he just walked off the stage. While our attention was focused on him walking away, his band quietly slipped on Hockey Masks in honor of Friday the 13th. When Andy came back on stage, he too was wearing the mask and had a hoodie on as well. All very menacing. He sang the entire first song with the mask on.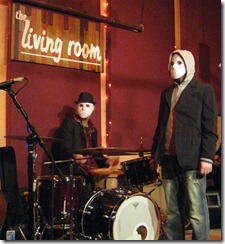 That first song is an ancient classic, Build Me up Buttercup. Andy didn't do it in the classic style. Rather, it was a very slow, Jazzy version, with a few substituted lyrics to make it dead-on for Friday the 13th. What makes me note it is that in the same week, in Philadelphia, we heard Julia Nunes play the same song (on the ukulele, in the more traditional style). The universe is telling me something, I just don't know what, yet…
Andy has a really nice voice, plays the guitar well, and was accompanied by a tight band. While there were a number of styles performed during the set, most had a fun up-beat vibe to them.
Andy is quite funny. One of his bits was pulling out seven really bad horror movie DVDs that he found while cleaning his apartment. He promised the first seven people who bought one or more of his CDs (he had three available for sale) would get to pick which free horror movie DVD they'd like to take as a bonus.
Andy's band, left-to-right:
Mal Gibbes on saxophone (which looked like it was an antique and my apologies, I couldn't find a good individual link). He performed in roughly 1/2 the numbers. He was excellent, but on most of the numbers he was trying to be super mellow and soft (more complementary than lead, even when they were clearly his leads!). On the last number, Sara, he blew it out, loud and proud and he nailed it!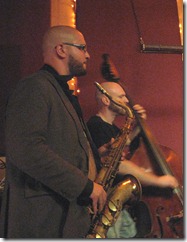 Jim McNamara on upright bass. First, the Mac in Andy Mac is really McNamara. Jim and Andy are brothers! Second, we've seen Jim once before, supporting Bryan Dunn at Rockwood 1. We were there to see Vienna Teng followed by The Open Sea (Ari Hest and Rosi Golan). We showed up one set early to ensure good seats for Vienna. Here's what I had to say that night about Jim:
Jim McNamara played an upright bass. He blew me away. I can't say that I recall an upright bass being used by a mostly rock 'n roll band, but Jim made it work perfectly. A few times he played leads in harmony with Bryan's guitar. Some of those licks were pretty darn fast, and he nailed every one of them!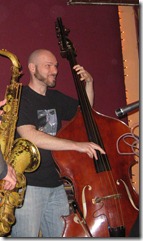 Suffice it to say, he was excellent last night as well, though nowhere near as highlighted as he was with Bryan Dunn's group (perhaps there's some sibling rivalry going on).

Sean Dixon on drums (also couldn't find a good individual link and thanks Sam for saving my old-man brain again!). He was excellent, in particular really interesting cymbal play. I'd like to hear more of him.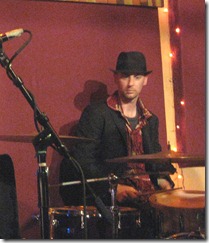 Greg Barbone on grand piano. As mentioned above, Greg was outstanding. This was our first time seeing him, but certainly not our last.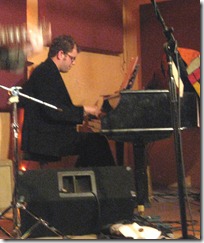 For his last two songs, Andy called up Dave Pollack (a.k.a. Shaky Dave, also no good individual link) to play the harmonica. Very nicely done!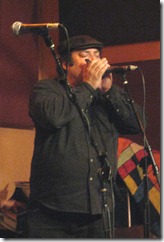 Not to slight Andy, here is his set list: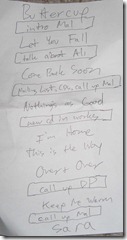 To make the evening all the more enjoyable, we shared our tiny table with three lovely ladies, all of whom we consider friends, all met through this music scene.
After saying goodbye to a bunch of people (most of whom were on stage during the three sets), we headed off to the compromise mentioned above.
Earlier last night, The Borromeo String Quartet had a show at the TENRI Cultural Center. Melissa Tong's brother (Kristopher Tong) is one of the violinists in the quartet and she has told us how awesome he and the quartet are (and she should know!). We've missed them once before when they played in NY and we felt badly missing them again last night (we would have had to leave at intermission and we would have missed Andy Mac's set completely).
In addition to the show, there was a surprise Birthday Celebration for Kristopher afterward. His parents flew in, but the bigger surprise was that his other sister flew in too. Since she wasn't landing in LaGuardia until 11:30pm, Melissa told us that we could show up as late we needed and the party would still be going. She was correct!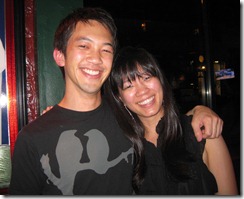 We walked into the café at 12:30am and indeed, got to meet everyone and wish Kristopher a happy birthday. Even though it was brief, it was a very happy time. I particularly enjoyed meeting Melissa's Dad and chatting with him a bit. It's no wonder his kids are so awesome!
Another late night tonight, but you gotta do what you gotta do…