Send to Kindle
Last night posed a significant problem. We had seen only three songs of a special set by The Ramblers at The Living Room on January 29th, 2011. Here's part of what I wrote about that set:
Then they started playing. Excellent. Definitely my kind of music. Actually, since they had so many guests, I don't know how I would react to a normal The Ramblers set, but I'm willing to find out.
This was our next opportunity to find out, since they were playing without any guests. We had committed to coming out and were happy with that decision, until we (accidentally) started watching a 2-hour set at Rockwood Music Hall at 9pm. It was so good that leaving was a little painful. I've changed plans mid-stream before (that's how we discovered Ian Axel!), but my gut told me to stick with the plan this time.
I am grateful that my instincts please me more often than they fail me, and last night was another case of making the right choice. Not because I wouldn't have enjoyed the second hour of Richard Julian's set, but rather because it would have taken me that much longer (perhaps months) to discover how much I like The Ramblers! Now I know that I need to see both groups. That's just fine with me.

With the guests (two fiddles and a mandolin), The Ramblers struck me as a big-sounding bluegrass band. I assumed I'd have a more stripped down experience, but similar in style, without the guests. Wrong!
While there is a hint of rootsiness (is that a word?), The Ramblers are way more Rock 'N Roll than bluegrass. In fact, all I could think about throughout their set (every single number) was that I was hearing a modern version of The Band. Imagine my surprise when I just now read that they actually opened for Levon Helm.
There are a few reasons they remind me of The Band (sound-wise, clearly, they are not a cover band!). At the top of the list is the fact that keyboards and guitar are both central, and there are two male lead vocalist (who also harmonize with each other).
The set was fantastic from start to finish. Each member of The Ramblers deserves a shout out. Left-to-right on the stage (excuse the photos, our angle of the stage was severe):
Scott Stein on keyboards (electronic and organ) and vocals. Scott was amazing on the keyboards. On his own electronic ones, he played close to a piano sound. He would swing back and forth between that and the organ that is a permanent fixture at The Living Room. He's one of the main reasons they sound so much like The Band.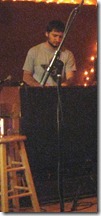 Scott sings well (both lead and harmony).
Jeremiah Birnbaum on electric guitar and vocals. Jeremiah stands center stage, giving the impression that he's the front man. To an extent, that's likely true, but Scott certainly comes across as a partner on this journey, equal or otherwise.

Jeremiah plays the electric guitar really well (with and without the slide). He sings really well, and has a relaxed style on stage.
Shanna Zell on vocals and tambourine. Shanna sang beautifully on every number (except the two that she stepped off stage for, when she sat at our table!). She sang lead on one song and harmony on the rest. Her voice blends really well with Jeremiah's and Scott's.
In the back row, behind Jeremiah and Shanna:
Steve Purcell on drums. We had just seen three excellent drummers (the fourth set didn't have one). Steve was equal to the task of ensuring that our night didn't have a second's disappointment in the drumming category. If you think The Band, and recall that I mentioned Levon Helm above, you'll understand how critical the drums are to this kind of sound. Steve nailed every song.

He looks like he could be 15, so card him before you buy him a drink.

But, if he's over 21, by all means, let's everyone buy him a drink, because the boy can wield those sticks with the best of them!
Shawn Setaro on electric bass. We were 4 for 4 on previous bass players last night. Now, make that 5 for 5. Shawn was excellent on every number. While all four were excellent, the last guy (Tim Luntzel) blew me away. Shawn could have disappointed me just in comparison, even if he did a superb job. Nope, he impressed throughout the set.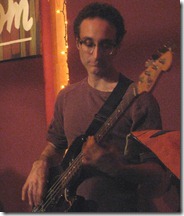 I'm so happy I made it to see The Ramblers. It could have worked out much differently, because that was our last NYC musical event for the next two weeks. If it hadn't been as good as it was, I could have been licking my musical wounds for too long. Instead, I'm already looking forward to catching them again!

Here's their set list: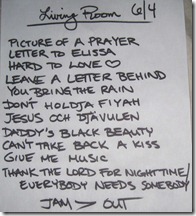 They had five copies left of their Getting There CD from the first pressing. We purchased one and I listened to it twice while writing the blogs tonight. I got to savor some of last night's moments again. Nice!