Send to Kindle
When I tell you we had a busy weekend, you assume you will be reading about a ton of musical events. Not this time.
We have good friends who live in VA, parents with three kids, ages 13, 10 and 5. We've known them since the 13-year-old was 18 months old (they lived in NYC then). In what has become an annual outing, the family comes up to celebrate the 13-year-old's birthday with a baseball game (the first year was a Mets game, the last three years Yankees, his favorite team).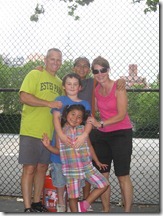 They arrived on Friday just in time for a fantastic meal at Jackson Hole. There are a lot of great burger places in NYC, but I probably think of Jackson Hole first when someone mentions burgers. Everyone agreed our adventure started off perfectly. When we stepped out of the restaurant, we split up.
The parents got a rare break from being absolutely incredible parents, who have raised kids we love to spend time with. They went on an extended walk around Manhattan (or so they said!).

We took the three kids to see Cars 2 in IMAX 3D (I didn't even know our local AMC Theatre had an IMAX in it, let alone with 3D). We had seen the original Cars with them as well (in fact, every animated movie we've seen in the theater has been with these boys). This is the first time we've taken the 5-year-old (the only girl in the bunch) with us. She didn't make a peep during the movie, so it likely won't be the last time she joins us.

I'm thankful that I didn't see how poorly the movie was reviewed. I would have gone anyway, but I might have tried to find the bad spots. I don't know what people expect from these movies, but I found it completely delightful. The boys both rated it higher than the original Cars, which they enjoyed (as did I). Cars was perhaps a little sappy (in a good way). While Cars 2 is definitely a message movie, they went for a bit more excitement and a bit less sap. I thought they found the right balance.
It was also very funny, in a completely corny way. I'm a sucker for corny, but to be honest, if the humor is too sophisticated, it will lose the kids quickly. This kept my interest and had the kids howling a number of times.
We had about an hour to wind down and hook up with the parents before it was time to head out to the Yankee game. This was going to be the first night game with the boys. The mom and the daughter stayed home, so Lois was the only female in our group of five. We took the train at the height of rush hour and were packed like sardines all the way to the stadium. Thankfully, since it's a super express, the entire trip is barely over 20 minutes from Grand Central.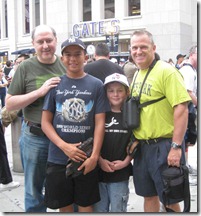 Since this was a night game, I wasn't worried about picking seats in the shade. I changed up the section we sat in the past two years and picked the first row near the foul pole in left field, up one level (section 231 for you die-hard fans). All five of us were thrilled with the seats, though I would probably avoid them on a very sunny day, where we would have broiled.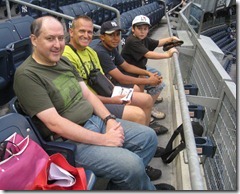 The bigger risk was that rain was called for throughout the day and night. It misted and even rained a bit during the 90 minutes leading up to game time, but there were no delays and the tarp never came out. It misted a bit very briefly during the game as well.
Exactly a week earlier, our godson and his wife were supposed to come visit. Their flight was canceled. In the post about that weekend, I shared a photo of a rainbow that coincided with the birth of our friends' daughter. While we were sitting at the game, Rebecca (our godson's wife) texted me this photo of a rainbow in Birmingham, AL. We took it as another sign that we were going to have a great weekend.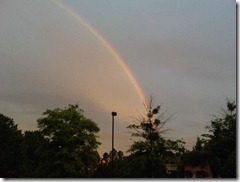 Unfortunately, the Yankees lost 4-2, in a very sloppy game. There were a few extremely close calls (two on steals at second base). All of the close calls went against the Yankees, and none were shown on replay. They replayed plenty of other ones, none of which were even marginally close. The people behind us said that this was normal for Yankee Stadium, no replays of close calls. Ridiculous!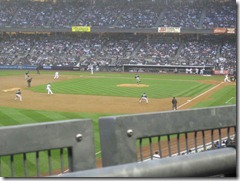 We had another quick ride back into Manhattan and after a few minutes of wind-down watching TV, everyone collapsed for a long, excellent sleep.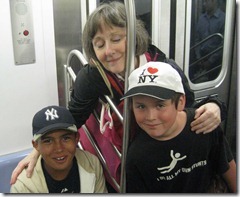 Saturday morning started with a hearty breakfast made by Lois. Everyone but me then headed out to a local park for some baseball (both boys made the All-Star league this year!), basketball and general running around. I stayed back to clean off a laptop that our goddaughter was giving to the family for the kids to use. Just as I finished, Lois called to say they were all ready for lunch. Perfect timing!
We tried a place we had never been to before, Gemini Diner. Again, everyone really enjoyed their meal. I would happily go there again, but we have a diner we love that is a whopping two blocks closer to us (one of which is an Avenue block), so we're not likely to get over there too often.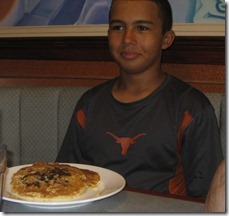 Once again we split up after eating. This time the parents took the girl with them. They went on a really long walk along the East River, south, all the way past the Brooklyn Bridge.
We took the boys back to the movies, this time, for another one that was poorly reviewed. This time we were all aware of the reviews in advance, but the boys really wanted to see it anyway. The Green Lantern was showing in both regular and 3D, but showtimes had us at the 2D viewing (which is probably way better for Lois than having to wear the 3D glasses anyway).
We got there just as the showing before us was letting out. The 10-year-old and Lois each asked a number of people what they thought, and everyone, roughly 1/2 a dozen people, all said they enjoyed it. One woman was nice enough to tell us to make sure to stay through the credits, as there was a short but important extra scene near the end of the credits. She was correct. Thanks!

While waiting for the theater to be cleaned in between showings, the 10-year-old decided to spontaneously do a trust exercise. He fell backwards toward me, and I caught him, every time. One of his attempts came just as a few final people walked out of the theater. I caught him a little later than those folks thought I would (or rather should have), and a very big guy let out a noticeable sigh of relief when I finally did catch him. Whew!

All four of us concurred with the people who gave us the thumbs up. We really liked the movie a lot. I guess I don't know what people are complaining about. I admit to not being a comic book aficionado, so I don't know if it wasn't true enough to the original comic, or too true (and therefore predictable), etc. All I know is that it was thoroughly entertaining, moved along quickly, had amazing graphics (even in 2D, can you believe it?), was funny (both for the kids and the adults), well acted, with a self-consistent story.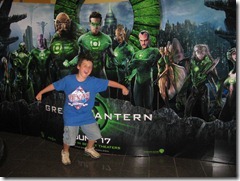 We returned to the apartment and had a bit more downtime. Then Lois and the boys headed over to the hotel where the parents and the girl were staying (two blocks away). They headed up to the rooftop bar, which we'd heard was amazing. Lois confirms that it is and that I have to join her there in the near future.
I met them at El Rio Grande (our favorite Mexican restaurant) for another fantastic meal. When it was over, we headed our separate ways. We ended our evening watching Ocean's 12 with the boys (well, Lois slept through most of it). The movie was a bit slow for the boys. Each of them nearly gave up before the big surprise finish, but in the end, they stuck it out. We all slept late again, exhausted from another chock-full day.
This morning we had another great breakfast courtesy of Lois, then they hit the road at around 10am for the long trip back to VA.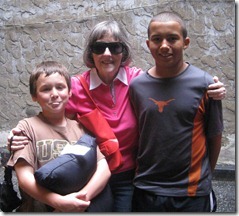 The title of this post reveals that this weekend hasn't had any live music. Of course, the weekend isn't done. Barring some unforeseen issue, we will be at the Brooklyn Bridge Plaza tonight at 8pm, to see Ian Axel perform a few songs on a outdoor piano. It should be the perfect way to cap an already perfect weekend.