Send to Kindle
Delta Rae bring the heat, on stage, and outdoors. 11 months ago, we saw them play at Arlene's Grocery. We cut a trip short to have dinner with our friends from Thailand and came home a bit earlier to catch Delta Rae. The temperature on our car thermometer that day (August 31, 2010) was 105 degrees!
This week we cut a business trip short to have dinner with the same friends from Thailand. We also caught Delta Rae at Rockwood Music Hall Stage 2. Yesterday's NYC temperature hit 104. Coincidence? I think not!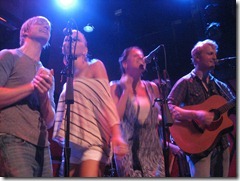 Seven weeks ago we saw Delta Rae at the same venue. Last night's set list substituted three songs, but the basic description of the band and the experience was quite similar (in other words, awesome). So, I urge you to read my last post to get the bigger picture. I will spend the rest of this post highlighting some differences and talking about a more important event in Delta Rae's life.
Assuming you've read the post linked above, I'll skip telling you about Eric Holljes, Brittany Holljes, Elizabeth Hopkins and Ian Holljes. I'll repeat that Mike McKee did a great job on the drums, again.
The biggest news is that I totally messed up in my last post (just corrected a few minutes ago!). At Arlene's Grocery, the bass played was Mark McKee, Mike's brother. He did a fine job. I assumed (I get in trouble every time I do that!) that he was also the bassist at the last show. I mentioned that he had improved multiple levels, so I noticed a difference but missed the biggest change.
Grant Emerson replaced Mark as the primary bass played in Delta Rae. Mark is good, Grant is better. Last night Eric introduced Grant, which made me go back and check the photos in the last blog. Sure enough, it was Grant that night too. If Eric introduced him them, I missed it. Sorry Grant, you deserved a shout-out both times, which you now formally have!
Eric didn't play guitar (he had in all three previous shows). Ian played a song we hadn't heard before, Country House. They played All of the Lights, their cover of a Kanye West song. It has over 25K views on YouTube (at the moment).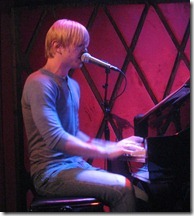 Last time, the place was packed. But, as I mentioned at the end of my post, it filled up late. People were still filing in as Delta Rae was setting up. Last night was even more mobbed and people got there early. We caught the last two songs of the set before. He noted that people were streaming in, indicating that Delta Rae must be pretty special. Yes indeed, good observation!

Here's last night's set list: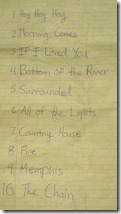 Here's the bigger news. Delta Rae is raising money to record their first full-length studio CD. If you're a fan of the band, this is extremely exciting news. It's awesome to see them live, but that doesn't happen often enough, no matter where you live. We own their EP (and love it), and can obviously watch YouTube videos of some of the newer songs, but the audio quality of live recordings doesn't match the magic that can be created in a studio.
They're well on their way, but I urge you to push them over the top soon by contributing to their effort. You can reap some pretty cool rewards for helping out as well.
Visit their Kickstarter page and donate away! We had the honor of being the very first donors.