Send to Kindle
Chris Ayer just returned from touring the UK and Europe. We missed him while he was gone, though it might sound protectionist if I publicly admit that we didn't want to share him with the rest of the world.

Matt Simons, one of Chris' partners-in-crime toured with him, but wasn't in town last night, so Chris played the set solo.
Most of the set consisted of new (and new-ish) songs. It doesn't matter. Chris is such a great songwriter, that his old stuff holds up (don't ask him to agree to my opinion!) and his new stuff is amazing.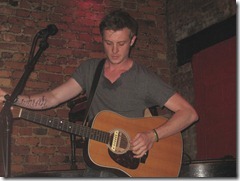 A few days ago, a friend asked us what we were doing Friday night. We told him that we'd be at Rockwood Music Hall at 8pm to see Chris. We told him he was welcome to join. His parents were visiting for the weekend and we told him they were welcome too. We decided to have dinner together beforehand.
Over dinner, the three of them asked us about Chris. I described him as:
amazing songwriter
excellent guitar player
wonderful singer
complete package, whether he's playing solo or with a full band, both experiences are worth catching
Whenever we praise someone like that, no matter how heartfelt, I worry that it will be taken as hype by the listener. Even worse, I then get nervous if we're all about to see that person perform, because I end up listening more critically, worrying whether the others will agree with my description.
No need to worry. Chris was awesome as always. In addition to the five of us, another two friends joined, with one of them bringing her friend as well. There were eight of us, four of whom had never seen Chris perform. They were all transformed into new, instant fans, within two songs.
Our friend's dad turned to me and said "He's as good as you said he would be!". Whew!

Our friend said to Lois: "Chris is a poet!". Ha! I've written that exact phrase a couple of times in blogs. Here is how I defined poet in a post about Chris in May:
There are a ton of great lyricists out there. Substantially fewer of those are also poets. Great lyrics can tell a great story, have catchy rhymes or phrases and therefore clearly are the foundation of great songs. Poets create all that, but in addition, they emblazon images in your mind. Their turns of phrases are like Van Gogh's brushstrokes. Many great songwriters achieve poetry on occasion. Poets achieve it regularly and prolifically. Chris is one such poet.
Chris writes his set list out on his arm. In our traditional fashion, I show it to you from our perspective (upside-down) and his (so that he actually knows what he's going to play):
He might have to start writing past his elbow (on his biceps), because last night he had to ask the audience for a song to play in addition to the full set list. Someone called out Snakeskin Heart and he obliged, beautifully.
Chris delivered exactly the experience we described he would. We didn't doubt it in advance, but that doesn't mean I don't get a twinge when we've given the hard sell to newcomers.
Circling back to dinner. After a wonderful meal, we headed out to catch two cabs, only to be stopped by an apocalyptic rainstorm. We waited in the doorway to the restaurant for 25 minutes. When it slowed to a hard drizzle, we walked an avenue block and were lucky enough to catch two cabs within five minutes.
Chris must have been nervous whether the rain would keep people away. Here's what he tweeted shortly before the show began:
Dear show-goers this evening; think of rockwood as an ark, that will carry us from flooded peril! Bring your twin.
There was a very nice-size crowd there, but I don't think I saw any twins. Perhaps the other halves were (foolishly) at Rockwood 2 (next door).

The dad and I walked in at 7:57pm. Good timing.