Send to Kindle
I typically check the Rockwood Music Hall website whenever we're home and map out upcoming shows for a number of weeks. I put them on the calendar so that when people ask when we're available, I know whether I'm likely to be at Rockwood instead.

Last night we had mapped out being at Rockwood 2 all night (7pm – 12:30am). Then Nate Campany announced a 9pm show at Rockwood 1, and Lois and I split up our watching. I just wrote about Nate's set.
A week ago, Bri Arden tweeted the following:
The two stripped down shows are August 5th- Buffstock and August 6th- Rockwood 10pm. These are not to be missed! 🙂
I did a double take, because I was sure someone else was listed at 10pm at Rockwood 1. I tweeted back and Bri responded with:
@hadarvc JUST booked 🙂
Yup, Bri got the call to fill in for someone who obviously was canceling a week in advance. Sweet, except that I really like Robbie Gil who was at Rockwood 2 at 10pm. Still, like with Nate, I had no hesitation. This was Bri doing an acoustic show, something I hadn't experienced. Lois held down the fort at Robbie's show, and I stayed in my seat for Bri after Nate's set was over.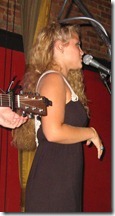 The last time I saw Bri at Rockwood, she had as many as nine people on stage at the same time. It was a very big sound. Last night, Bri sang with one person accompanying her (we'll get to him shortly).
During sound check, Bri warmed up at the grand piano, so I was looking forward to hearing her sing and play. Unfortunately, she must have changed her mind during the set, because she didn't return to the piano.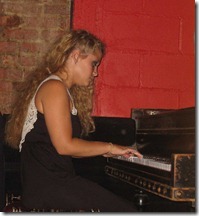 Bri has an absolutely extraordinary voice. That's true even when eight other people (with instruments and backup singers) are on stage. But, holy cow, when it's basically Bri's voice with little else, it's a different kind of amazing. She's got every kind of soul you could ever want (even if the song itself might not qualify as a Soul number). I kept feeling like this was an Aretha Franklin kind of voice, scrunched up into someone 1/4 of Aretha's size.
Bri is a wonderful songwriter too, so she's putting that voice to use to tell stories that come from her heart (and experience). We're all taking a journey with her, not just listening to an instrument (not that there's any wrong with that!).

Supporting Bri on every number was the extremely talented Justin Goldner. Previously, I raved about Justin's electric bass play. I also praised his voice and piano play. Here's what I wrote about him the first time I saw him:
Justin Goldner sang Home Again (1st time). Justin did a very nice job singing and playing the piano on this number. That said, for the majority of the evening, he was one of three primary bass players. He was truly awesome on the bass. I noticed how good he was on the very first song. But when Bri sang Smackwater Jack, Justin was so good that I recall thinking I never realized how sophisticated some of the bass lines were (or could be) in Folk/Pop tunes of yesteryear.
Last night he played the acoustic guitar on all but one number, when he played the piano. So, let's add acoustic guitar to his talents, though he wasn't called upon to do too much in this type of set, so I don't really know how strong he is on guitar.
He also sang some harmony (nicely) with Bri on a few numbers, but that too wasn't a particular highlight. Basically, this was Bri doing what she does best!
She got the crowd singing a couple of times, at one point putting the microphone in front of Ashley Lehmann who represented the audience better than most of us could have!
OK, you've seen the dress that Bri wore last night. To prove to you that the universe tells me whether the decisions I make are right or wrong, I'll relate what happened to me today.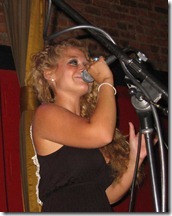 This post (and three others) are going out way later than usual. Today, I had a mini reunion with three other elementary school buddies! We met in New Haven at Frank Pepe's Pizzeria (big spenders!). I took the train up with one of the guys who lives in Thailand (we were taking advantage of today being his last day in the US before he returns home).
Walking to Grand Central Station at 11:45am, I passed a woman on the street who was wearing the exact same dress as Bri. If I had not switched from Robbie Gil to Bri's show, I would never have known that I was being told I made a mistake, since the dress would have been eye-catching, but otherwise meaningless. But, I know for certain that I was being rewarded instead. Thanks Universe!