Send to Kindle
I've wanted to see Nate Campany perform a set for a very long time now. When he listed a show at Rockwood Music Hall at 9pm (last night), I was excited, until I checked my calendar. I had 5.5 straight hours booked right next door at Stage 2. At 9pm, Kyle Patrick was up so I had to choose between them.
As much as I wanted to see Kyle Patrick (he was on my list as well!), I admit that it wasn't that tough a choice for me (check the title, I went to see Nate!).

I've only seen Nate perform a few songs. My desire to see him wasn't because he blew me away during those songs. Rather, he is an extraordinary songwriter. Nearly every performer that I love has co-written at least one song with Nate, often one of my favorite songs by each artist.
Watching Nate on stage was like hanging out with a friend who happened to be standing up while I was sitting down. In other words, rather than listening to a performance, I felt like I was wrapped in the warmth of a circle of friends passing around a guitar (which just so happened to wind up in Nate's hands every time).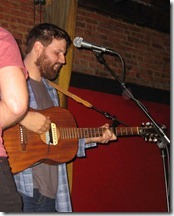 After practically each song (including right after the first one), Nate paused and said "At this point in the set, are there any questions?". Apparently (recall, I haven't seen him perform a full set), he's a real history buff, and it's known that he encourages people to show up and ask questions about history, or Cleveland, or Rockwood, etc.
A quick aside for some context. Before seeing Nate, I attended two sets next door. The first was Karly Jurgensen (covered here), followed by Jesse Ruben (covered here). There were a few Swedes in the audience enjoying Karly's set (while she hails from Nebraska, Karly is probably of Swedish descent). Two of them moved over to Rockwood 1 (like I did), to catch Nate's set. That's likely because Nate is a star in Sweden as well, co-writing a number of hits for stars over there.
Back to our story. When Nate asked questions, one of the Swedes said something and Nate broke out a number of phrases in Swedish, to the delight of the Swedes, and the amazement of the rest of us. During the last (and longest), he rubbed his beard. He looked at the rest of us and said "I'm not sure I said that correctly". Before he got to translate, one of the Swedes called out:
Would you like to rub my beard?
Of course, everyone laughed. The mood remained as light the rest of the set and the banter with the Swedes continued for a bit, without ever feeling tiresome.
Twice, Nate called up Luke White, lead singer of the white-hot rock band Atomic Tom. He sang harmony with Nate.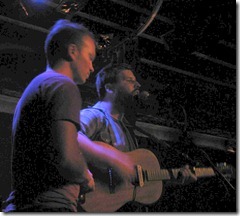 During one solo number, Nate lost the words. He told us that he was so caught up in the moment. I believe him, there were many such moments. What was interesting to me is that the woman to my right (which was really behind me since I turned toward the stage) was singing along with Nate, super quietly, but perfectly. It's almost like she was trying to get him back on track, without anyone (including Nate!) knowing it (sending good thoughts). I might have been the only one close enough to know she was singing.
A little later in the set, Nate coaxed her to join him on the stage. It took a lot of coaxing, but she eventually went up.
Jennifer Dees (Jenn) is Nate's wife (I didn't know that until I looked it up). They sang together (beautifully) and of course, it made sense that she would know the words to every one of Nate's songs.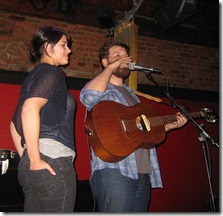 A bit later, during another opportunity to ask Nate a question, I leaned over to her and asked if she knew if he sang "Are You Listening" at home. She didn't know but she encouraged me to ask, so I did.
Here was the ensuing dialog:
Me: Do you practice Are You Listening enough to play it?

Nate: I don't know that song.

Me: You co-wrote it!

Nate: Really?

Me: With Alex Wong.

Nate: Ah, I don't know it by that name.

Me: Right, you probably called it the Yeah, Yeah, Yeah song!

Nate: We did, until we found out that (he names a specific artist) has a song by that name.

Nate: Well, I can't play it anyway.
It will be on Alex Wong's upcoming solo CD, and I am completely obsessed with the song. Just another example of Nate's magic sauce/touch when co-writing with others. In fact, we were sitting next to a singer/songwriter at Rockwood 2 during the earlier sets. When I told her that I was going to miss Kyle for Nate, she said "Nate co-wrote one of the songs on my CD". Like I told you, he's everywhere!
A number of times during the set, Nate told us that Kyle is one of his best friends and how strange it was that they were scheduled opposite each other. At one point, someone yelled out "Play a more upbeat song!". Nate replied "You're in the wrong place. If you want upbeat, go next door to hear Kyle Patrick's set!".
Toward the end of Nate's set, his phone buzzed (it was sitting on the piano behind him). He answered it. It was Kyle Patrick calling from next door. Nate held the phone close enough to the microphone for us to basically hear what was going on. Each of the crowds shouted out to the other, which could easily be heard through the phones and mic's.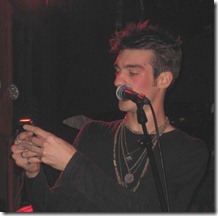 Then Kyle told Nate he was about to play Good as Gold, a big hit that Nate wrote (co-wrote? I don't know). Nate looked at us and said "Hey, that's going to be a lot better than whatever I would play over here. Let's all go next door and check out Kyle! I'm serious!"
He walked off the stage and out the door, and most of our audience followed him. About 2/3's of them made it in, but Rockwood 2 was near capacity and some from our side got turned away. I was against the far wall (furthest spot from the door), so I never got up.
Even though I didn't get up, I had eyes and ears over at Rockwood 2. For the first time ever, Lois and I split up. She remained in Rockwood 2 all night, which included Kyle's set, so she experienced the other side of the phone call, and the march of the Rockwood 1 folks into Rockwood 2. She caught a shot of Nate standing immediately behind her chair. Kyle apparently stood on the table in front of her, serenading Nate. She was right between them.

Eventually, Nate and the others returned. He got back on stage and said Goodnight. The crowd chanted for one more song. I honestly don't remember if he gave it to them or not. I do remember that he was hysterical in noting that when he picked up the guitar, they stopped chanting, so he put it back down, causing the chanting to begin again. In the end, I think he did grace us with one final song.
Lois enjoyed Kyle's set, so I know I missed a show I too would have enjoyed, but I made the right choice for me. Thanks Nate (and Jenn) for leaving me with no regrets!