Send to Kindle
I've seen Jesse Ruben do a full set at Rockwood Music Hall once before. Lois was sick that night. I had nothing but compliments for Jesse and you can read about it in the second half of this post. Last night he played Stage 2 and had a full band.
Everything I said about Jesse in the above-linked post was true last night, but it was a significantly better set. The full band was a nice enhancement and the set was more energetic (either because of the band or because of Jesse's choice of songs). His stage presence was exceptional (as it was the first time).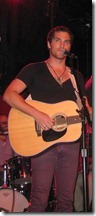 What impressed me most was his songwriting. I said that the last time too, but I'm sure I heard new songs and if the older ones held up on second listen, that's impressive too.
For the most part, Jesse played rhythm because he had a high-quality band behind him. On one song, he called up two special guests and sang with them without the band. He finger-picked beautifully, so he can play the guitar nicely as well!
The guests were Kyle Patrick and Karly Jurgensen. It was convenient to call them up, since Karly had the set before Jesse's (covered here) and Kyle had the set afterward. They sang gorgeous harmony (no surprise), but Jesse was the huge star in the song, called Advice (I believe). It's an amazing song, his guitar play was excellent, and he sang most of it without harmony either.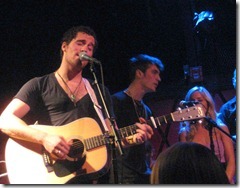 Twice he put down the guitar and sang his heart out at the mic. The first time was a cover of Joe Cocker's The Letter. Really well done. Here's Jesse singing with more than a bit of passion: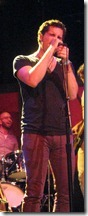 Supporting Jesse, left-to-right on the stage:
Greg Barbone on grand piano. We've seen Greg on a couple of sets, both on the same night. We were highly impressed with his play. That was true again last night on Jesse's set.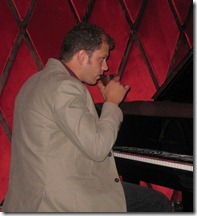 Nicky D'Agostino on drums. We've seen Nicky once before as well, and he was excellent last night, as he was the first time, supporting Carley Tanchon.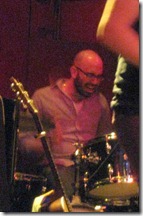 Kyle McCammon on electric bass. Kyle played the set before with Karly, which was much more jazz oriented. He was really good on this set too, showing versatility in genre and style. He was also significantly more animated on stage during this high-energy pop/rock set. Jesse said that this was the first time Kyle played with him. That might be true, but I admit to thinking he was joking.

Will Hensley on electric guitar. We just saw Will for the first time on July 31st at the Blues Brothers Benefit. He sounded good, but I noted that he was covered up (visually) and I couldn't easily match what I thought was the guitar lead to Will's hands. Last night, playing for Jesse, Will totally blew me away. He was amazing on traditional leads, and excellent with the slide as well.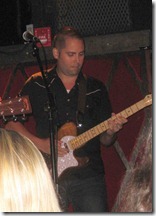 I will be thrilled to see Will play with anyone, just for his skill, until I find out he is willing to play with a dud headliner.

Likewise, I'll be very happy to see Jesse Ruben again.