Last night started off bittersweet. Sweet, because we finally got to see a full set of Karly Jurgensen (at Rockwood Music Hall Stage 2). Bitter, because at the show, she announced that she's moving back to Nebraska at the end of September.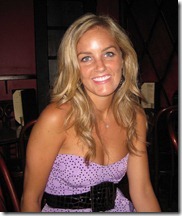 I first saw Karly on November 4th, 2010, when Jesse Ruben called her up as a special guest to sing one of her own songs. This is what I wrote that night:
Karly Jurgensen toured with Kyle and Jesse all summer. Jesse invited her up to perform one of her songs, accompanied by Jesse and Kyle. Karly has a wonderful voice and plays the piano solidly. The song was beautiful, a slower bluesy number. Jesse and Kyle harmonized during the chorus. Very nicely done.
A month later (December 1st, 2010), we were at Rockwood 2, and I wrote the following:
The show was called for 7:30pm. We arrived at 7:10pm. I noticed that Karly Jurgensen was playing next door at Rockwood Music Hall Stage 1 from 7-8pm. I have seen her perform one song when I saw Jesse Ruben there and he called her up as a guest.

I was impressed with that number. Lois was sick that night so she missed Jesse and Karly. I suggested that Lois go next door to catch at least one Karly song before the Bess/Lelia show started. She did.

When she returned, she couldn't stop raving about how great Karly's voice is! Whew, I didn't steer her wrong.

You can listen to her on her MySpace page. We'll be looking out for Karly's upcoming shows!
So, nine months ago, each of us had heard exactly one song (probably different ones) and we were both promoting Karly to the other. We then saw Karly sing backup and lead at the Soul Revue Benefit (no piano that night), followed by some harmony with John Schmitt two months ago.
Last night we got to see her shine, and it was mighty bright! First, I feel absolutely silly having described her piano play as solid that first night. She's fantastic, pure and simple. Her style is largely jazz oriented, which often calls for more sophisticated play than pop piano numbers. She's completely up to the task.
We already knew her voice was amazing, and that was true over the entire set. It has a laser-like cleanliness to it. She hits notes unwaveringly, and with as much power (or subtlety) as she wants, seemingly without straining (or even breathing deeply).
What we didn't know, and pleasantly discovered, is that she's an excellent songwriter as well.
While I described her style as being largely jazz, there is quite a bit of variety in her songs. She tackles various subject matter (lyrically) and her melodies and tempos vary nicely as well.
Karly was supported by two excellent musicians:
Matt Arbeiter on drums. We just saw Matt a week ago at the Blues Brothers Benefit. He continues to impress, last night playing a jazzier set. I think it was the first time Matt played with Karly, even though they are both from Omaha.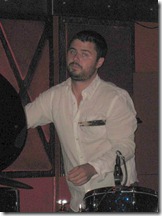 Kyle McCammon on electric bass. Karly joked that when she sent Matt a number of YouTube video links for him to get familiar with her music, the only constant in her band was Kyle. We've seen Kyle once before, but I didn't remember that until I searched my blog. It was on December 18th, 2009, when he supported Greg Holden at the Canal Room.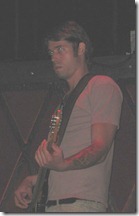 Since then, I've heard about him dozens of times, and he impressed in consecutive sets last night.
Karly was very charming throughout the set, though also in a bittersweet way. Her intros/stories were captivating, but they were delivered with a sadness (or so it seemed) over the fact that this was her last NY show for a while.
Of course, now we're mad at Karly for opening our eyes just as she shuts off our access.

At least we bought her CD, Good Company, and her EP, Grace, at the show, and we'll continue to look for any new projects she produces. I just listened to both Good Company and Grace. They are gorgeous. If you love female jazz singers, with gorgeous instrumentation, get both!
Lois passed a hand-written note to a friend of Karly's during a subsequent set. She received a hand-written set list on the opposite side of the napkin. Here are photos of both sides:
Come back soon and often Karly!