Send to Kindle
Last night was the 15th Backscratch show, hence the fancy XV in the title. We missed the first 12 (I blame all of you!) and caught the last two (three including XV). Backscratch is the brainchild of Martin Rivas and Craig Meyer. Six or Nine performers, depending on whether they can book two or three hours (last night was at Rockwood Music Hall). Each performer sings three songs. Traditionally, one original, one cover, and one backscratch, a cover of one of the other performers from that evening, randomly assigned to them in secret (in other words, no one knows who will be covering whom).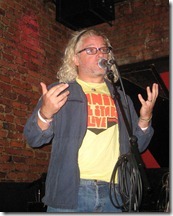 Recent performances have included two originals plus the backscratch. Both ways work well. The evening moves very quickly, even the three-hour shows. The banter is usually worth coming out for, independent of the music. Most of all, the camaraderie. While there are a lot of musicians in the audience (by definition), the fans are not made to feel like outsiders. It's a beautiful thing and if you come, you'll feel like family, right away.
The idea is spreading. There will be a Backscratch I (1) in the UK next month! I think there was one already in Boston (if not, it's coming soon). If you don't live in NYC, look for one in your town, or better yet, clamor for one!

Last night was six performers, from 9-11pm. First up was the only rookie Backscratcher.
Sarah Nisch sang two originals accompanying herself on acoustic guitar. For her backscratch she did a Patryk Larney number (pretty well in my opinion). She has a lovely voice.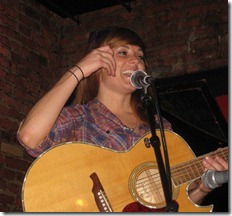 Her name sounded familiar to me, but I didn't think we'd ever seen her before and I admit she didn't look all that familiar. Everything is contextual. It's true that we never saw her as part of the LES (Lower East Side) scene. Two years ago (7/27/2009 to be exact!) we saw her perform at the equivalent of an organized open mic show called The Set NYC.
I had mostly flattering things to say. I concluded with:
Still, she's a talented singer/songwriter, and I'm sure Lois and I would be happy to catch her again at one of these shows.
I'm glad to see that she's persevered and gotten into this circle and places like Rockwood.
Kate Branagh sang an original, a cover, and her backscratch, accompanying herself on acoustic guitar. I could go on and on praising Kate, but let me list the highlights:
Fantastic voice. I felt like I was listening to a real Nashville pro, like Kathy Mattea
Good accompaniment on acoustic guitar
Excellent songwriting (lyrics, structure, melodies)
Quirky but superb stage presence
Unbelievably funny (NSFW or kids, not just the words, but the subject matter was often crude)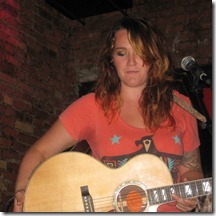 She covered Caleb Hawley for her backscratch, rightfully noting how difficult it would be. She did a very nice job.
One example of her humor. She just released a CD she's been working on for six years. It's called Minutia. She has a CD Release Show at The Living Room on September 9th, 2011 at 9pm. She asked the crowd who knew what Minutia means? (She didn't spell it, and I admit to thinking it was a made up word, spelled: Manusha). In any event, no one volunteered.
Kate said: Obviously, I'm a lot smarter than the rest of you (as she went on to define Minutia). But, she reminded us that we were lucky to be seeing her perform, so that she could share her knowledge with the rest of us.

I'm a fan of dry, sarcastic humor, and Kate's delivery is excellent!
After her set, Lois bought the CD. It's really good, so get it. Better yet, get to the show next Friday (we can't make it, unfortunately) and get yourself one directly from Kate!
On the negative side, Kate's site (linked to her name) is way out of date. Hopefully, in conjunction with this CD Release, she'll find the time and energy to update it. In the meantime, here's a link to her MySpace page, to listen to a few of her songs.
Caleb Hawley sang two originals and his backscratch accompanied on his brand new guitar. I've written about Caleb a number of times. He's an unreal talent (in the sense that he's so good at so many aspects of writing and performing that it's hard to wrap your head around it all!).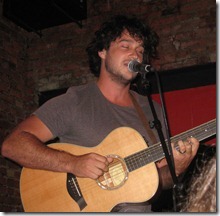 He writes great songs. He is an exceptional guitar player, in particular for accompanying his singing (though I could listen to him play for hours even if he didn't open his mouth). He has an excellent voice. He's funny and engaging on stage. His warmth is contagious (avert your eyes if he smiles in your direction, or you'll be forced to follow him anywhere).
So, why did I bother to mention that he was playing a new guitar? Because he just recently won it, by capturing the Song Competition at this year's Rocky Mountain Folks Festival. This netted him the guitar and an appearance on the Main Stage next year!
Caleb's backscratch was a Kate Branagh song, so they ended up playing each other's numbers. He chose Dandelion Lovers (the first cut on her new CD) and did a beautiful job. I listened to the CD version this morning (with full band) and it's stellar.
Next up was our fearless leader, Martin Rivas. This evening was very difficult for Martin. I want to explain why, but I will fist mention his incredible performance, especially in the face of what I will describe afterward.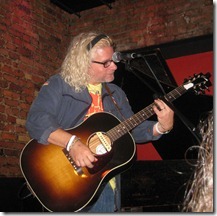 Martin Rivas sang an original, his backscratch and a cover, accompanying himself on an acoustic guitar. All three were excellent performances. His original is a new song which will be on his upcoming CD (released in 2012). His backscratch turned into a little behind the scenes look at how backscratch works.
Typically, each performer submits a list of their songs that they might play at the show, so that whoever gets them for the backscratch portion won't duplicate a song they intend to play. Since Sarah Nisch was new to backscratch, or for any other reason that I am unaware of, some signals got crossed.
She opened her set with the song Paper Bag Heart. That's the same song that Martin had picked for his backscratch. Martin joked that at least we'd have an A/B comparison. Both were well done, so no harm, no foul. In fact, since the song was new to me, hearing it twice in one night wasn't a bad thing at all.
Martin closed his set with a cover from one of his songwriting heroes, Nick Ashford, who passed away last week. Martin played Ain't No Mountain High Enough. The entire audience sang along to each chorus, it was gorgeous and moving. Of course, for Martin, it had an even deeper meaning (as you'll see next).
On to more somber matters. Martin spends a lot of time in Middleburgh, NY, Schoharie Country. While many NYC folks escaped serious damage by Hurricane Irene (we have to remember that's not true for all NYC residents!), the devastation in upstate NY (and many other places north and south of NYC) is not getting enough attention.
Martin was having a hard time being in the moment at Rockwood last night, as his heart was breaking from all the pictures and video that was coming in from Schoharie County. Amazingly, it didn't affect the quality of his performance. I was going to post a before and after photo of the valley (it's mind-boggling how a valley can turn into a giant river/lake overnight). Instead, I see that Christina Morelli of NYC Arts Scene has written an article which includes that photo in it.
I urge you all to read that article and help in any way that you can!
Patryk Larney sang two originals and his backscratch, accompanying himself on the acoustic guitar. He also invited up Ben Morgan to play piano on all three numbers. Ben sang light harmony as well (very nicely). Patryk (and Ben) did an excellent job. I was particularly impressed by his backscratch of Bri Arden's song, Sink Down Under. Bri is a tough act to reproduce. Kudos to Patryk.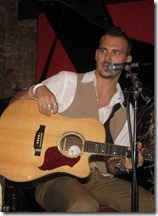 I've only seen Patryk do one cover before last night (at a Benefit Concert). He continues to impress. I'm going to catch a full set of his music tomorrow night (Wednesday, 8/31/2011) at Rockwood 1, 9pm. Come join me and see if you agree with my assessment of his talent.
After the show I walked over to Ben to ask him his last name. When he said "Morgan", I said, oh, I just saw you on video. It turns out that he was accompanying The Vanity Belles when they were interviewed and performed on MNN (Channel 56 on Time Warner Cable in NYC) on Sunday night. We watched the show (and enjoyed every second of it, including Ben's keyboard play). Patryk played on one song as well. He produced the Vanity Belles current album. They will be singing a bit with Patryk tomorrow night. Just a little extra incentive to come see Patryk's show!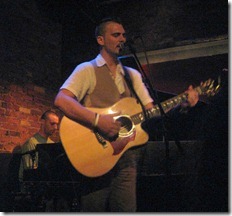 Last, but certainly not least, Bri Arden.
I've seen Bri a number of times. She has impressed each and every time (last night included). The performances have ranged from acoustic (Bri singing, accompanied by a single acoustic guitarist) to nine people on stage (full band plus two backup singers). In all those shows, Bri sang without playing any instruments.
She teased me last time, playing the piano during sound check (at the acoustic show). Last night, she finally played the piano for real, during her two originals. She was very self-deprecating about her ability, joking that she was prepared to declare herself the best piano player of the show, until Ben Morgan was invited up by Patryk.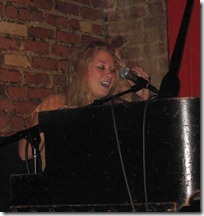 Bri played very nicely indeed and I'm sure she will continue to improve the more she chooses to play in public.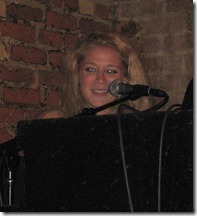 That said, it was her backscratch that was the highlight of the show (to me, and I presume to many others). Keep in mind that she chose it before any of us knew what was (or would be) happening in Schoharie Country!
Bri came out from behind the piano to sing a cappella. Everyone knew she was going to cover Martin (the math was no longer hard at that point). She chose one of his iconic numbers, North.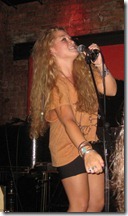 North was actually written with Schoharie County in mind, with happy thoughts of a destination that Martin loved to go to. When your heart swells so much with joy, the heartbreak is equally unimaginable when that place is laid to waste. You can listen to the song and read the lyrics at Martin's Bandcamp Page. You can buy the download there as well.
Bri was awesome. The audience sang large swaths of the song with her, since we all know it so well. For the finale, Caleb Hawley and Patryk Larney came up and kept the chorus going while Bri sang in and around them. Stunning. Of course, Martin was triply moved. There was a long hug and private words exchanged between Martin and Bri on stage when she was done.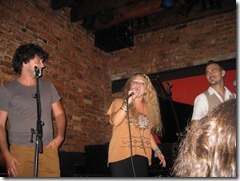 Another successful Backscratch show. There's a special magic to them. Come find out for yourself at the next one, Monday, October 24th, 2011 at Rockwood Music Hall.
Different than most shows at Rockwood, there was no tip jar passed around for the performers. Instead, Rockwood Music Hall makes a donation and all of the musicians donate their time. Last night's donation will be made to help the people of Schoharie County.
Thanks to everyone at Rockwood Music Hall for this very generous act!