Send to Kindle
Patryk Larney is the most recent singer/songwriter who has completed this pattern:
See a glimpse of a performance
See a bit more
See a full set
Fall in love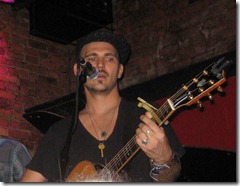 We saw him do one cover song at the Leave a Lasting Mark Benefit show and loved it. A few nights ago we saw him perform two originals and a cover at Backscratch XV. Another winning performance.
Last night he performed a full set at Rockwood Music Hall and there was no way we were going to miss it. At Backscratch, he had Ben Morgan accompany him on piano. I didn't now what to expect last night when I locked it in our calendar. Then the tweets started:
thevanitybelles The Vanity Belles

Singin tonight Aug 31st w/ @patryklarney for his show & ROCKWOOD 9pm! Come down & hang…this show will be full of surprises I'm sure 😉

BriArden Bri Arden

Singing tonight w/ Mr. @patrykLarney at Rockwood 1 & as many awesome people as he can pack on that stage! Come on out 🙂

collazo Brian Collazo

NYC!! Good tunes & good people tonight at Rockwood Music Hall. Patryk Larney hits @ 9pm. I'll be helping out on one tune. Come hang!
Seriously? We would have come out to see any one of those (The Vanity Belles, Bri Arden or Brian Collazzo of Live Society) on their own. It turns out, not all surprises were revealed via Twitter. Well, some weren't really surprises, except to us, since we hadn't seen Patryk in his own show before.
When we walked into Rockwood, the first person I saw was Kenny Shaw. I never know whether I just missed someone or am about to catch them, so I asked. Indeed, Kenny was sitting in with Patryk. Cool! The very next person I saw, Chris Anderson, was sitting in as well. Then I spotted Ben Morgan sitting behind the piano. Completing the band superfecta was Oscar Bautista on electric guitar. What a lineup!
Patryk and the band opened the show with a fun song called Filler. It's about a song he never quite wrote, and promptly forgot. It's nonsense, delivered whimsically, with good music. An upbeat way to kick off the show.
From then on, each song had at least one very special guest singing with Patryk. I'll cover them all, but first a few more words on Patryk and his band.
So, we now know something we only suspected after Monday night's Backscratch. Patryk is an excellent songwriter. We already knew he has a wonderful voice and that he plays the guitar well. In addition to songwriting, let's add amazing stage presence to his list of talents/skills.
Tomorrow, there will be an absolutely extraordinary collection of music released digitally, to benefit the mind-numbing devastation of Schoharie Country in upstate NY. There are over 40 artists contributing a song each to this benefit release. Patryk Larney is one of those artists.
The band, left-to-right on the stage:
Oscar Bautista on electric guitar. After seeing Oscar perform a full set supporting Bri Arden, he quickly climbed into my top five list of local guitar players. Last night he easily held that position, in particular on the first number, Filler, where Patryk highlighted him quite a bit. Even in his background riffs, supporting the remaining songs, he was incredibly interesting.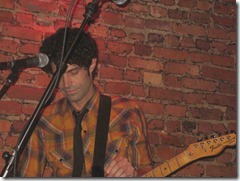 Ben Morgan on grand piano and harmony. Another terrific job by Ben on both piano and vocals. He also did the introduction, so he has a bit of MC in him as well.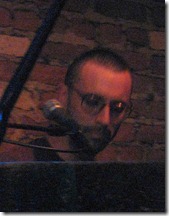 Chris Anderson on electric bass. Always a treat to see Chris play. We'll be seeing him quite a bit of him in the next 10 days, including this Saturday at Rockwood at 10pm, Tuesday at Bowery Ballroom, and later in the week in VA. Very happy about that!
Kenny Shaw on drums. Another superb performance. Patryk plays a wide variety of styles and Kenny kept each shift fresh and interesting. We'll be seeing Kenny again at 10pm on Saturday, but that's probably the last time until October. Sad about that…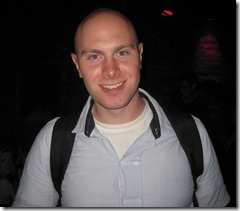 The new brand-new songs that Patryk played at Backscratch (Fine, Fine, Fine and Gotta Get Out) were played with full band and guest singers this time. They worked even better (which is to say they worked really well just with Ben on Monday). Fine, Fine, Fine is not on the set list (we all wanted more than he originally intended to give us). Here is the set list, but the only two songs that were played in the order they appear here are the first and last, Filler and Clingy (longer title: Clingy in my Brain):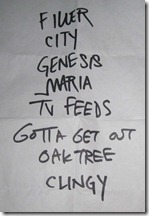 I suspect that I will mess up a song or two in terms of pairing them with the correct guest. Forgive me (I do this from memory only) and I'll update (happily) if anyone points out my error (and can prove it with video evidence and a sworn affidavit!).

The first guest called up was Carrie Welling (1/2 of The Vanity Belles). She sang TV Feeds with Patryk. If I understood Patryk after the show, this is the song that will be on the Benefit collection released tomorrow. I really like it, so I'm happy I'll have a recorded version shortly! Carrie was wonderful individually, and singing harmony with Patrick.
Bri Arden was up next. They sang Genesis. It would be hard for me to heap more praise on Bri than I already have, but let's try. She did a great job singing harmony, but finished up the song by taking over and hitting notes so high (and with power) that I hadn't heard her attempt yet. The streak continues.
Mike Larney (no relation, just kidding, Patryk's brother) joined him to sing Maria. Mike did an excellent job (my guess is that he knows Patryk's songs as well as anyone else). In fact, he did such a good job that Patryk invited him back up for the finale, Clingy in my Brain. That song has a lot of very tricky Rap-style lyrics, and like I said, Mike knew them cold.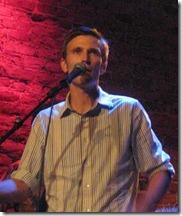 Brian Collazo joined Patryk to sing City in the Fall. Patryk chose very wisely here. He introduced the song saying every singer/songwriter that moves to the city feels compelled to write a song about it. He was determined not to do that. He ended writing a song named: City in the Fall… during the Fall… while he was living in the City.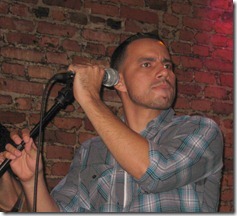 The two of them sang Motown-style, full of falsettos. At around the 3:30 mark, they decided to simply riff off of each other's voice, with Brian following Patryk's lead. Nicely done boys! Patryk was kind enough to give me permission to share the mp3 from last night's performance with all of you. Since it was a live recording, you might have to crank the volume a bit (the song starts very softly).
The voices are obvious, as are the drums. If you listen closely, you can hear Oscar Bautista do some really cool things on the guitar (it was much more obvious live) and the bass and piano can be picked out as well. Enjoy!
Download City in the Fall, by Patryk Larney, featuring Brian Collazo
The Vanity Belles came up to sing Oak Tree Tavern. I already mentioned that Carrie Welling was 1/2 of The Vanity Belles. The other half is the equally capable Jessi Rae Waltz. Oak Tree Tavern isn't really about a tavern (shhh). The song will appear (along with the other new ones) on an upcoming CD by Patryk (we'll be contributing to the Kickstarter campaign when Patryk launches it).
A slightly different version of the same song will appear on the upcoming Vanity Belles CD (Update: Patryk is their manager producer and he co-produced their upcoming CD with Chris Cubeta, and if I heard correctly, I believe Carrie and Jessi co-wrote the song with him).
Needless to say, the song and their collective performance was outstanding. Each of the ladies took a lead. Each sang harmony with Patryk, and all three sang harmony together. All permutations were great!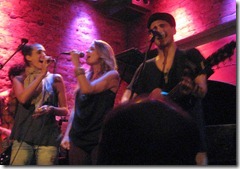 Next was the biggest surprise of the evening, because it was unplanned. Patryk looked around the room and asked if there was any singer that he hadn't called up yet? Both Lois and I pointed to Rebecca Haviland who was sitting immediately to Lois' right. Patryk didn't need any further encouragement to insist that she come up.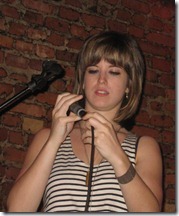 He proceeded to tell her that she was about to sing along to a song she'd never heard. He played the song Monday night, so we knew it. He taught her the chorus in front of us. When he asked her to give it try (before the actual song started), she busted out a perfect harmony instead of just singing along like he expected. This was gonna be good.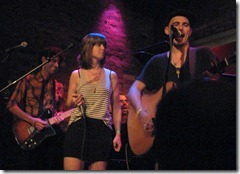 Yup, I was right. Rebecca nailed the harmony each and every time, getting a bit fancier as the song continued. It's a deep song that tells the age-old tale of the grass is always greener from a different perspective.
As I mentioned above, Mike came back to close the show on Clingy.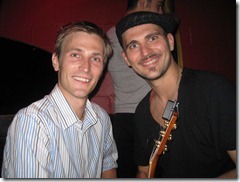 Let's recap: Patryk Larney, with an amazing band, performing a collection of excellent originals. Great, right? Right. Now add some of the best singers on the scene: Carrie Welling, Bri Arden, Brian Collazo, Jessi Rae Waltz, Rebecca Haviland and Patryk's brother Mike, and you have some truly awesome sauce.
OK, I'm ready for the next round, just let me know when and where to show up.